Investigation into last month's Rs 75-lakh knife-point robbery in the middle of busy streets leads cops to dreaded don from the eastern suburbs
Karima Mujeeb Shah, aka Aapa
One of the most sensational robberies in Mumbai has taken an unusual turn with the finding of the involvement of Ghatkopar's most wanted lady don, Karima Mujeeb Shah, aka Aapa (elder sister).  Investigations by the Malad police in the robbery case of Rs 75 lakh at Malad last month, has revealed that one third of the cash was routed to her by the group which committed the robbery, to fund legal expenses, like securing bail, hiring lawyers and arranging bail bonds, if they ended up behind bars.
The Pant Nagar police were on the look out for her in a case of extortion registered by the supervisor of a construction site. "Dozens of cases are registered under various sections against Karima at Pant Nagar police station. Recently a case of extortion has been registered in which she is wanted," said Senior Inspector Ravi Datta Sawant of Pant Nagar police station. The accused arrested in the Malad case were identified as Akshay Shiva Gaikwad, Kunal Gaikwad, Naresh Rathod, Chhagan Gaikwad, Dinesh Indre, Pratik Bhojne, and Vinod Achalkhamb.
ADVERTISEMENT
The Malad robbery
On August 29, one of the accused in the Malad heist, Bhojne and another employee of the foreign exchange trading business who was not involved in the crime, Ganesh Talwatkar, were tasked with transporting the cash. Five of the accused on two motorcycles followed their auto. Three of them on a Honda bike stopped the auto, and Kunal, brandishing a knife, snatched the bags of cash from Bhojne and Talwatkar, and escaped with his associates.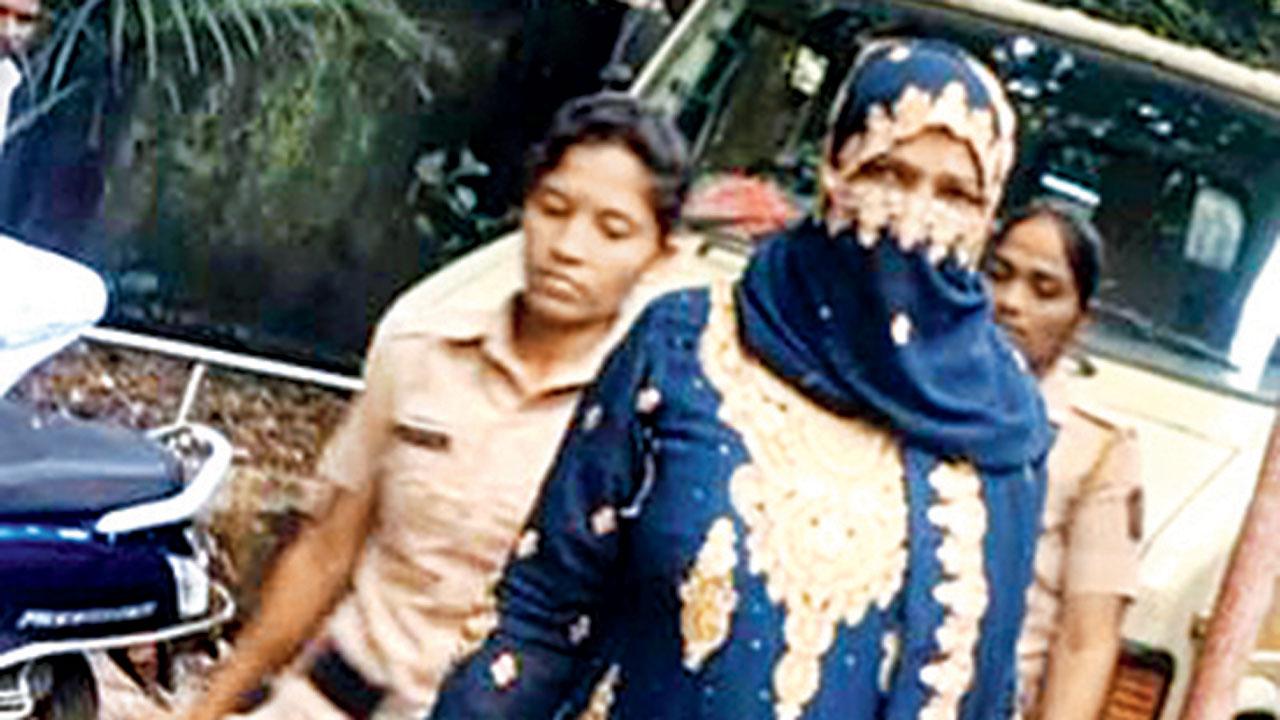 Karima after her arrest
Bhojne had conspired with the others to commit the robbery. So far 11 accused have been apprehended from different districts of Maharashtra by the Malad police and they have recovered nearly half of the stolen amount from them. During investigation the police learnt that the group had transferred a major chunk of money to Karima who is known for her network to provide legal aid to hardened criminals. Police said that the mastermind of the case, Dinesh Indre, had kept almost half of the robbery amount for Karima and gone absconding. The police have recovered the remaining amount.
Also read: Mumbai: Mother throws 39-day-old daughter from 14th-floor of Mulund building, booked
Karima, is known as 'the Godmother of Ghatkopar' and people used to call her Aapa and Mummy. She has multiple criminal records against her name. She has been booked and arrested in murder, extortion, and illegal weapons trading charges in past by the Mumbai police. She ran a well-oiled crime network that operated for six years without the Mumbai police even realising it. She had gained popularity by offering shelter to many criminals who would commit a crime on her instructions, and also helped provide financial help and to free them on bail.
Accused mentions Karima
"When we arrested Indre and asked him about the cash, he said that he had kept about Rs 43 lakh with Karima. As we heard about Karima and her past criminal history of helping criminals, we detained her and later arrested her on September 10," a police officer from Malad police station said.
He added, "During the investigation, we came to know that Indre had sent one of his associates, Mehul, to Karima and asked her for help in getting bail. Karima felt that no one else should know about the transaction between the duo, so she held Mehul and kept him with her for several days. We have arrested 11 accused including Karima."
"She has not made any confession nor is she telling us about the money which Indre claimed to have given her. Both are trying to deceive us but investigation is underway," the officer added. As per police records, a supervisor at a construction site had filed a complaint against Karima, alleging that she attempted to extort money from him and repeatedly threatened him for payment. A case has been registered at the Pant Nagar police station, and her associate, following which she had fled from her hideout.
Lady don rises
The Std IV-pass Karima began her criminal career as an illegal developer, constructing shanties in Ghatkopar. Over the years, both her influence and her enemies increased. To ensure protection for herself and that of her husband who is a scrap dealer, she hired her first henchman, local goon Sanbabu Panicker.
In return, she ensured he and his associates enjoyed a lavish lifestyle. Soon, people in the locality began to fear Karima; they called her Aapa out of respect, and would even take their disputes to her for settlement.
She set up a godfather-esque darbar at her Kamraj Nagar residence, where she would settle local quarrels from her king-sized chair, said cops, adding that her say would be taken more seriously than the judiciary.
Building la familia
To increase manpower, Karima began to adopt orphans in the area. She gave them accommodation and food and, in turn, the boys would commit burglaries for her. They would bring her the loot and she would divide it into equal shares for each member who was part of the heist. 
Soon, her network expanded to over hundreds of cronies who burgled, robbed, and snatched chains across the Central and Eastern suburbs. Sources in the police estimate that such crimes will come down by about 50 per cent in the areas, once her entire gang is busted. At any given time, she would move around with a convoy of 10 to 12 members in two Innova cars.
Each member in her gang has a definite role - chain-snatching, robbery, etc. For chain-snatchers she provides motorbikes and for burglars, she gives four-wheelers or taxis. She also employed informers who would tell her about residential societies where people had gone on vacation, leaving the house unattended.
August 29
The day of the robbery in Malad this year
"Exciting news! Mid-day is now on WhatsApp Channels

Subscribe today by clicking the link and stay updated with the latest news!"
Click here! Are you going to attend Bandra Fair this year?