After this paper's expose about lack of raw material and budget to fill potholes this monsoon, civic body calls for a review of cold mix situation, also orders survey of roads to be resurfaced first after rains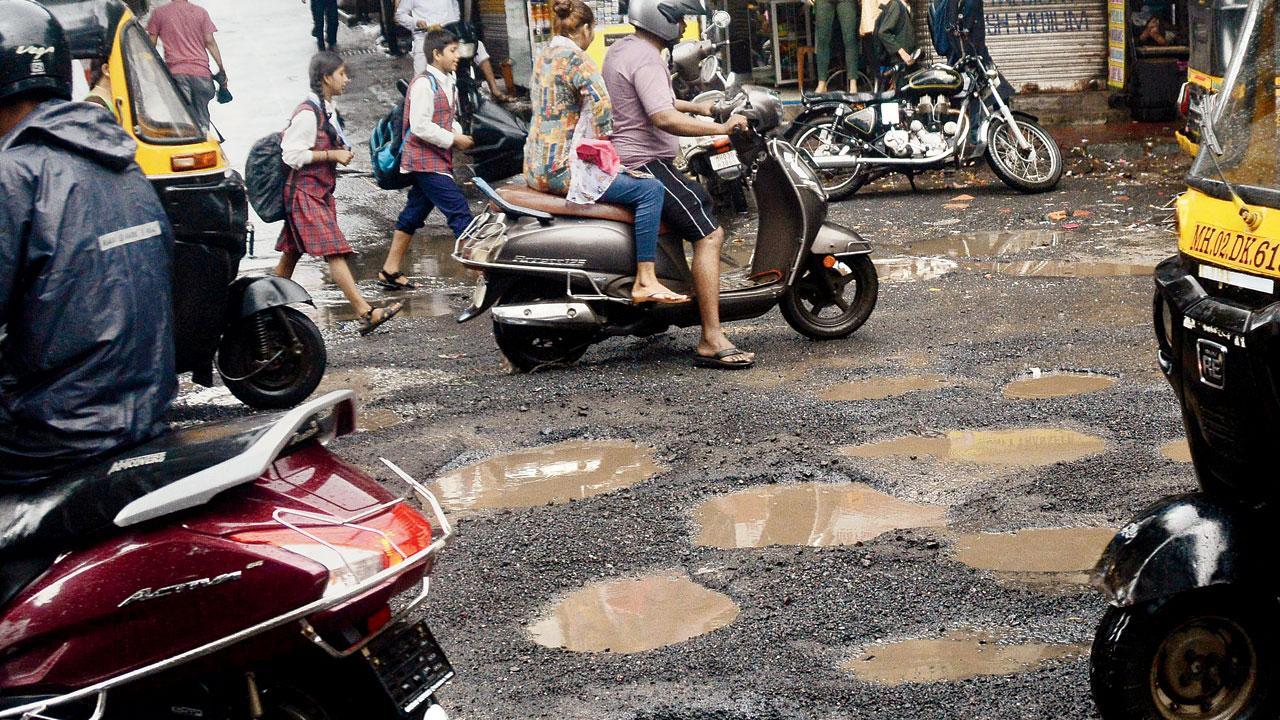 Potholes turned this stretch of the station road at Kurla into something resembling the moon's surface. Pic/Sayyed Sameer Abedi
The civic roads department has started taking a review of cold mix consumption at the ward level and allocation of budget for contractors. This comes in the wake of a mid-day report on Thursday highlighting that BMC's own stock of cold mix was used up by August and the budget for pothole filling was also surpassed in several zones, making it difficult to repair the same even as three weeks of monsoon remain. The civic body has also started a survey to assess the condition of roads for resurfacing.
Many ward officials have raised concerns over the unavailability of cold mix since last month following mid-day's report. A senior official from Brihanmumbai Municipal Corporation's roads department told mid-day, "We are taking review from executive engineers of wards about the use of cold mix and allotment of funds for pothole filling." The official further claimed that enough cold mix was provided to wards for the monsoon season as per their requirement. He added that it is the ward office's duty to assess the condition of roads before monsoon and act accordingly.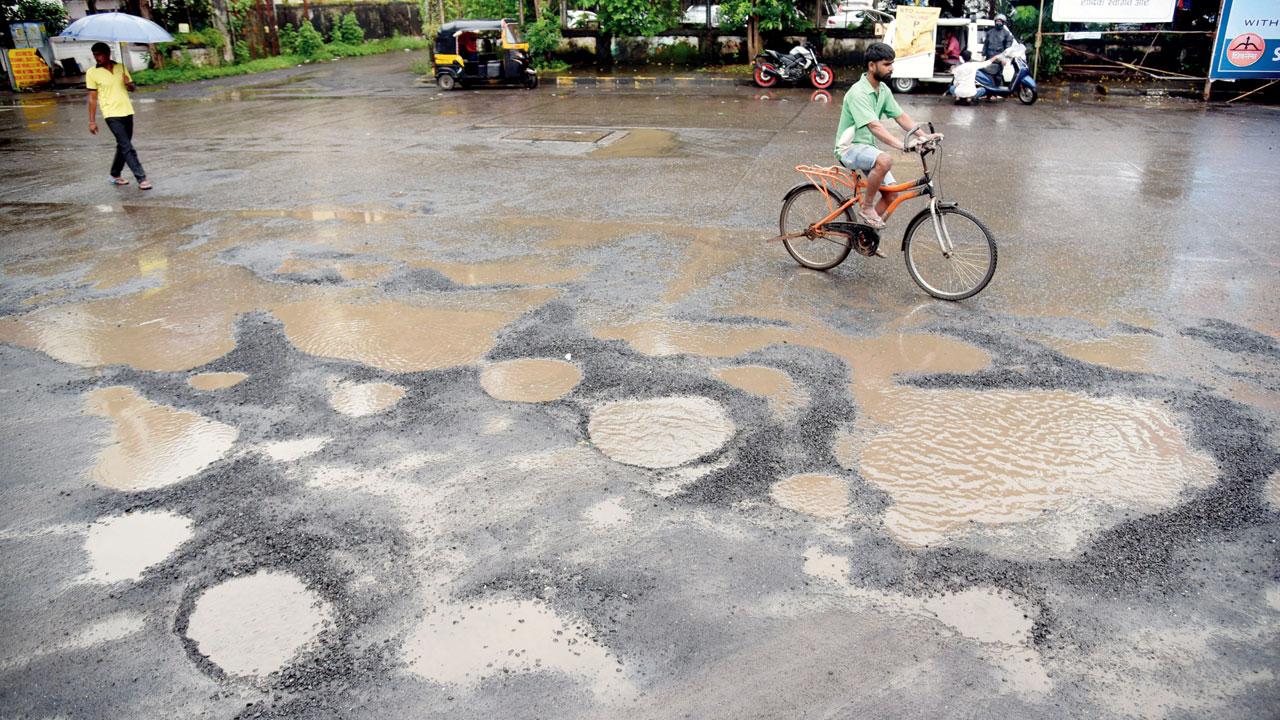 Huge potholes dot the road in Bandra. Pic/Sameer Markande
Additional Municipal Commissioner P Velrasu said, "Wards will be supplied with adequate funds. There will be no lack of funds or materials." The BMC has also started a survey of the roads for resurfacing following public wrath as the condition of several pothole-ridden stretches has worsened over the past few months. Roads department officials are assessing the on-ground situation and the report of the survey will be discussed next week at a senior-level meeting. 
"We have started a survey of roads for resurfacing. It will help us with the number of roads that need urgent attention. The report will be discussed next week at the higher level and they will decide on further action," said an official from the roads department.
Also Read: Mumbai: In a month, Sanjay Gandhi National Park to get two lions from Gujarat 
When potholes started appearing on roads in July after the first heavy spells, the newly formed state government announced that they would convert all city roads into cement concrete over the next two years. Subsequently, the BMC floated tenders for 400 km of asphalt roads in August and declared that they will float tenders for the remaining 430 km asphalt roads in April 2023.
But as the months turned and potholes turned worse which invited public anger, the BMC turned to immediate solutions. In the absence of cold mix and funds for contractors, the civic body is now looking into resurfacing of roads wherever possible. Resurfacing is a simple maintenance technique where around 3 inches of the existing road surface is removed and a new material is laid over it. It requires around 3-4 days to complete the work, but can only be done during dry days. BMC chief Iqbal Singh Chahal has asked the roads department to start resurfacing of roads once the monsoon gets over. 
"Several roads are already under the process of conversion to cement concrete. Apart from these, we will keep aside roads which are under defect liability period. Evaluation of the remaining roads is on," said an official. The defect liability period for asphalt roads is three years, which means the contractor is responsible for maintaining the road during this period. Of the 2,050-km road network in the city, around 990 km are cement concrete and the rest are asphalt roads. BMC has already passed works of converting 236 km of asphalt roads into cement concrete and tenders for another 400 km have been floated.
400 km
Asphalt roads for which BMC has floated tender for cement concretisation
3-4
No of days required for road resurfacing Do you think the Maharashtra government is taking the pothole menace seriously?