The city - sliced, diced and served with a dash of sauce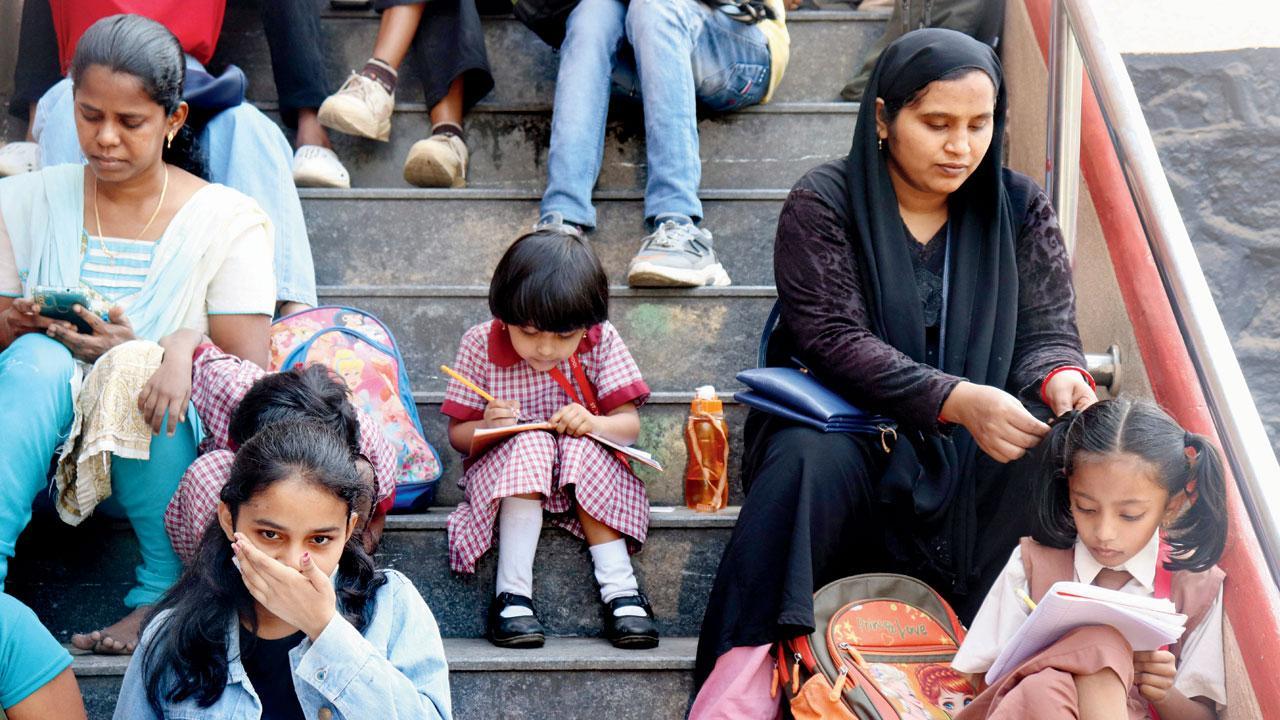 Pic/Anurag Ahire
The World Is their classroom
Children study on the stairs outside a school in Goregaon East
To the futurists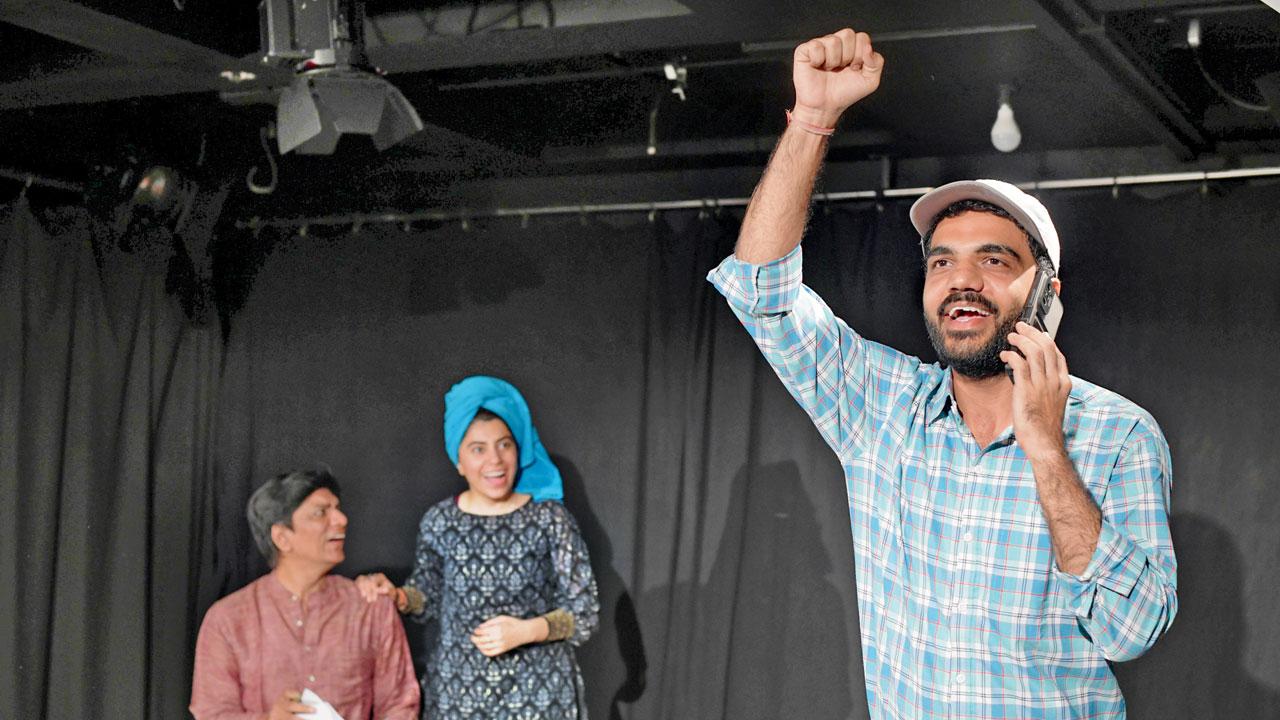 A moment from the play Ghatnaayein
A decade can be a long time, especially in theatre. D for Drama, co-founded by Kumud Mishra, Ghanshyam Lalsa and Saurabh Nayyar, marked the end of its first decade in theatre with two major productions at Prithvi Theatre this week. "It has been quite a journey. I remember when we started back in Uttarakhand, working on small stages," Nayyar recalled, amid preparations for Patna Ka Superhero which was staged at the Juhu venue last evening. It is a far cry from trying to get by from show to show, he said. "If it were not for Mishra or Lalsa, it would have been difficult," he admitted. The crew has since grown to more than 20 members, and Nayyar is optimistic of more. The troupe will also stage the play, Ghatnaayein written by Nayyar, at the upcoming Kala Ghoda Arts Festival next month.
Also Read: Mumbai Diary: Friday Dossier
From the brushes of the innocent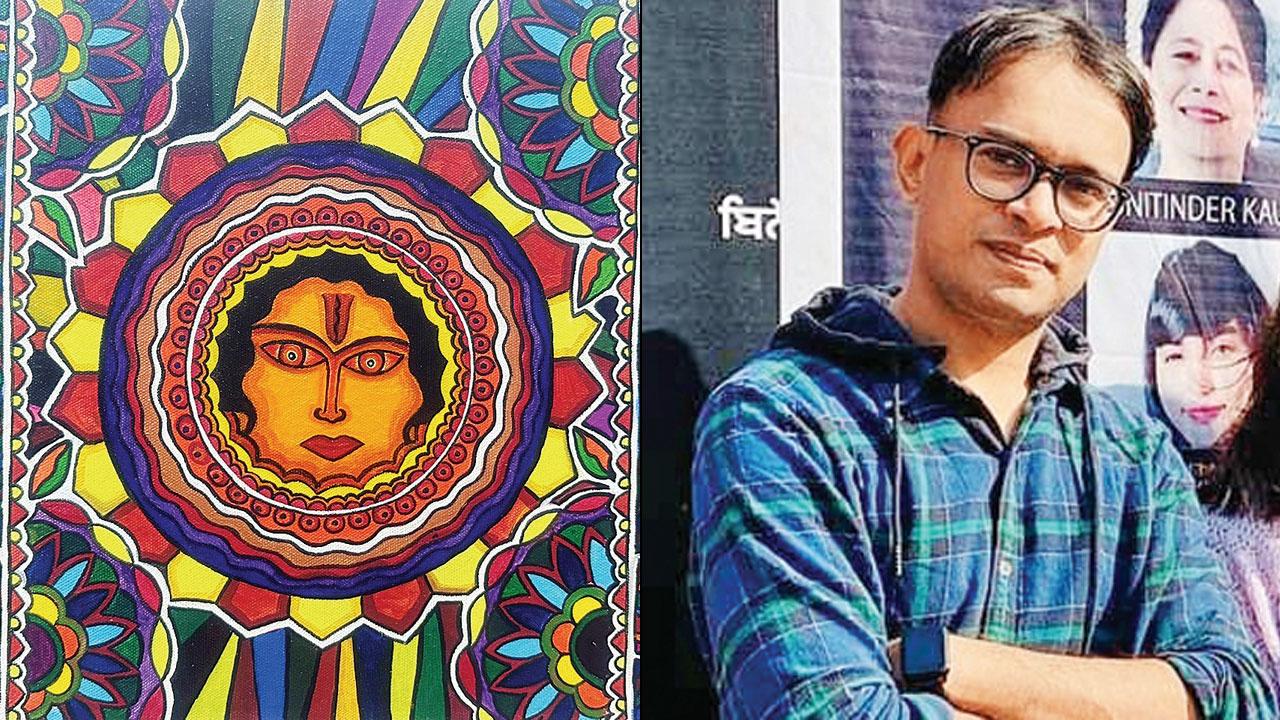 Artwork by Shazia Siddique for the exhibition (right) Sankha Subhra Dey Biswas
Prabhadevi's Ravindra Natya Mandir will host an exhibition organised by Kolkata-based Tobu Ovimaan that will feature works by 11 children from the Salaam Baalak Foundation this weekend. "The idea was to give these under-privileged children an opportunity to express their talent," shares Sankha Subhra Dey Biswas, founder of the organisation. From diverse styles to imaginative creations, the works are surprising, Biswas revealed. The children will also have a chance to interact with 19 other artists from across the country to learn further.
Dates with Mumbai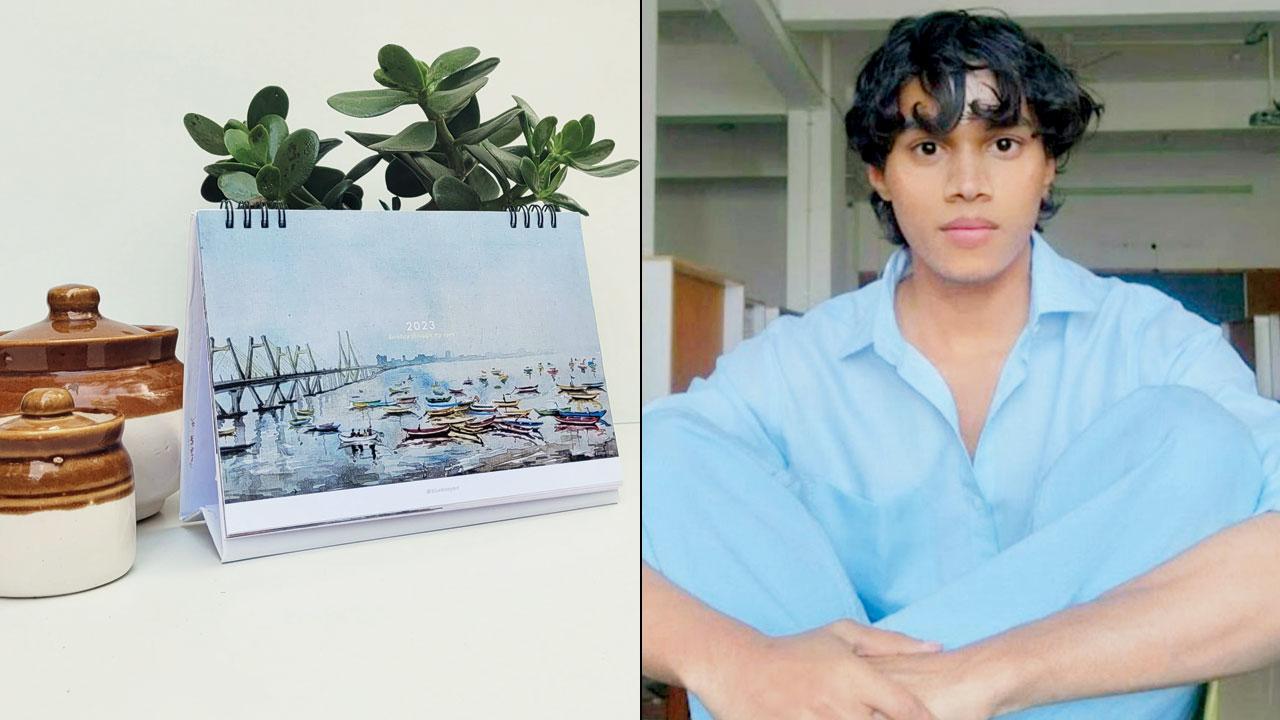 The calendar featuring a view of the sea (right) Akshay Bhombore
If you forget to appreciate the grand, the humble and the everyday sights and sounds of Mumbai, architecture student and artist Akshay Bhombore's (@bluebooyart) calendar will ensure you don't. It features watercolour portraits of nooks and crannies of the city that he visited and painted live on site. "I was in Mumbai for a six-month internship and this is how I got to document the city and my journey. Every painting is in a different place — Hanging Gardens, Banganga Tank, Bhuleshwar, Matunga market, JJ School of Art, Colaba, Mahim Dargah and more," he added.
A delicious afternoon soiree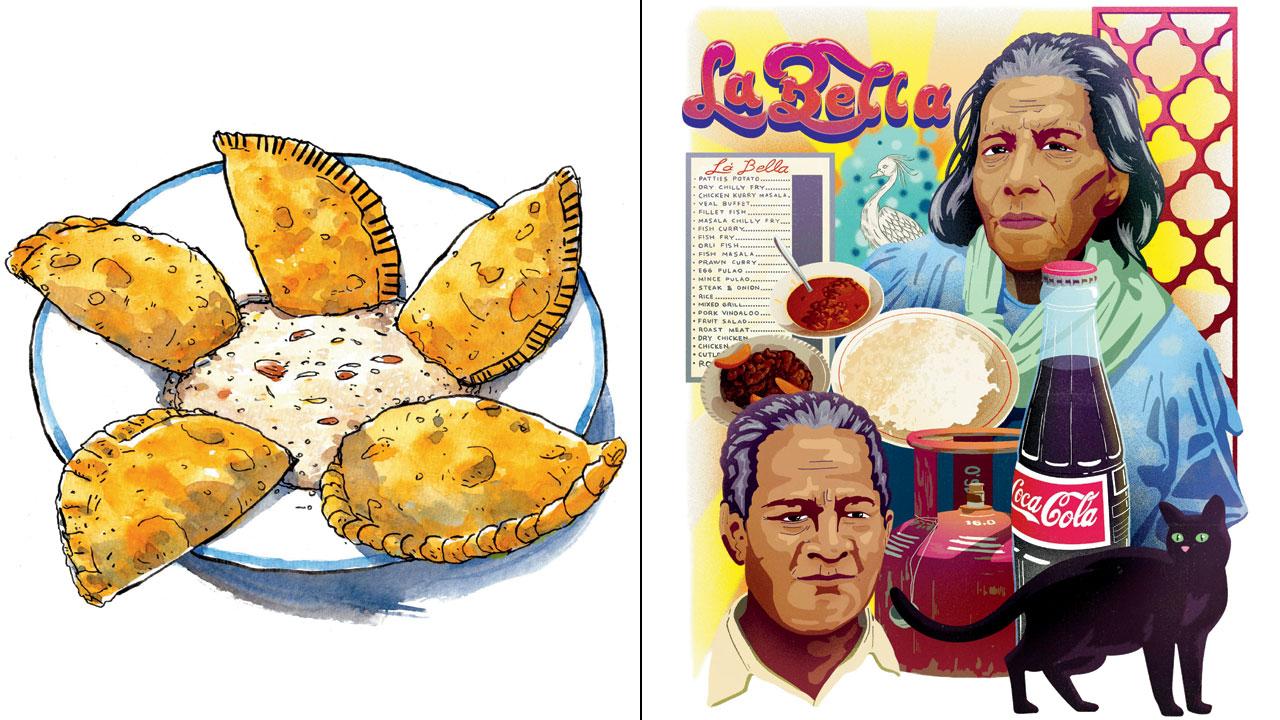 Kheer Puri Ki Fathi'ah illustrated by Saksham Arora (right) The illustration for Tchau Bella! by Nikunj Patel
Filmmaker Nihar Desai's love for cooking and home food has morphed into an artistic curation through the magazine, Baporiyu. Named after the Gujarati word for an afternoon nap, the magazine carries stories, poems and recipes from across the country. "The idea is to reintroduce people to the joy of food. The illustrations, short fiction, and poems are all about home cooking. We hope to create a community of people who love home cooking." From actor Dhruv Sehgal's poem about coffee routine to a student's rediscovery of Indian cuisine abroad, the magazine is filled with anecdotes. Determined to publish thrice a year, Desai said, "The next publications will perhaps focus on seasonal foods and recipes." While the next edition is scheduled for April, the current edition can be found on baporiyu.com.
Discovering new roots in Bandra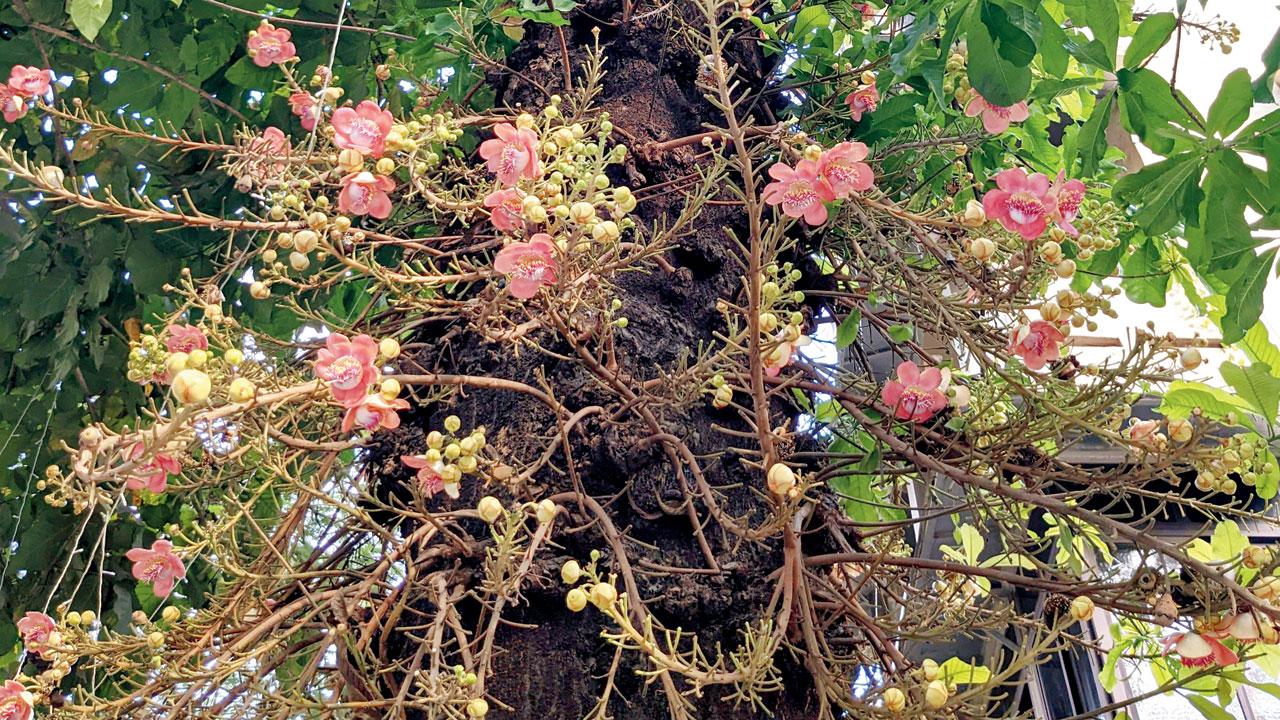 A flowering cannonball tree near the Lilavati hospital in Bandra
Writer Sananda Mukhopadhyaya is back to conducting tree walks. This weekend will see her take participants around Bandra Reclamation to the Taj Mahal Tea House for an early spring watch. "Bandra has a nice cross-section of trees growing between old neighbourhoods that have open spaces," she admitted. Among her favourites are the cannonball trees growing on the stretch near Bandra Reclamation. "You can see a whole family of cannonball trees, with such an intoxicating smell from their flowers," she remarked.