In a statement, Mahim Dargah and Haji Ali Dargah Trustee Suhail Khandwani said that it is a chilla and not a dargah as claims are being made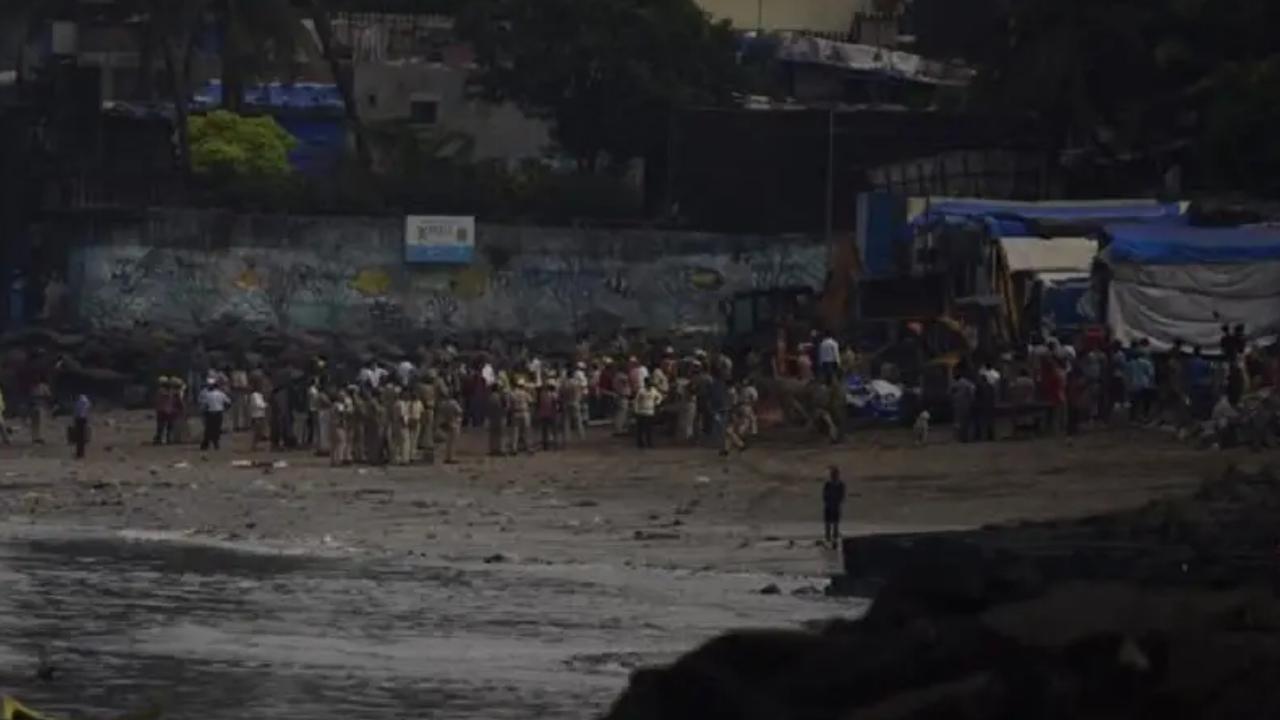 The security and officials at the spot on Thursday morning. Pic/ Atul Kamble
The Mahim Dargah Trust on Thursday issued a statement following a demolition drive in Mahim area of Mumbai on Thursday after Maharashtra Navnirman Sena (MNS) chief Raj Thackeray had warned about the structure in his 'Padwa Melawa' speech at Shivaji Park on Wednesday evening.
In a statement, Mahim Dargah and Haji Ali Dargah Trustee Suhail Khandwani said that it is a chilla and not a dargah as claims are being made. He said that the action on Thursday was taken on the unauthorised structures.
ADVERTISEMENT
An 'unauthorised' structure at Mahim Bay was demolished on Thursday by the authorities. The action was taken a day after MNS chief Raj Thackeray spoke about the alleged structure coming up. The same was also written on his official Twitter handle on Thursday.
Also Read: Heat after rains in Mumbai
Khandwani further said, "If the authorities would have contacted the trust and told us to remove it, we would have done it by ourselves. We are law abiding citizens and would obey the law."He said, "The chilla is intact. The flowers and 'chadars' were offered by the devotees. There was never a dargah there, people have belief and they visit at the spot, Makhdum Shah Baba used to visit there and hence devotees gather to pray at the spot."    
A six-member team was reportedly formed for the demolition work on Thursday with the help of personnel from the Brihanmumbai Municipal Corporation and Mumbai Police.
IN PHOTOS: Illegal dargah in Mumbai's Mahim demolished after Raj Thackeray's warning
While addressing a press conference, Maharashtra Minister Deepak Kesarkar said, "We respect all religions. We have taken this action keeping in mind the Coastal Regulation Zone (CRZ) act. There is nothing wrong with it. It is the CRZ act which prohibits the construction of anything in the sea. The remaining stones will be removed from the area and the spot will be cleaned," reported the ANI.
He further stated that the Maharashtra government is walking on the path of Balasaheb Thackeray.
"Our government runs on the vision of Balasaheb Thackeray. Balasaheb Thackeray used to raise these issues and now Raj Thackeray raised them. Due to Raj Thackeray, it came to our notice that the violation of CRZ is going on so we took action so that no one in future repeats these actions," he said, according to the ANI.