Eight active cases in city, experts say Mumbai is finally free of deadly strain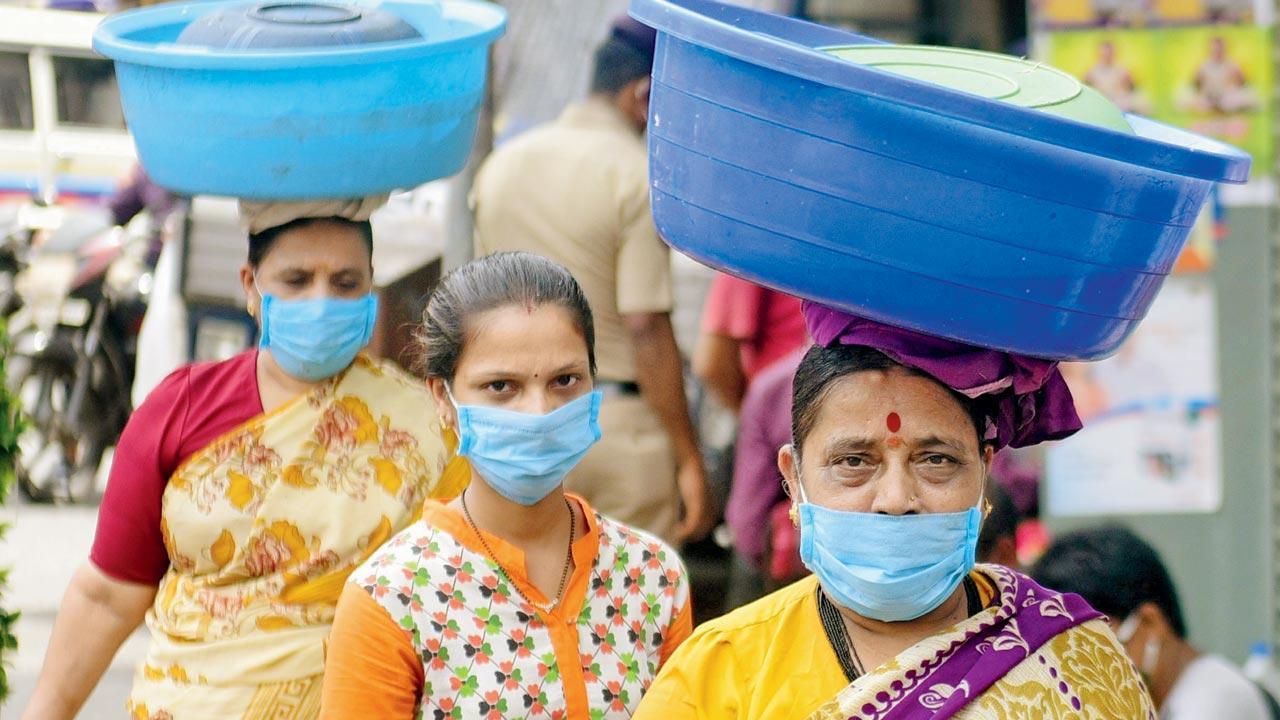 Fisherwomen mask-up in Colaba. Chembur, Bhandup, Goregaon, Bandra and Colaba reported only one case in the past seven days. File pic
Only six of the city's 24 administrative wards have reported Covid cases in the past week. Experts told mid-day that, in their opinion, Mumbai is free of the deadly strain of the virus.
According to BMC data, in the past seven days, Andheri West reported three Covid cases while Colaba, Chembur, Bhandup, Goregaon and Bandra have reported only one each.
While the city's Covid count hit 20,000 a day in January 2022, in the past 10 days, there were two days when Mumbai didn't record a single case. Some of the 18 wards that didn't report a single case from January 23 to 30 are K-East, R Central, R South and P North, which had reported 75,754, 72,018, 67,563 and 65,425 cases since the dawn of the pandemic.
A senior civic health official said, "We are reporting fewer cases but it doesn't mean we can declare Mumbai Covid-free. It definitely indicates that the current situation is under control and the virus is behaving like the normal flu."
Also Read: Explainer: Advantages, side effects, here's all you need to know about Covid-19 nasal vaccine
Of Mumbai's eight active Covid-19 cases, three patients have been hospitalised, two are in the ICU and one is in the general ward. The rest are asymptomatic.
Dr Vasant Nagvekar, state Covid task force member, said, "The Covid count is very low. As of now, we can say that we are free of the deadly strain that was taking a toll on Mumbaikars two years ago. Patients who have flu symptoms are being tested for Covid-19 but their results are negative." 
Dr Gautam Bhansali, physician at Bombay Hospital, said, "Covid is not a concern at all. However, people should take precautions if they have flu symptoms irrespective of which disease they are suffering from. We can't say that Mumbai is Covid-free until the WHO declares it so but in my opinion, the city is free of the deadly coronavirus that was taking lives in the first and second waves." Do you often find yourself in the middle of office politics?