Over 50 lakh tonnes garbage still left to be treated at dump yard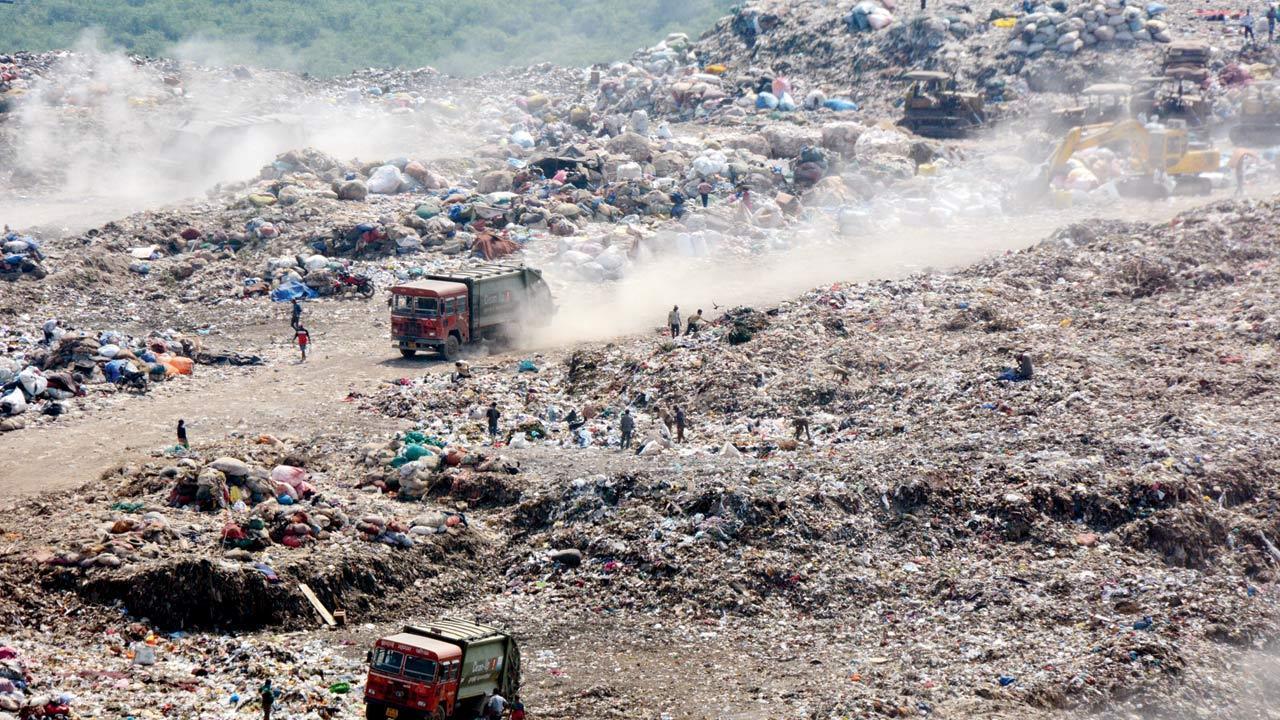 The Mulund dumping ground stopped accepting garbage in 2018. Pic/Satej Shinde
After working on the Gorai dumping ground, the BMC took the gigantic step of processing 70 lakh tonnes of waste at the Mulund dumping ground. But in the past two years, only 20.27 lakh tonnes of the waste has been processed. As per the contract, the rest of the waste, over 50 lakh tonnes, has to be processed in two years.
The project to process the waste at Mulund dumping ground was awarded in 2018 for six years, but started in 2021 after the contractor received permissions from various authorities and procured machinery. The plastic separated from the waste remains an issue. The Brihanmumbai Municipal Corporation (BMC) has now decided to convert it into oil or pellets by setting up two plants at the site.
ADVERTISEMENT
During the processing of the waste, more than 2 lakh tonnes of scrap combustible fractions (SCF) such as plastic, fibre, wood, etc. were obtained. The SCF mainly contains plastic and needs different treatment. "We have been looking for various solutions to process this waste. As per directions from the central government on processing SCF, we have given 15,000 tonnes to the plastic processing industry. They may convert it into granules or oil," said a BMC official. Plastic granules are used by manufacturers of raw plastic material for the plastics processing industry.
Also Read: Mumbai: D Ward takes lead in waste segregation
The new units
Of the two plants the BMC will set up, one will be a RDF (refuse derived fuel) unit where 200 tonnes of SCF will be processed per day to convert it into pellets. The pellets can be used as a substitute for fossil fuels in industries like cement plants.
The plant will be of pyrolysis where 20 tonnes of plastic will be processed every day. Pyrolysis is the common technique used to convert plastic waste into energy, in the form of solid, liquid and gaseous fuels.
Though the BMC is in talks with cement and power industries to accept the end products, there are a limited number of cement industries accepting SCF recovered from dump sites.
Deadline postponed
The earlier deadline to close the dumping ground was October 2024, now it has been postponed to June 2025. The Mulund dumping ground stopped accepting garbage in 2018. The contract was awarded in October 2018 for R731 crore with approximately 7 million metric tonnes of waste on the ground. The project was supposed to be completed within 
six years.
Mulund was the second-largest dumping ground for the city after Deonar. Spread over 24 hectares, the dump yard had been in use since 1967. Of the 7,200 metric tonnes of garbage produced by the city every day in 2018, around 1,500 to 2,000 metric tonnes was dumped in Mulund.
Rs 731cr
Worth of the contract to process the waste by 2025