MU officials say there's no provision for revaluation as the online exams in multiple choice question format is computerised and has no chance of error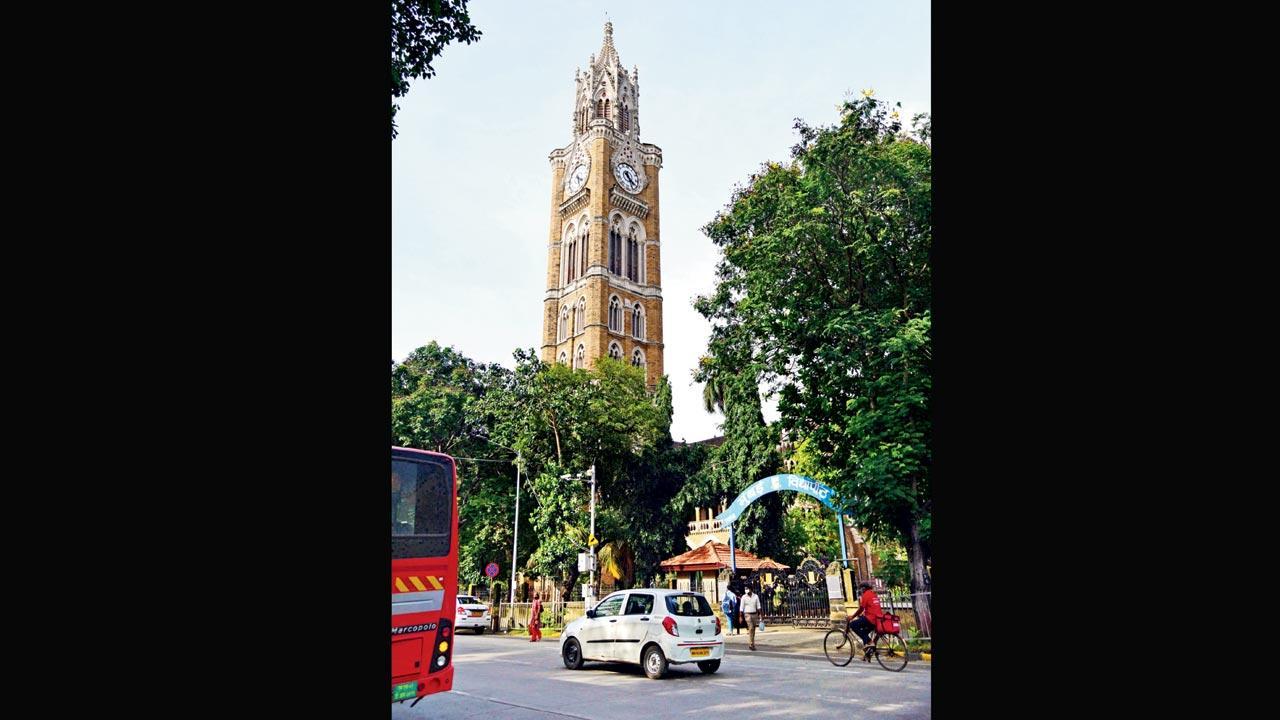 The Mumbai University campus in Fort. File pic
The Mumbai University suffered a significant loss of revenue which comes from revaluation applications submitted by students, as there is no provision for revaluation for take-from-home online exams in the MCQ format. 
Each year thousands of students who receive low marks or fail exams apply for a photocopy of their answer sheets so they can verify and apply for revaluation. There have been cases where students' marks have significantly improved after revaluation. However, in the 2020-21 academic year, the varsity has not received any such applications, and academics attribute this to exams conducted online.
This was revealed in response to a Right to Information query filed by activist Vihar Durve in May. 
In another RTI reply to Durve, MU has revealed that in the academic year 2019-20 till November, the varsity earned Rs 2.82 crore through fees for revaluation of answer books, while another Rs 10.06 lakh were earned by providing a photocopies of answer sheets. In the academic year 2018-19, MU earned Rs 3,73 crore for revaluation and Rs 10.03 lakh for photocopy of answer sheets. The revaluation fee for each paper is Rs 250 and the cost for a photocopy of each answer book is Rs 50.
"There has been no revenue earned towards photocopies or through revaluation fees for exams conducted between 2020-21 due to online exams. The online exam system has no provision for revaluation. There are MCQs in online exams and assessment is totally computerised and not manual, hence it leaves no scope for errors in counting marks etc. Those students who have faced technical glitches, their cases are heard and resolved by respective cluster colleges," said a university spokesperson.
Durve, however, disagreed with the varsity's rule of no revaluation for online examinations. "It's not about revenue or online assessment having no error. It's about transparency in the system. Did the university administration take students into confidence before coming up with such a rule?" he said. 
In an RTI reply to Durve, MU said  that of the total 3.5 lakh students who took the exams in 2017 and 2018, 1.52 lakh had applied for revaluation. "This itself points at how error-ridden Mumbai University's assessment and evaluation system is. Even if exams are conducted online students can at least get a chance to see the evaluated answer books," demanded MU senate member and member of academic council Pradeep Sawant. A similar issue was raised by students of Panjab University last year. Following this, in January 2021 the Punjab and Haryana High Court had ruled that rechecking and revaluation will apply to the answer books submitted during the online examination.
Rs 2.82cr
Money collected as revaluation fees in 2019-20
Rs 250
Amount collected by MU for revaluation of each paper