Mumbai and its suburbs are expected to experience a generally cloudy sky with occasional light to moderate rain, weathermen predicated on Wednesday morning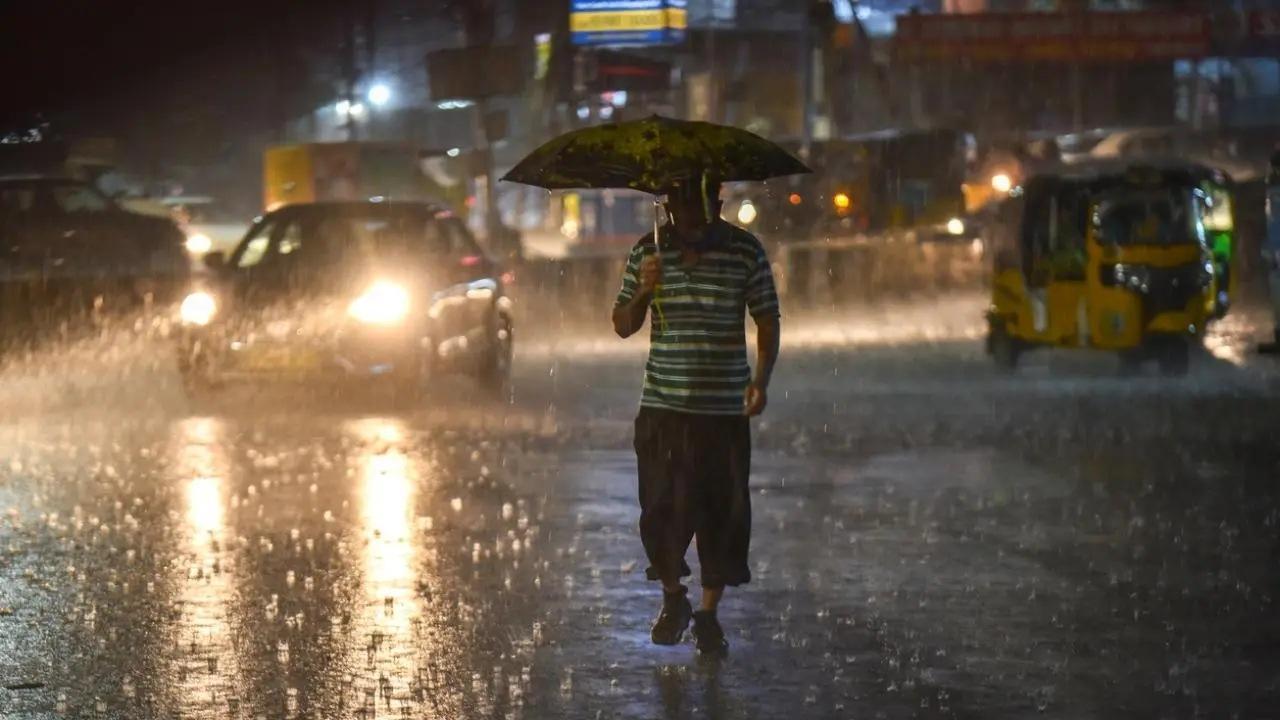 File Photo/PTI
Listen to this article
Mumbai weather update: Light to moderate rain with overcast skies
x
Mumbai and its suburbs are expected to experience a generally cloudy sky with occasional light to moderate rain, weathermen predicated on Wednesday morning.
On Tuesday the city witnessed intermittent showers at many places.
ADVERTISEMENT
The Indian Meteorological Department said that the city will witness a high tide, occurring at 1428 hours, at 3.72 meters. Later in the evening, at 2029 hours, the low tide will decrease to 0.83 meters.
For the following day, September 21, 2023, at 0319 hours, a high tide is projected to reach an even higher peak, measuring 3.85 meters.
Tuesday witnessed varying degrees of precipitation across different parts of the Mumbai Metropolitan region. Data recorded from 8 am yesterday (19.09.2023) to 8 am today (20.09.2023) indicated distinctive rainfall figures in different localities:
Mumbai City experienced a total of 17.74 mm of rainfall, providing a much-needed replenishment to the city's water reservoirs. The Eastern Suburbs recorded a slightly higher precipitation rate, with 18.84 mm of rainfall.
Meanwhile, the Western Suburbs received a comparatively lower amount of rainfall at 12.45 mm.
Also read: Pune: Over 35,000 women recite Ganapati Atharvashirsha as part of Ganesh Chaturthi celebrations
The average rainfall received by the city is 17.1 mm,from 8:00 a.m. on September 18 to 8:00 a.m. on September 19, 2023. In the Eastern Suburbs, an average of 23.8 mm of rainfall was recorded while the Western Suburbs saw an average of 16.4 mm of rainfall during this period.
The sporadic rainfall is a characteristic feature of the monsoon season in Mumbai, where residents are accustomed to adapting to the changing weather conditions.
On Tuesday, the collective water stock in the seven reservoirs that supply drinking water to Mumbai is now at 97.63 pc, as per the Brihanmumbai Municipal Corporation (BMC).
As per the data shared by the civic body, the water level in Tansa is at 99.18 per cent. At Modak-Sagar, 100 per cent of water stock is available.
In Upper Vaitrarna 94.90, Middle Vaitarna 97.42 per cent, Bhatsa 97.74 per cent, Vihar 100 per cent and Tulsi 100 per cent of useful water level.
The seven lakes have 14,13,061 million litre of water on September 19, against the full capacity, which is around 14,47,363 million litre.
The water level in the reservoirs that provide water to Mumbai has been dripping as compared to the previous year. 
"Exciting news! Mid-day is now on WhatsApp Channels

Subscribe today by clicking the link and stay updated with the latest news!"
Click here! Do you think there has been a recent rise in cold-blooded murders?