Signalling a hard Hindutva reboot, Uddhav promises another 'Sena CM', takes potshots at RSS-BJP; Eknath Shinde says his people are not traitors, but it is ex-CM who has betrayed ideology of his father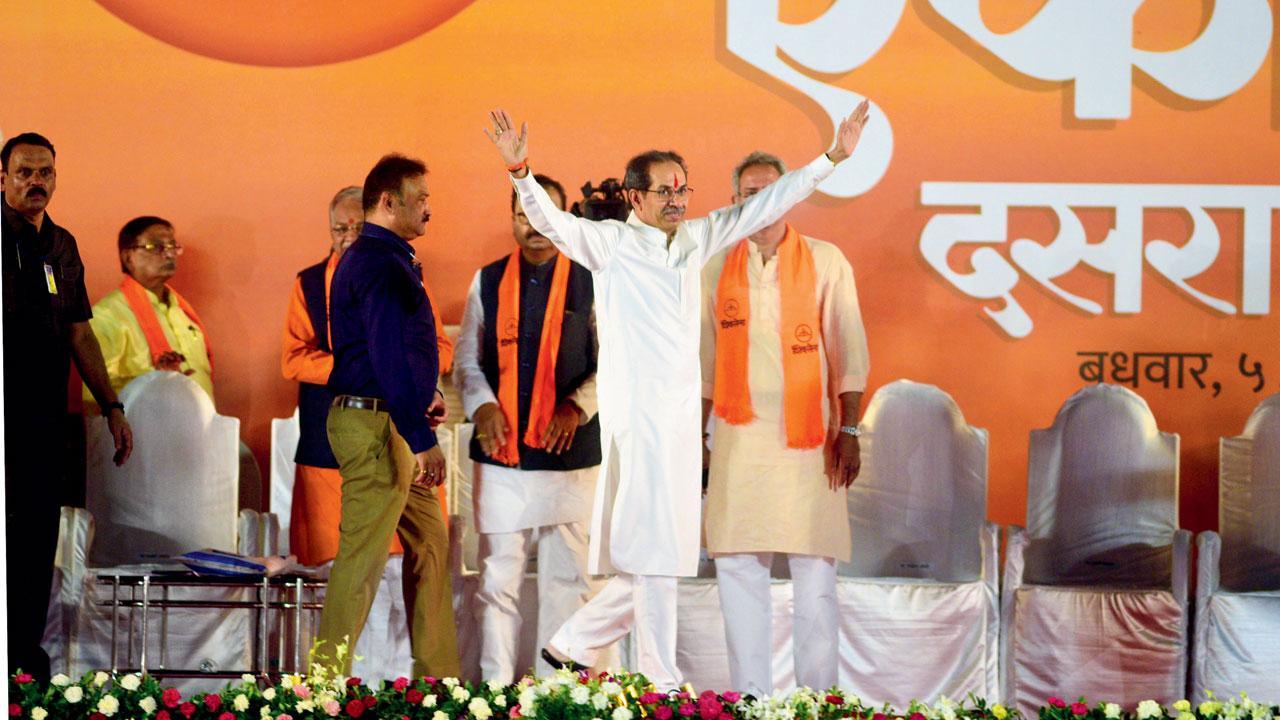 Uddhav Thackeray at the Dussehra rally at Shivaji Park. Pic/Rane Ashish
'Fulfilled my promise to my father'
I promise that there will be another Sena chief minister with your support," party chief Uddhav Thackeray pledged during Shiv Sena's annual Dussehra rally at Shivaji Park. The Thackeray Sena's Eknishtha Melava was held at Shivaji Park after winning a legal battle against the BMC and the Shinde faction. Taking a dig at the BJP and RSS, he said he didn't need others to teach him  him how to demonstrate his Hindutva.
Speaking at the rally, the Sena president said, "I fulfilled a promise which I had given to my father Balasaheb Thackeray by making a Sena CM." He also added that in the earlier BJP-Sena government "it was decided that BJP and Sena will have chief minister for two and half years each."
'We are Hindu, today and forever'
Thackeray also launched an attack on the Chief Minister Eknath Shinde faction as well as its former ally the Bharatiya Janata Party for their attempts to question his hindutva. "We don't need anyone to teach us hindutva. We were hindu yesterday and we will be hindu tomorrow and forever. Our Hinduism is connected to our nationality." Without naming Prime Minister Narendra Modi or Rashtriya Swayamsevak Sangh chief Mohan Bhagwat or Congress's Lalkrishna Advani, he said, "Their leader went to Pakistan to celebrate birthday without invitation, while another went to a mosque. And their leader went to bow down on the grave of Jinnah."
Also Read: Dussehra rally: Show of loyalty, legacy at Shivaji Park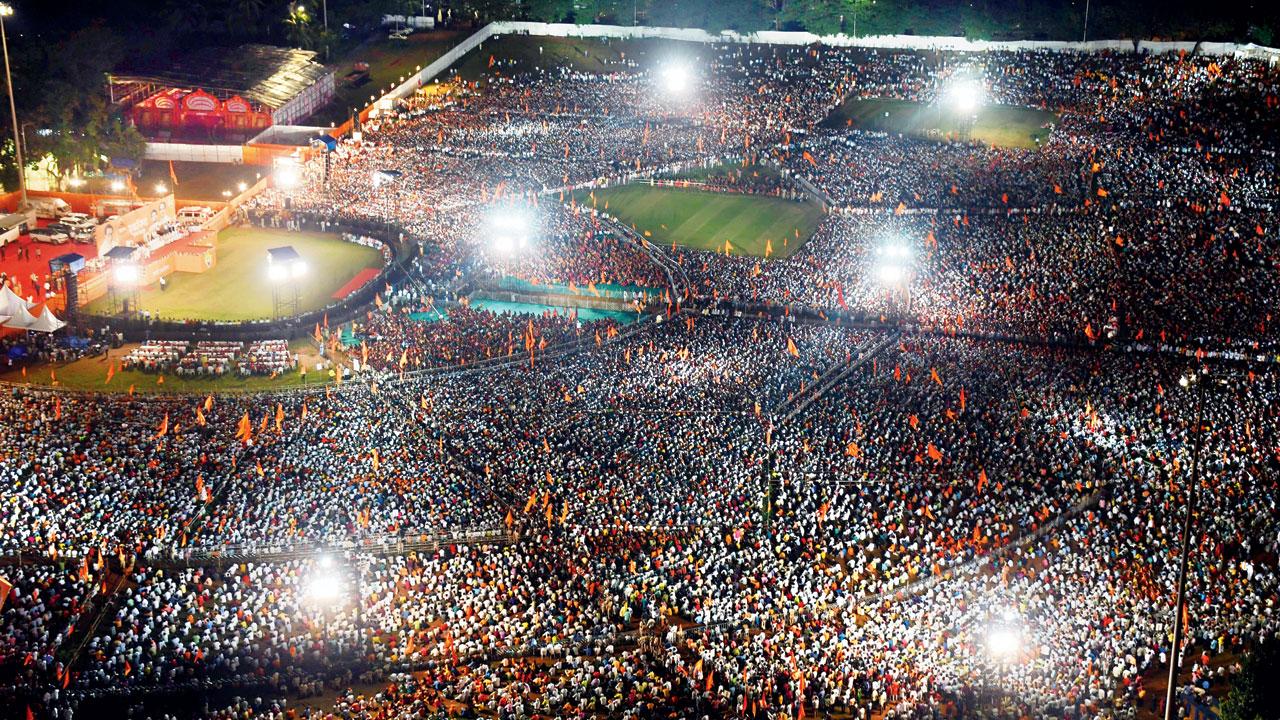 Sainiks attend the Theckeray Sena's Dussehra rally at the iconic Shivaji Park venue on Wednesday. Pic/Ashish Raje
"They are just speaking about cows, but who will speak on inflation? We need Ram in our hearts and work for our hands. I will congratulate [Dattatreya] Hosabale for showing a mirror to his own people on poverty, unemployment and inequality," said Thackeray. Hosabale is RSS general secretary. He warned about single-party dictatorship in India, and mentioned the murder of Ankita Bhandari in UP and the Bilkis Bano case to underline the poor status of women under BJP rule.
'New Ravan'
Taking digs at the Shinde group, he said, "This year there is a different Ravan. He is 'khokasur' [referring to allegations of Shinde faction taking Rs 50 crore for shifting sides]. When I was in hospital and couldn't move, I gave them the responsibility. But they thought I would never stand on my feet again. They are gaddars [traitors]. Their ministerial posts are temporary, but the stamp of traitors on their heads will remain forever."
He also praised the party workers saying this is a rare and unprecedented occasion. "I am speechless after seeing your emotions. And this cannot be bought or snatched. Not a single person is brought here on an hourly wage." The Dussehra rally at Shivaji Park has been associated with the Shiv Sena since its inception in 1966. Since Balasaheb Thackeray's death in 2012, his son and Sena chief Uddhav Thackeray has led the rally. Though Sena has held rallies at other venues including BKC, Shivaji Park has a historic significance.
Voices
'Hanumant Kharat, Pandharpur
'Many leaders have deserted the Thackeray family, but the grassroots karyakartas are with them. We don't even expect that someone will provide us with food. We come at our own expense'
Balasaheb Kasar, Mulshi taluka of Pune district
'I've been attending the Dussehra rally since 1986. We all come here in our own vehicles. Nobody asks us to visit this place, we come on our own. This is a ritual for Shiv Sainiks'
Ishrat Shaikh, Mulund
'We have been coming to Shivaji Park for more than 15 years. We only follow Thackeray, no one can take his place'