All the 11 completed roads are in the western suburbs; seven in Malad, three in Goregaon and one in Bandra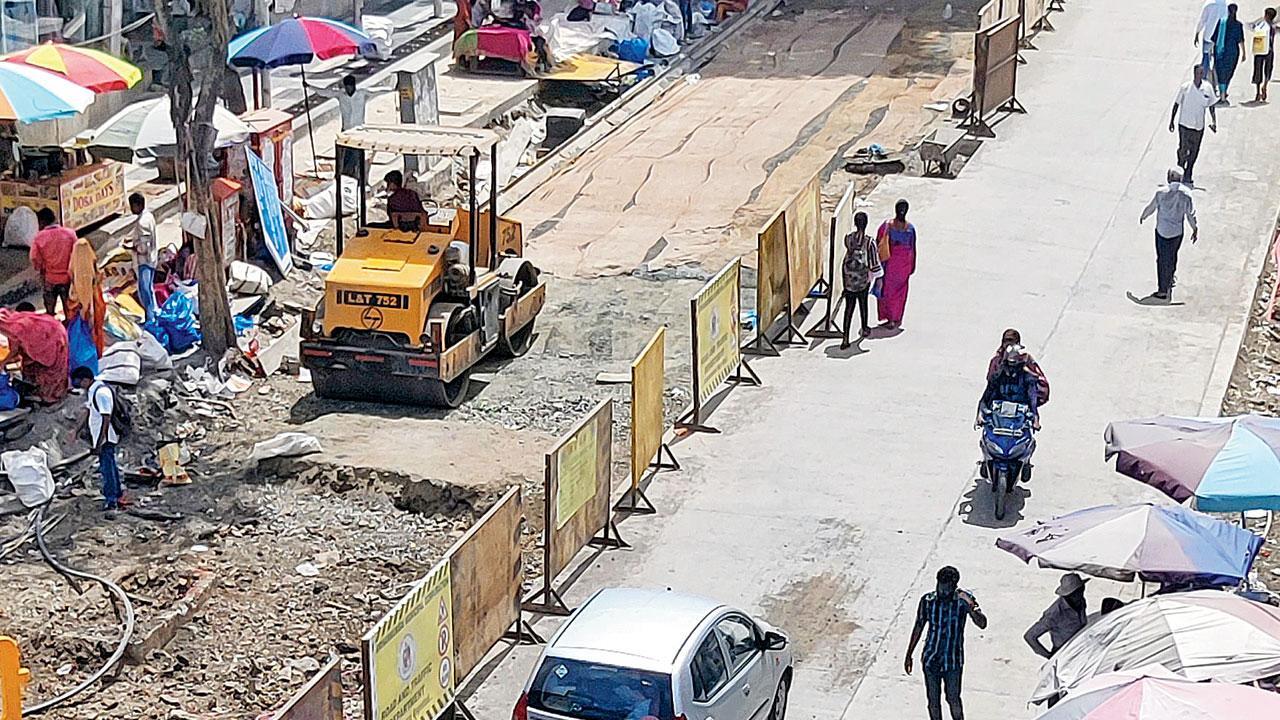 Workers lay a cement road in Borivli West on May 22. Pic/Nimesh Dave
Of the 505 roads in the city and its suburbs that are being concretised, merely 11 are complete five days prior to the pre-monsoon deadline. Work on the remaining 494 roads will resume only after the rainy season. All the 11 completed roads are in the western suburbs; seven in Malad, three in Goregaon and one in Bandra. The delay has been caused by retendering and the decision to lay a utility cable duct under all roads to minimise the damage in the future. mid-day highlighted the cable duct obstruction in the work progress in its report on May 23. 
With pre-monsoon showers expected anytime, the roads where the work has been partially done would be temporarily fixed over the next few days to ensure it is safe to use during the monsoon, post which contractors would resume laying CC road. The city has 2,000-km of road network, and the BMC has been working for the past few years to convert asphalt roads into cement concrete ones. A total of 505 roads of 211 km were planned to be made of CC.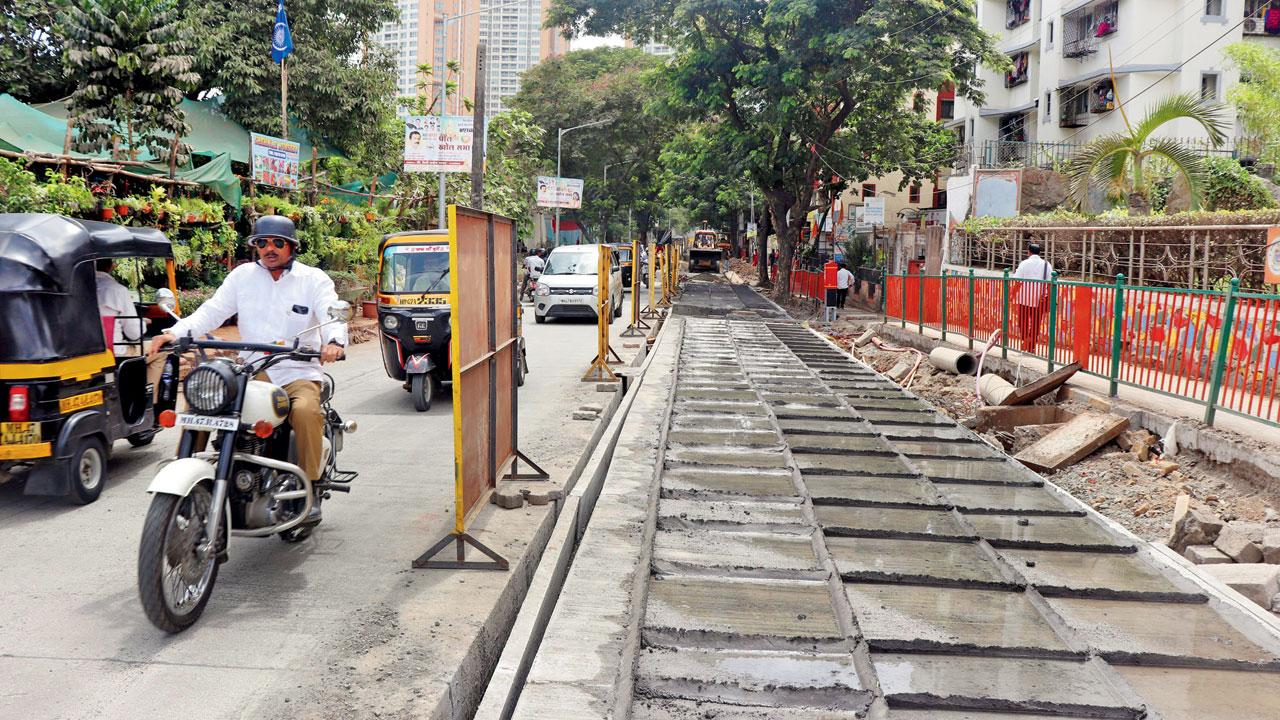 A cement road is laid in Goregaon East, on May 22. Pic/Anurag Ahire
"The roads that have been completed are all small ones. There are several works involved, like permission from the traffic department and shifting of utilities, and big roads cannot be completed in two to three months," said an official from the suburbs. The BMC figure also mentioned that four roads have been completed in the eastern suburbs, but the official said these are all big roads, including the Mahul Road, where work started last year. 
Generally, work on new roads starts in October, post the monsoon, but the process was delayed last year. The BMC invited tenders for roads in March 2021, but received the responses below 30 per cent of the estimated cost. The civic body scrapped the tenders and re-invited bids in September, but again got quotes below 15 to 20 per cent of the estimates. The administration then decided to present proposals to the standing committee and they were approved in December and January.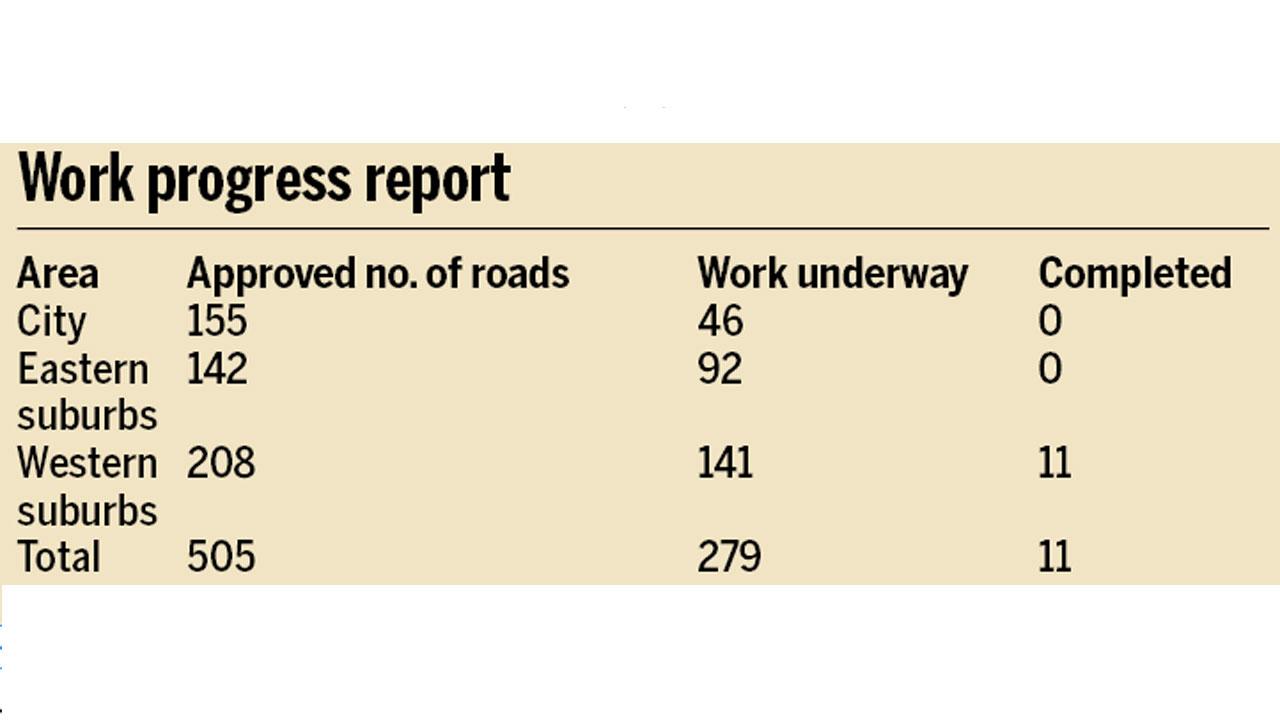 "After the proposals were approved in January, we were waiting to get permission from the traffic department. The actual work started in March and April. We haven't counted roads where even 10 per cent work is left, so the number is on the downside. The decision of laying duct also slowed down the work, but the issue has now been streamlined," said Ulhas Mahale, deputy municipal commissioner. He added that work on Aarey Road and others, which do not have issues with traffic, will be carried out in the monsoon.