Arthur Road inmate, beaten for speaking up, alleges jail officials 'charge' up to Rs 3 lakh for separate bedding space and material and that local cops are hushing up his complaints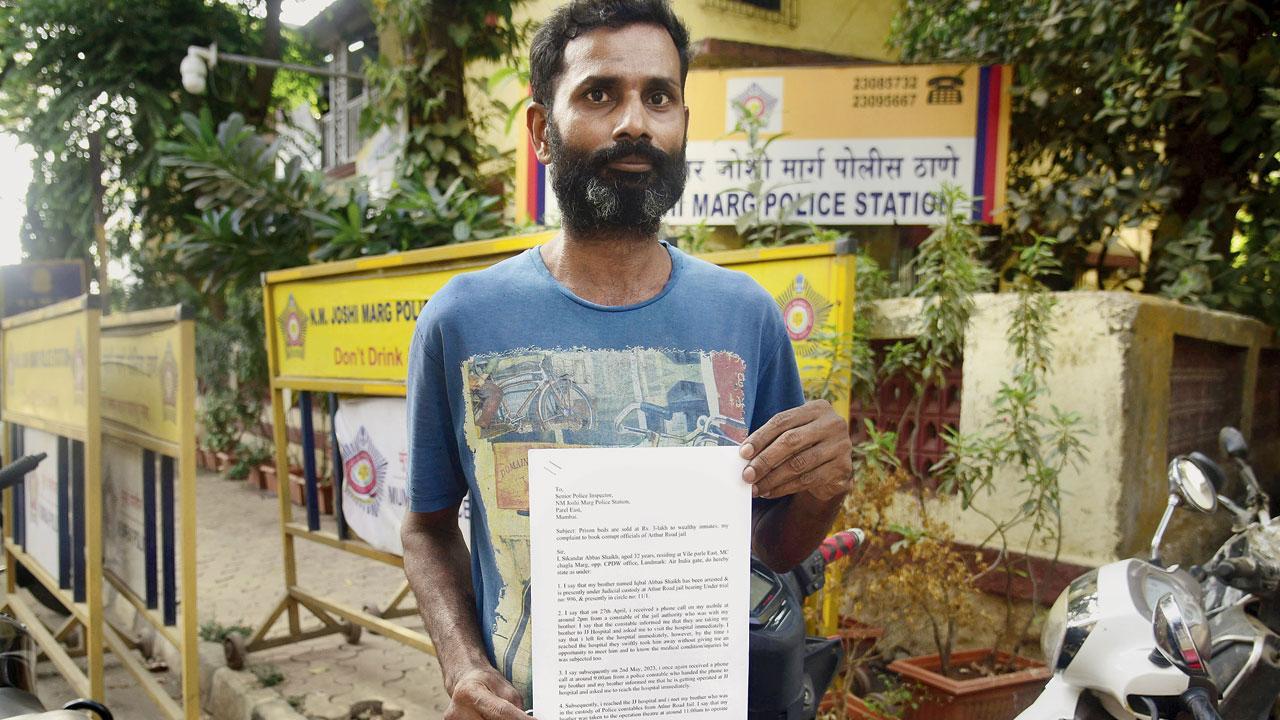 Sikandar Shaikh holds the complaint letter written by his brother Iqbal, who is an undertrial at Arthur Road jail. Pic/Atul Kamble
At Arthur Road jail, some crooked officers are getting rich by selling exclusive sleeping space to inmates at Rs 3 lakh per head, alleged an undertrial who landed in hospital with a broken hand after resisting their dadagiri. Because of overcrowding, inmates are herded together in cells, where they are forced to sleep on one another.
Sikandar Shaikh, the undertrial's younger brother, alleged that he approached the NM Joshi Marg police for action, but they hushed up his complaint.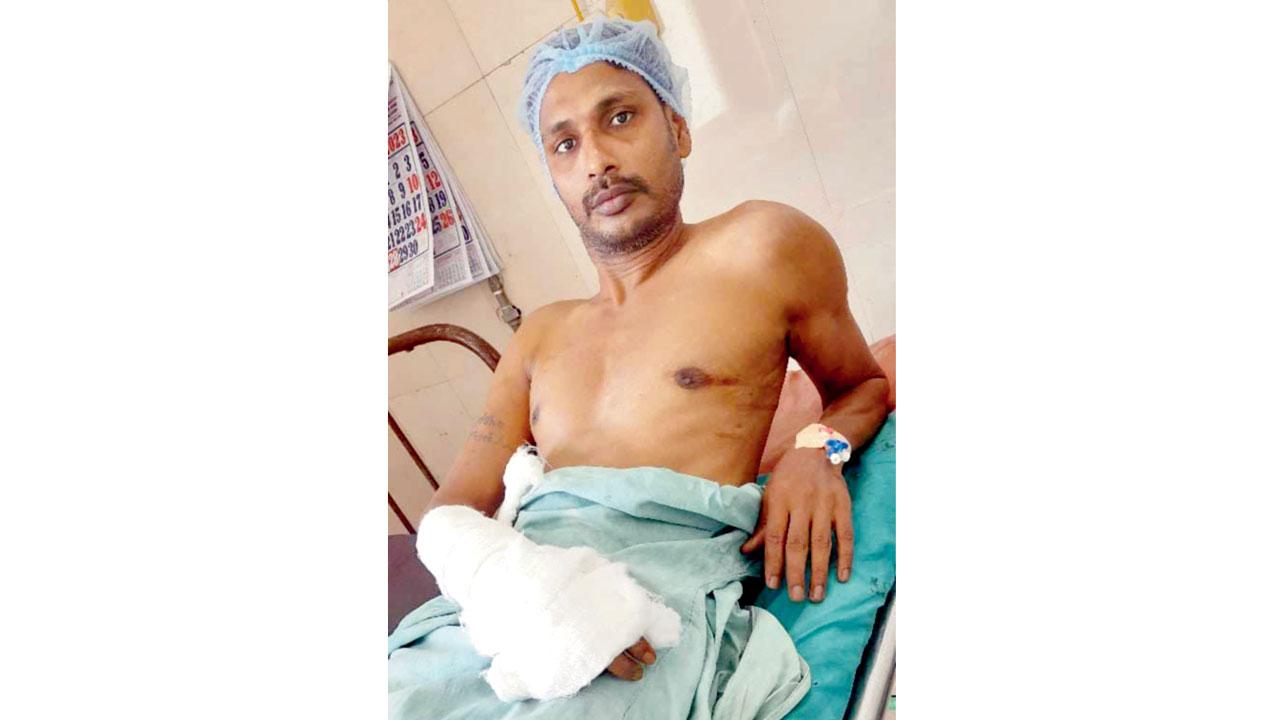 Undertrial inmate Iqbal with his fractured hand when he was admitted at JJ hospital
ADVERTISEMENT
Iqbal Abbas Shaikh, who is imprisoned at the nearly century-old Arthur Road jail since September 2021 in connection with a murder case, had first requested a hawaldar for a proper space to sleep, but was asked to pay up, according to Sikandar. When he argued against the alleged extortion and insisted on having the space, hawaldar M K Bhoir verbally abused him, Sikandar told mid-day. Later, Bhoir caned him mercilessly, Sikandar said. "My brother told me that he was badly baton charged on April 24 by Bhoir for no fault of his."
'Down payment works, too'
"My brother told me that Bhoir wanted Rs 3 lakh to allow him to have a sound sleep at the barrack. When Iqbal told him that he cannot pay up, Bhoir asked him to give a down payment of Rs 25,000 and transfer the rest of the amount online.
"The assault was so brutal that he sustained grievous injuries in his right hand, but none of the prison officers bothered to get him medical treatment for the next two days," he added.When his pain did not subside, Iqbal, on April 26, went to "the hospital doctor, who referred him to JJ hospital. After I was informed by the prison officers, I went to visit him at the hospital and found him with a swollen hand," Sikandar said.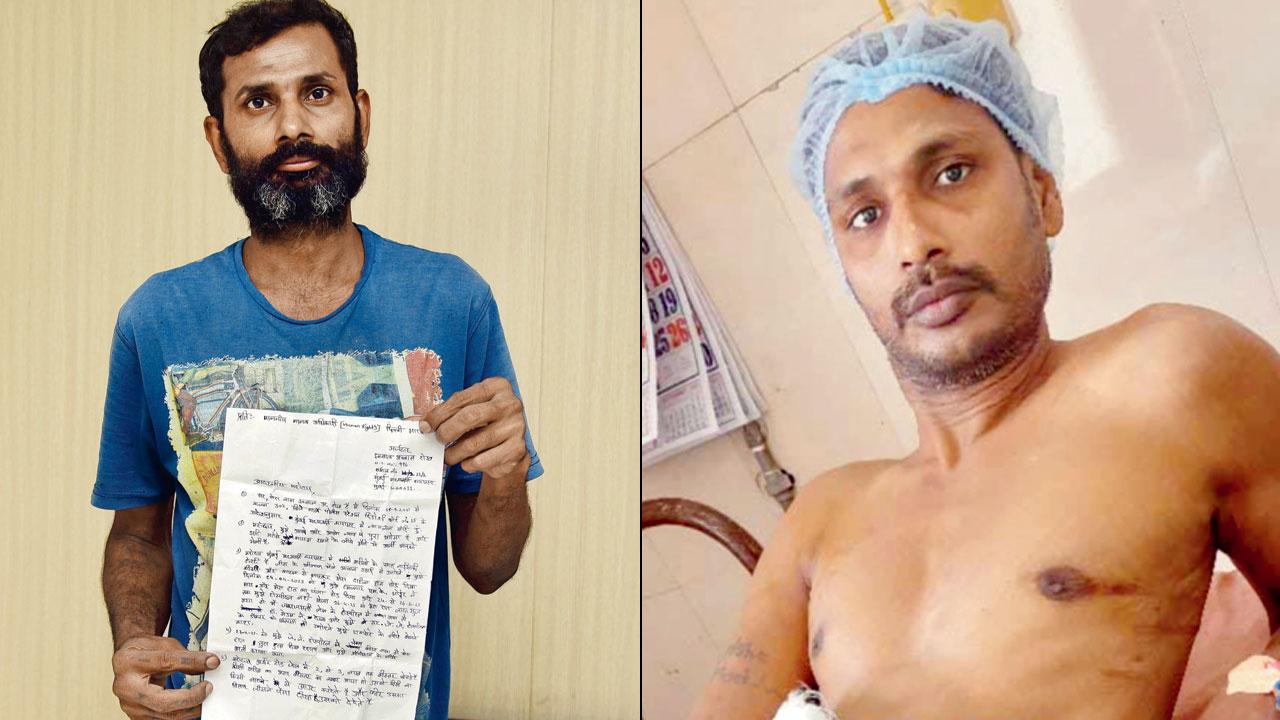 Sikandar Shaikh, the brother of (centre) Iqbal Shaikh
Iqbal underwent surgery on May 2, as the bones of the little finger and the wrist of his right hand were fractured. "Later, he was shifted to the prison's medical ward, where he stayed until May 18," said Sikandar. On May 27, Iqbal handed him a three-page complaint, written in Hindi, Sikandar said.
"The prison staff of Arthur Road jail has been blatantly selling bedding space for sound sleep at the barrack. One needs to pay R2 to R3 lakh for a comfortable space to sleep at the barrack. Instead of letting the inmate whose turn it is to sleep in the comfortable space, the slot is allotted to whoever greases the palm of the prison staff... I have all the clinching evidence to substantiate my claims. If an officer from the human rights commission visits me at the prison, I will give my statement," reads the letter.
Iqbal asked Sikandar to submit the letter to the National Human Rights Commission, Maharashtra chief minister, ADG (Prisons) Maharashtra and Dindoshi sessions court. "But I could not submit it, as I am illiterate and do not know what to do and where to go," Sikandar lamented. Those who pay up have about a 6X6-foot space secure till they get bail, which is a maximum of three months.
Cops hushing up matter?
"My brother had also asked me to call the NM Joshi Marg police station to register a complaint. I dialled the landline number and an officer answered, who said that the seniors are aware of the incident and an officer will visit Arthur Road jail for a thorough investigation. But my brother later told me that no one had visited for any inquiry," he said.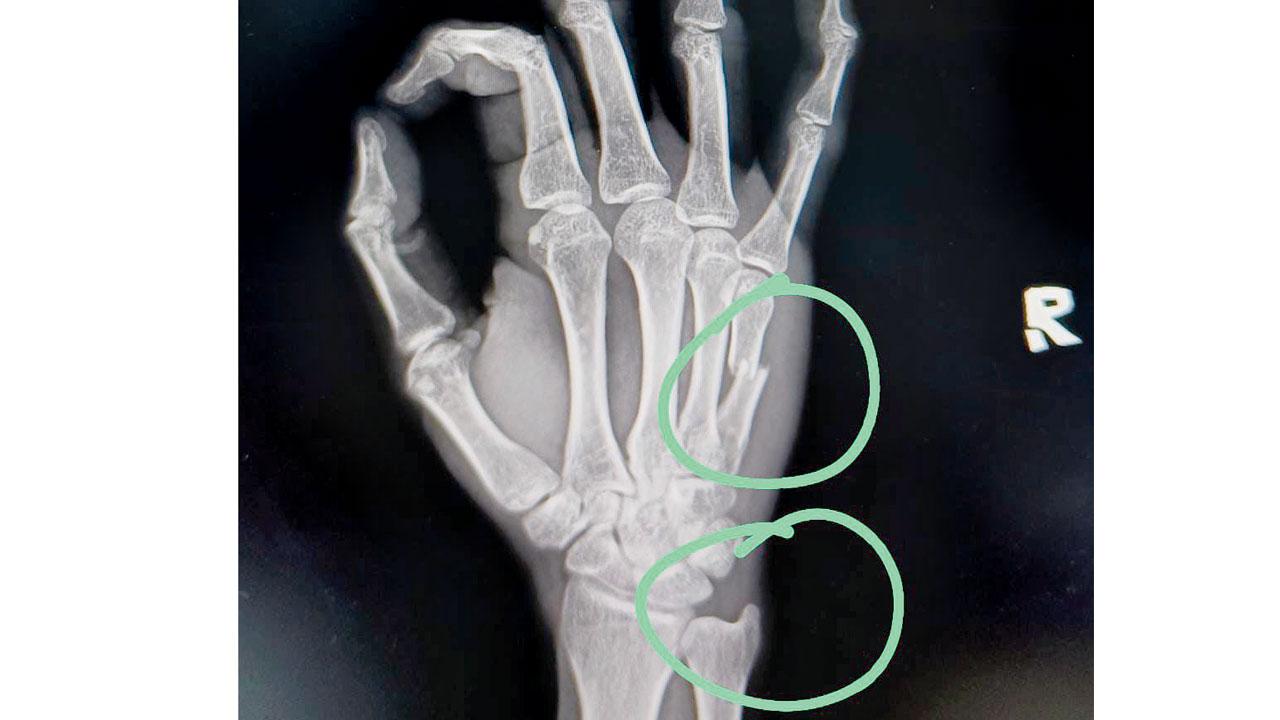 The X-ray of Iqbal's fractured hand
Sikandar then visited the police station on May 31 with a written complaint. "I met the senior inspector (Sunil Chandramore), who called PSI Sagar Parkale. When Parkale was asked about my brother's case, he did not give a valid response. A few minutes later, Parkale visited Arthur Road jail and returned only to tell me to convince my brother to ask for better facilities, like better food and bedding space," he said.
"Instead of registering an FIR against the corrupt officers, the NM Joshi Marg police are trying to hush-up the matter," he added. When contacted, Chandramore said, "He [Iqbal] was not assaulted by any prison staff; instead it was an infighting between two inmates over clothes." When asked if any statement was recorded in connection with the alleged assault in April, PSI Parkale said, "We are investigating the matter at present and no statement has been recorded till date."
How the sale happens?
A source from the prison also told mid-day that all the barracks are overcrowded and inmates have no room to even stretch their legs while sleeping. "The situation is horrible in the jail. If any inmate wakes up in the middle of the night to go to the loo, there is no space for him to return to sleep. Then, people have to spend the rest of the night near the unbearably stinky toilet," the source added.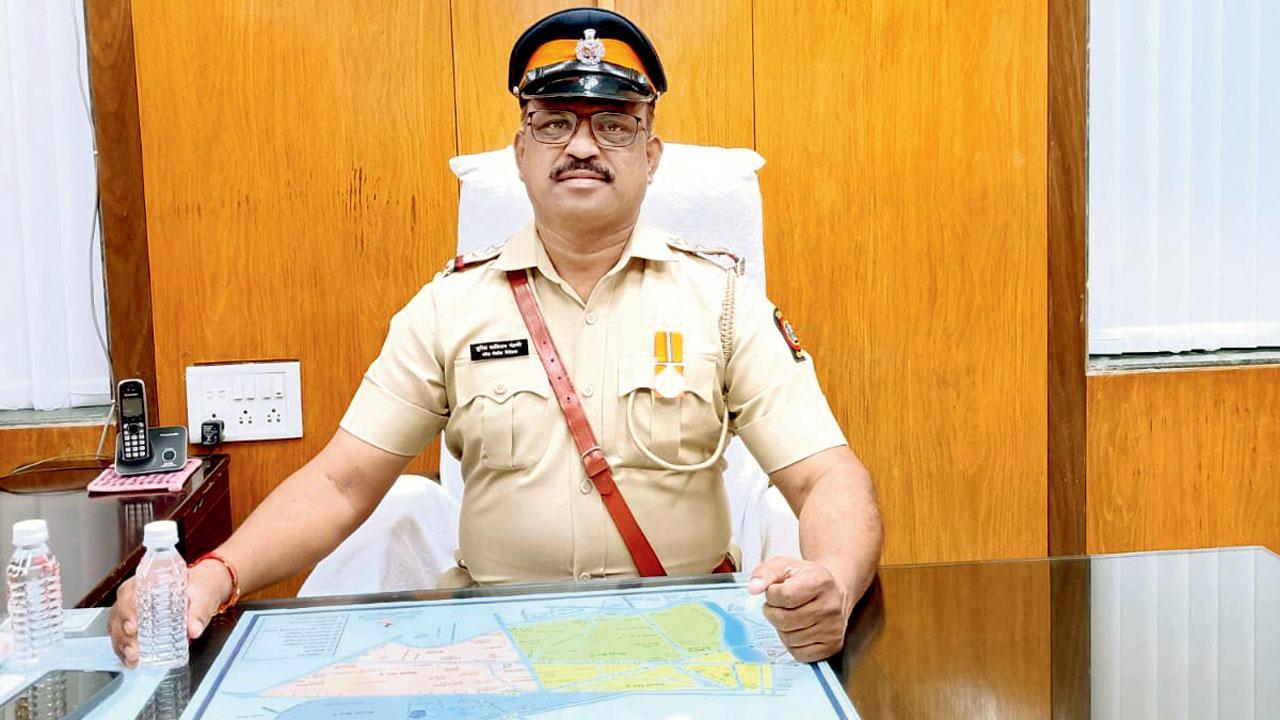 SI Sunil Chandramore who allegedly ignored his complaint. Pics/Nimesh Dave
Another source added, "Like Bollywood movies, the oldest inmate is made the leader of the barrack and he is called 'Jawabdar'. Inmates have to go to the 'Jawabdar' with requests for a sleeping space. He then conveys the message to prison staff, who demand money from the person who made the request."
"The charges vary from inmates to inmates and case to case. If inmates are wealthy, they are charged up to Rs 6 lakh. The inmate who pays for the facilities at the barrack gets special treatment, like being able to get past the queue for bathing, eating, etc.," the source said. "The capacity of Arthur Road jail is merely 804, but there are over 3,500 inmates here at present," the source added.
'Allegations warrant action'
Trivankumar Karnani, a criminal litigation lawyer at the Bombay High Court, said, "Time and again such complaints have surfaced in the public domain. The ADG (Prisons) and Correctional Services must launch an inquiry. The allegations show not only a flagrant abuse of power, but a manifest violation of the human rights guaranteed under the Constitution of India, fundamental principles of justice, fair treatment, and human dignity that underpin our legal system. Every individual within our society, regardless of their current legal status, is entitled to be treated with respect and human dignity. If these allegations are confirmed, it will represent a dark and deeply troubling moment in our criminal justice history." Will you take intranasal vaccine as a precautionary dose?