Animal protection agency PETA has lodged a formal complaint with SPCA and MAWB based on a complaint received from a former employee of the cafe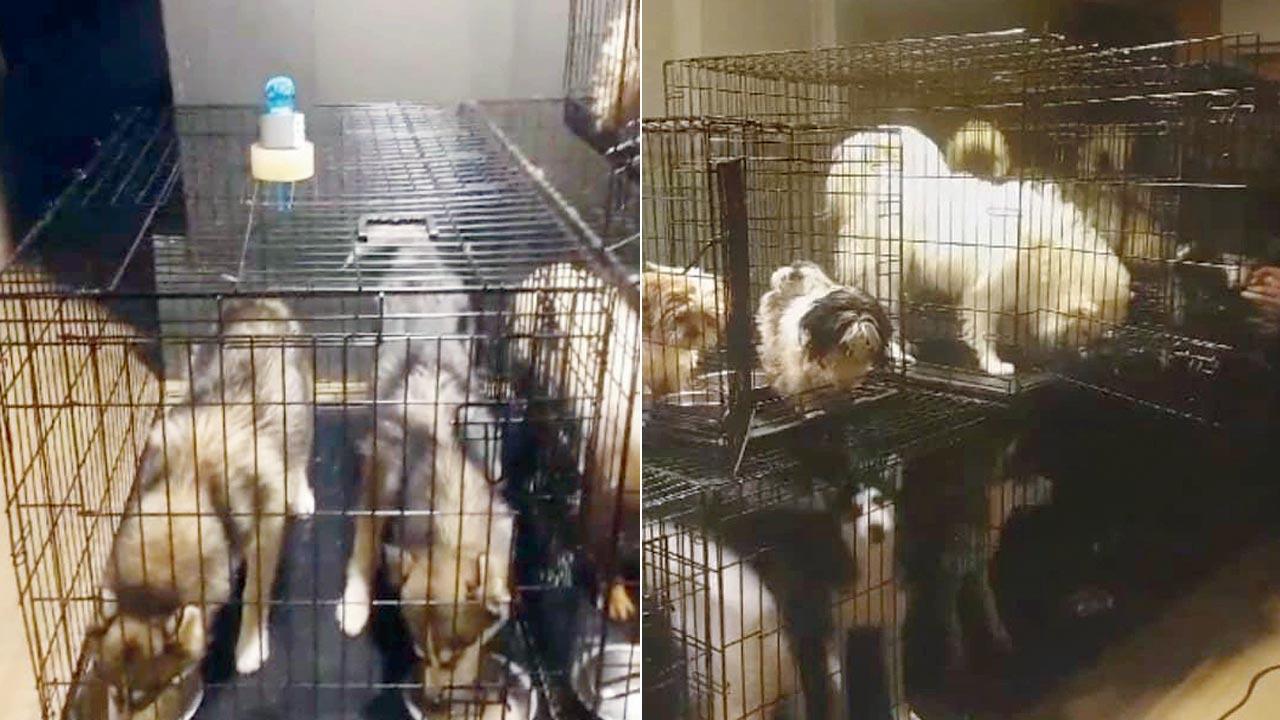 Multiple dogs are kept in the same cage and the dogs are allegedly not given adequate food to save costs.
A dog cafe in Khar where people can pay Rs 400 as entry fee to interact with pedigree dogs in a designated "cuddle zone" is currently under the scanner of several animal authorities and animal protection agencies after a former employee of the cafe uploaded a viral video on social media that shows the dogs being kept inside cramped cages stacked against the wall.
The video uploaded by Dimple Bhatia on her Instagram account on Monday has been liked and shared by over 25,000 people so far. Bhatia, who has worked at the cafe for more than two years, also wrote to Meet Ashar, associate manager of PETA India's Emergency Response Team, stating that "the concept displayed to people" visiting the cafe is that of "spending an hour with 25 expensive breeds of dogs in the name of a therapy session" but the reality was quite different. She alleged that the dogs were made to stay in the "cuddle zone" for over nine hours at a stretch and were kept in cages for more than 11 hours a day. She added that the dogs were fed less "because the owner tries to save food cost". 
The cafe also provides boarding and lodging services for dogs. In a letter to the Maharashtra Animal Welfare Board (MAWB) and Society for Prevention of Cruelty to Animals (SPCA) Mumbai late Wednesday night, PETA said, "The café apparently falls in the category of breeder and boarding kennel operator…both ought to have been registered with the MAWB."
Ashar said, "It has been alleged that the facility is not registered with MAWB, an apparent violation of Rule 3 of the Prevention of Cruelty to Animals (Dog Breeding and Marketing) Rules, 2017."
Speaking to mid-day, Bhatia said she quit her job as manager last year due to "personal differences" with the owners Rahul and Rohit Shinde. "The owner and his friends used to play cricket inside the cafe and the ball used to hit the dogs, who were traumatised," she alleged. "If the dogs barked too much, they were hit with sticks," she said.
The cafe's social media pages have also been pulled down. When mid-day tried to contact the owners, there was no response. 
Vijay Kishore Mohanani, founder of NGO Bombay Animal Rights (BAR) who is looking into the matter, said  six huskies, three pugs, five golden retrievers, four shih tzus, one chow chow and four beagles are among the dogs housed in the cafe.
"These animals were being used for commercial gain. It has been shut for customers since Wednesday thanks to the hype on social media," he said, adding, "An investigation must be done and the animals need to be rescued and adopted."