A railway official said that several coaches of 12864 Bengaluru-Howrah superfast express travelling to Howrah, derailed at Bahanagabazar and fell on the up line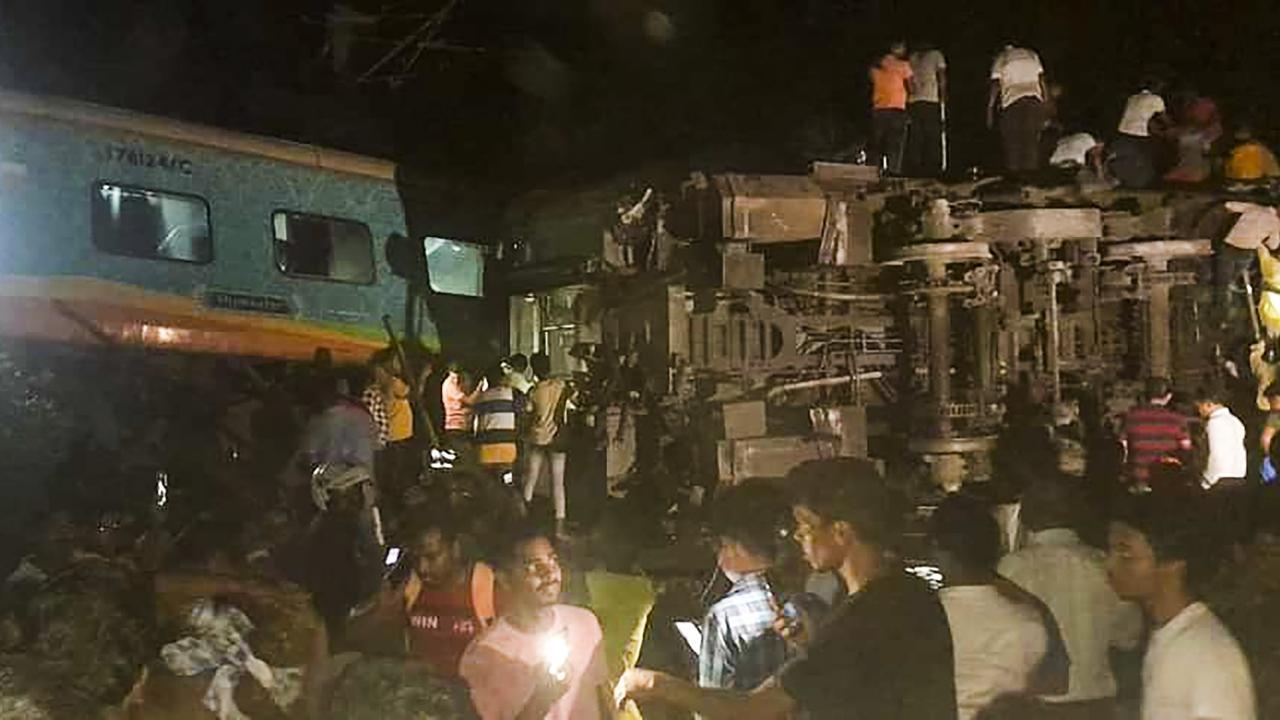 Rescue operation being conducted at the spot. Pic/PTI
At least 50 people died and 179 people were injured as a three way accident involving Bengaluru-Howrah superfast express, the Coromandel Express and goods train on three separate tracks occurred at Bahanagar in Odisha's Balasore district.
A railway official said that several coaches of 12864 Bengaluru-Howrah superfast express travelling to Howrah, derailed at Bahanagabazar and fell on the up line.
ADVERTISEMENT
"These derailed coaches collided with 12841 Shalimar-Chennai Coromandel Express and its coaches capsized too," he said.
A goods train was also involved in the accident as the coaches of the Coromandel Express hit its wagons after getting derailed, the official said.
The accident occurred at around 7 pm, about 255 kms from Howrah, he said.
Odisha's Special Relief Commissioner Satyabrata Sahoo said 47 people have so far been admitted to the Balasore Medical College and Hospital.
A PTI reporter at the spot said several people were trapped under the derailed coaches, and locals were assisting emergency services personnel to rescue them, but darkness was hindering the operation.
Odisha's Chief Secretary Pradeep Jena said 132 injured persons were admitted to Soro, Gopalpur and Khantapada health centres, while 47 people were admitted to the Balasore Medical College and Hospital.
Chief Minister Naveen Patnaik directed Special Relief Secretary Satyabrata Sahoo and Revenue Minister Pramila Malik to rush to the accident site, officials said.
Accident relief trains have been dispatched to the spot, a South Eastern Railway official said.
Four units of the Odisha Disaster Rapid Action Force (ODRAF), three units of NDRF and 60 ambulances were working to rescue the injured, officials said.
The Odisha government has issued helpline 06782-262286. The railway helplines are 033-26382217 (Howrah), 8972073925 (Kharagpur), 8249591559 (Balasore) and 044- 25330952 (Chennai).
Prime Minister Narendra Modi said he was distressed by the accident, and spoke with Railway Minister Ashwini Vaishnaw to take stock of the situation.
"Distressed by the train accident in Odisha. In this hour of grief, my thoughts are with the bereaved families. May the injured recover soon. Spoke to Railway Minister @AshwiniVaishnaw and took stock of the situation. Rescue ops are underway at the site of the mishap and all possible assistance is being given to those affected," he tweeted.
West Bengal Chief Secretary HK Dwivedi said the state was sending a team led by minister Manas Bhunia and MP Dola Sen to the spot.
West Bengal Chief Minister Mamata Banerjee said she was personally monitoring the situation along with the chief secretary and other officials.
"We are coordinating with Odisha government and South Eastern Railways for our people's sake. Our emergency control room has been activated at once with numbers 033- 22143526/ 22535185. All out efforts for rescue, retrieval, aid and assistance initiated," she tweeted.
This story has been sourced from a third party syndicated feed, agencies. Mid-day accepts no responsibility or liability for its dependability, trustworthiness, reliability and data of the text. Mid-day management/mid-day.com reserves the sole right to alter, delete or remove (without notice) the content in its absolute discretion for any reason whatsoever