Shani Shingnapur temple says that now no one, not even men, allowed to enter inner sanctum; women's group stands undeterred
That women are not allowed to enter the inner sanctum of Shani Shingnapur Temple, is a much-debated issue. A meeting to discuss this, suggested by Maharashtra Chief Minister Devendra Fadnavis, was held at the Ahmednagar district collector office between the temple trust, the police and the Bhumata Ranragini Brigade. Thirteen people were called for the meeting, which was chaired by District magistrate of Ahmednagar, Anil Kawade, and Ahmednagar's Superintendent of Police Saurabh Tripati. The committee will now prepare a report and submit it to the chief minister in three days.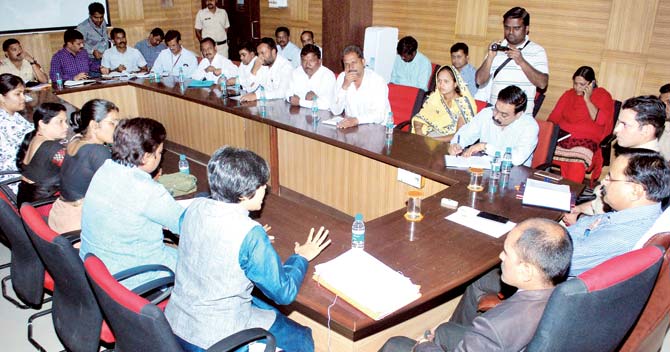 The police, Shani Shingnapur Trust members and the women's group Bhumata Ranragini Brigade, in a meeting to discuss the rule that women can't enter the inner sanctum of the temple
During his Pune visit on January 27, Fadnavis had met with a group of women protestors who attempted to enter the temple on Republic Day. When that was not possible, they approached the CM with their grievance. Kawade said, "We have heard every one's side and they all want the CM to decide what has to be done. I will be compiling a report of today's meeting for the CM to review."
The newly-appointed chairperson Anita Shetye of Shani Shingnapur Trust, said, "This is a cheap stunt. There is no gender bias, and if that was such, I would have not been made the first female chairman of the Trust. Now this rule of not entering the inner sanctum and been made common to all." But Trupti Desai, the chief of women brigade who raised the issue, said, "It's our right to seek blessing of Shani at the inner sanctum of the shrine. We will continue with our demands and this is not a personal agenda, but for every woman. If nothing is done, we will sit on a dharna and when the time comes, we will set ourselves ablaze."
In the meantime, another forum has been created by Ahmednagar villagers known as Devasthan Baccho Kruti Samiti which is headed by Zilla Parishad member Sambhanjirao Dahatonde. He said, "The CM must not make any decision based on the Trust's and women brigade's reports, but he should interact with local gram sevaks and local administrative and senior members as well. Only then can a decision be taken."
The trust members will also be meeting spiritual leader Sri Sir Ravi Shankar in this regard.