Russian Foreign Ministry spokeswoman Maria Zakharova alleged Ukrainian and Western claims of an imminent Russian attack on Ukraine were a "cover for staging large-scale provocations of their own, including those of military character."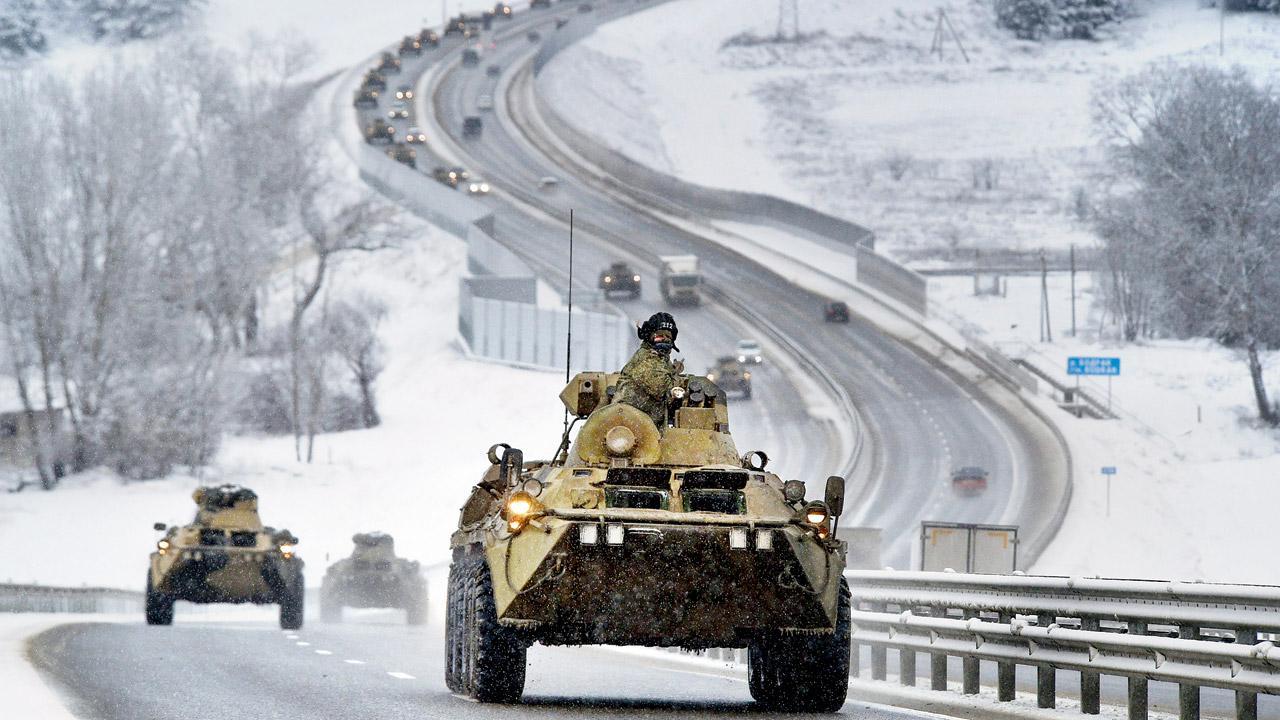 A convoy of Russian armored vehicles in Crimea, on Tuesday. Pic/AP
Russia accused the West on Thursday of plotting "provocations" in Ukraine even as it blames Moscow of planning aggressive military action in the neighbouring country.
Russian Foreign Ministry spokeswoman Maria Zakharova alleged Ukrainian and Western claims of an imminent Russian attack on Ukraine were a "cover for staging large-scale provocations of their own, including those of military character."
"They may have extremely tragic consequences for the regional and global security," Zakharova said. She pointed to the delivery of weapons to Ukraine by British military transport planes in recent days, claiming that Ukraine perceives Western military assistance as a "carte blanche for a military operation in Donbas."
Kremlin spokesman Dmitry Peskov said the U.S. threat of a possible Russian cutoff from the global banking system could encourage hawkish forces in Ukraine to use force to reclaim control of the rebel east. "It may implant false hopes in the hotheads of some representatives of the Ukrainian leadership who may decide to quietly restart a civil war in their country," Peskov said in a conference call with reporters.
Top diplomats hold talks
Top American and European diplomats met in Berlin on Thursday to project a united front to Russia. Russia has amassed an estimated 1,00,000 troops near Ukraine, and U.S. President Joe Biden said Wednesday he thinks Moscow will invade. He had warned Russian President Vladimir Putin that his country would pay a "dear price" in lives lost and a possible cutoff from the global banking system if it does.
Against that backdrop, U.S. Secretary of State Antony Blinken held talks Thursday with diplomats from Germany, France and Britain — a so-called Quad meeting. A day earlier, he met Ukraine's president in Kyiv to discuss the threat.
This story has been sourced from a third party syndicated feed, agencies. Mid-day accepts no responsibility or liability for its dependability, trustworthiness, reliability and data of the text. Mid-day management/mid-day.com reserves the sole right to alter, delete or remove (without notice) the content in its absolute discretion for any reason whatsoever