Dhirubhai Ambani International skipper Navya scores brace as BKC school beat Lakshdham 2-0 in MSSA girls U-16 Division-I final at Cooperage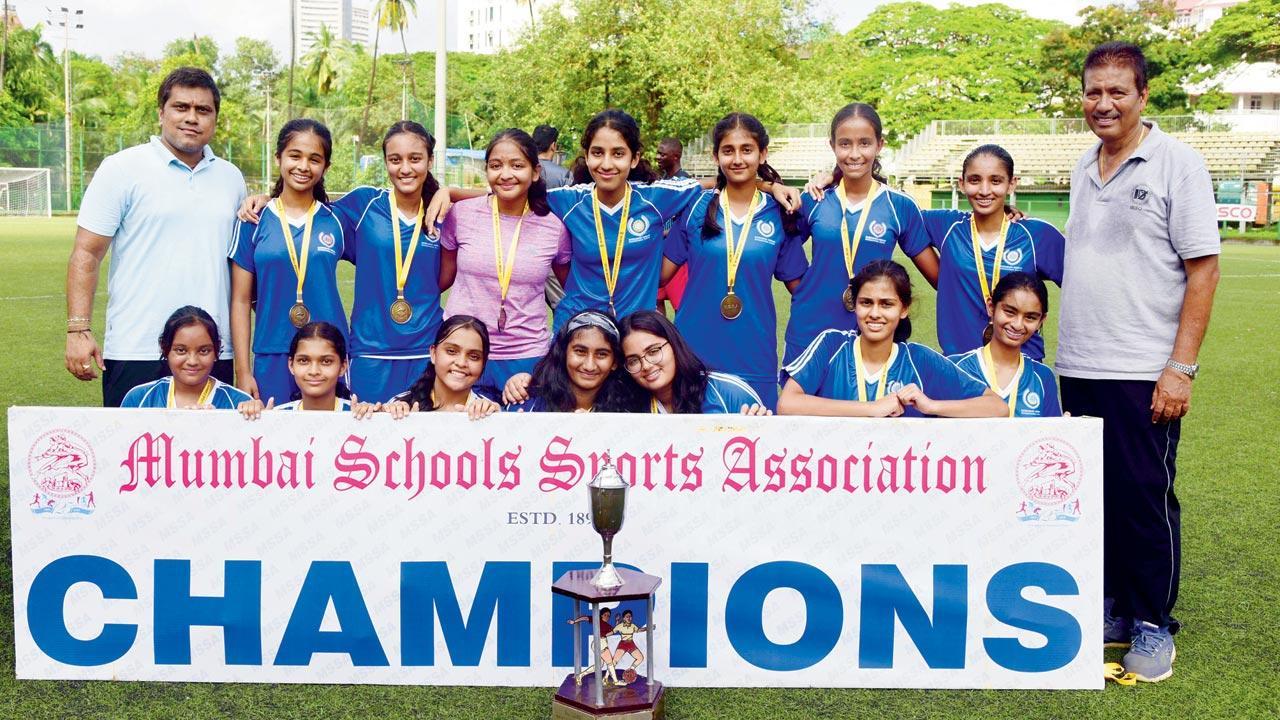 The victorious Dhirubhai Ambani girls team with their trophy. Pics/Atul Kamble
Navya Dholakia, 15, played a stellar role to help Dhirubhai Ambani International School (BKC) clinch the MSSA girls' U-16 Division-I inter-school football crown on Friday. Dholakia's twin strikes—one in each half—ensured the Dhirubhai Ambani girls beat Lakshdham HS (Goregaon) 2-0 in the summit clash at 
Cooperage. 
"This is the first time I was playing in the MSSA final and the fact that we have won the title, has taken my joy, excitement and pride to another level. Despite having participated in the MSSA tournament for the last seven years, and even scoring as many as five goals in a match against JJ Academy in 2017 [my best performance], we somehow never managed to win the title. But this season, having lost to Lakshdham 0-1 in our first game and now defeating in the final, feels so much sweeter," an excited Dholakia told mid-day.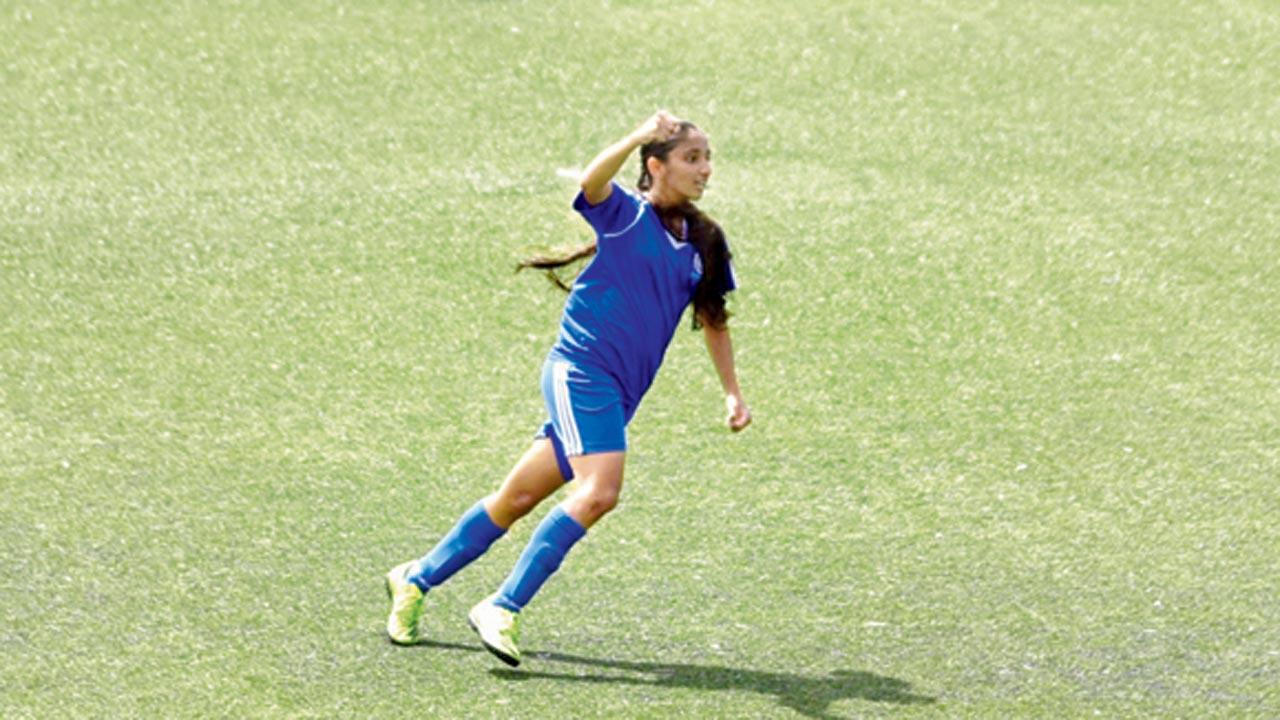 Dhirubhai Ambani International skipper Navya Dholakia celebrates scoring against Lakshdham High School in the MSSA U-16 Div-I final at Cooperage yesterday
Skipper Dholakia, the spearhead of the Ambani attack, intercepted a defensive clearance at the top of the box and quickly shot home in the 11th minute. Her second goal came in similar fashion in the 38th minute. Dholakia scored nine goals in the tournament.
Also Read: IPL auction to be held ahead of 2023 season in mid-December: Report
"I may have scored so many goals, but at the end of the day, this is a team game. I feel it was every teammate's performance and contribution has led us to this victory. Also, we could never have achieved this without coach Chanchal [Singh] Sir's guidance," added Dholakia.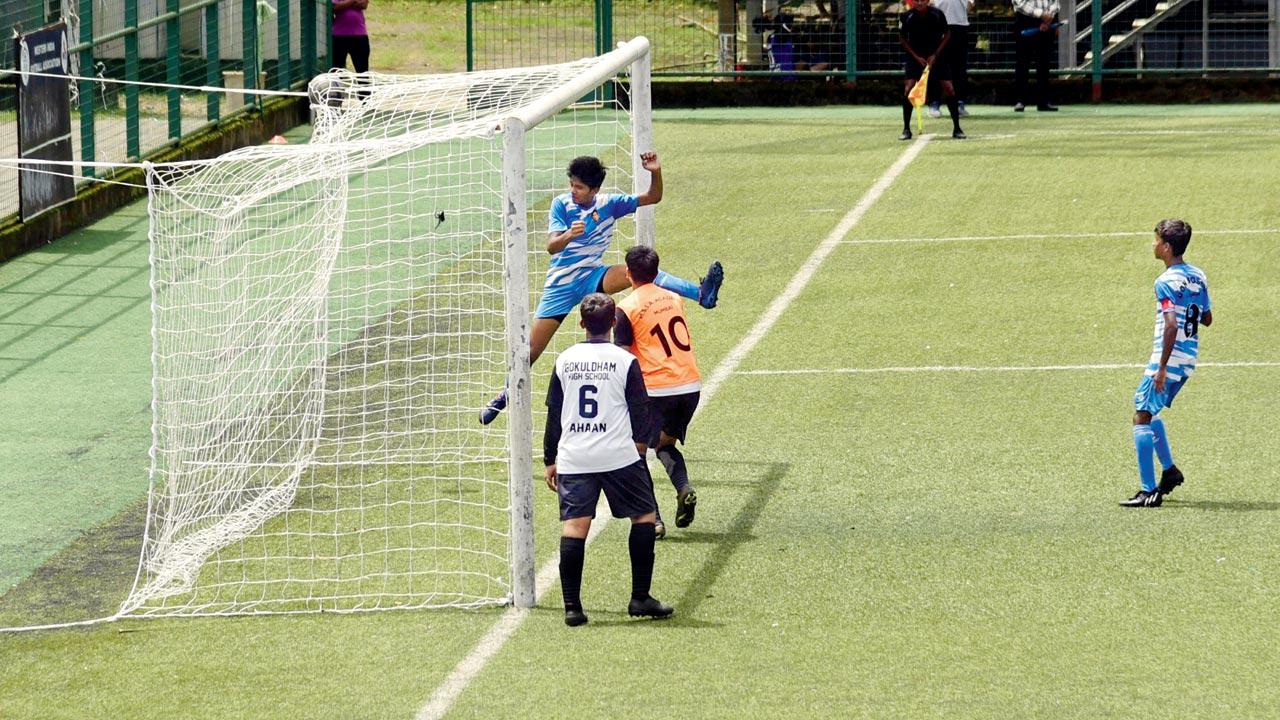 Don Bosco's Om Kirdat (in blue) scores against Gokuldham HS
Earlier, among the boys, Don Bosco (Matunga) defeated Gokuldham HS (Goregaon) 3-2 in an Ahmed Sailor under-16 semi-final encounter. Arya Kamble, Yohaan Panjuani and Om Kirdat scored for the Bosco boys, while Aadi Kirodian and Rugved Ghone scored for the Goregaon side. Will reducing movie ticket price bring audience back to the theatres?