Trilok Gurtu, who will perform at The Lost Party at Lavasa this Saturday, talks about growing up surrounded by music, his latest album and why he seldom performs in India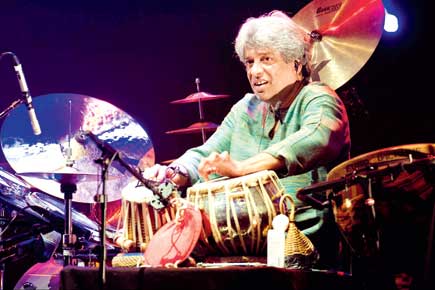 Trilok Gurtu enthralls the audience with his music
His grandfather, Pandit Narayan Nath Gurtu, was a noted Sitar player and a musicologist, his mother, Shobha Gurtu, was a renowned Hindustani classical singer, and both his elder brothers were percussionists. Music was an intrinsic part of Trilok Gurtu's childhood.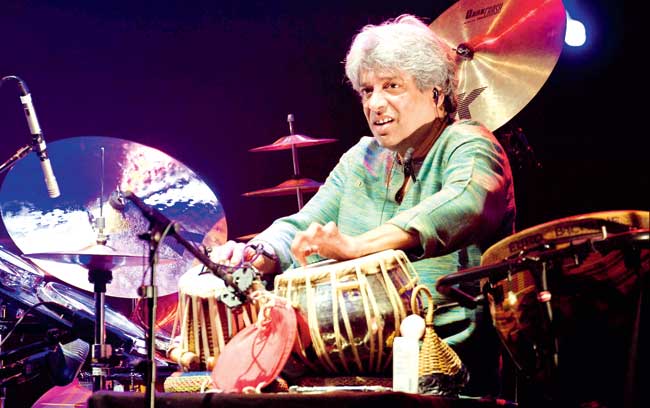 Trilok Gurtu enthralls the audience with his music 
He started his formal training in tabla at the age of five under the tutelage of Pandit Manirao Popatkar. An experimentalist at heart, he soon began dabbling in other percussion instruments, especially the drums.
"I learnt to play the drums on my own, mostly by observing other performers play. I would take up any gig that came my way and try my hands at every kind of instrument—classical, rock, jazz, Bollywood, I did it all. During my growing up years, radio was really big. I would hear musicians on BBC and Voice of America and try to emulate them.
It was not easy, but I loved the challenge. Also, I think I was too young and restless then to stick to one thing," says the man of whom tabla maestro Zakir Hussain had once said that if Trilok Gurtu had stuck to playing just the tabla, he would have been regarded as the best in the world.
Transcending boundaries
He had a brief stint in Bollywood, too. "My brother knew a lot of musicians in the industry and by the early '60s I was already touring with Mahendra Kapoor. Later I also toured with RD Burman and Asha Bhosle," says the artiste, whose chance encounter with Don Cherry in 1973, changed the course of his life. The ace jazz trumpeter inspired him to follow his dream and find his own sound.
Today, the musician, who has made a niche for himself in world music, is reluctant to confine himself to any particular genre. "For me music is one. It has no boundaries. People from Poland, Russia, Africa, the Balkans, can all relate to my music. I don't let genres define my music. It is an amalgamation of everything — classical, jazz, rock and Afro.
I don't imitate anybody," says the musician who has created his own unique percussion kit, which is an amalgamation of the best of both the East and the West."Along with bass, toms, snare, and cymbals, the kit includes tabla, drums, congas, djembe as well as Indian bells, indigenous folk instruments and instruments that I have built using scraps," says Gurtu, whose latest album Spellbound, is a tribute to legendary trumpeters Don Cherry, Miles Davis and Dizzy Gillespie. It has an impressive lineup of international artistes including Norway's Nils Petter Molvaer, Lebanese-born Ibrahim Maalouf, Italy's Paolo Fresu, Turkey's Hasan Gözetlik among others.
Unimpressed with India?
His international collaborations have earned him the nickname 'serial collaborator' but he seldom performs in India. "I play according to my audiences. When it comes to fusion or experimental music I find the audiences here are very different from the international ones. There is this segment that I call the 'clap-happy' lot — they will start clapping and cheering whenever you play a fast beat.
It is a different kind of a challenge to play for them," says the musician, who confesses that he also finds it difficult to find good musicians in India to collaborate with. He is frank to point out that it is far more difficult to release a music album in India. "Most recording companies insist the artiste pays from his pocket. Even for live concerts, people look for free invitation passes. Nobody is willing to shell out the money," rues Gurtu.
Ask him about his take on other Indian artistes making it big globally today and he doesn't sound too ecstatic, "Most of our musicians, who claim to be 'international', actually cater to the India diaspora settled abroad. Unlike a Zakir Hussain, you will hardly find Indian musicians playing for a global audience. It is like being a second-class citizen. I never wanted that for myself."
Gurtu had once claimed that the music closest to his heart is the sound of his city, Mumbai."The city's soundscape has gone through a major transfromation. Earlier, you had hawkers selling their wares, birds chirping, chaiwallahs calling out. Now it is all about cars and traffic. People honk even when they see a crow. I can't relate to this Mumbai. It has lost its individuality and become very Americanised. However, it is still home," says the percussionist.
Trilok Gurtu will perform at The Lost Party at Lavasa this Saturday. Tickets on www.bookmyshow.com