Archivist, oral historians and writers are coming together to create epic retellings, fiction and memoirs of families, tracing and discovering the stuff of legends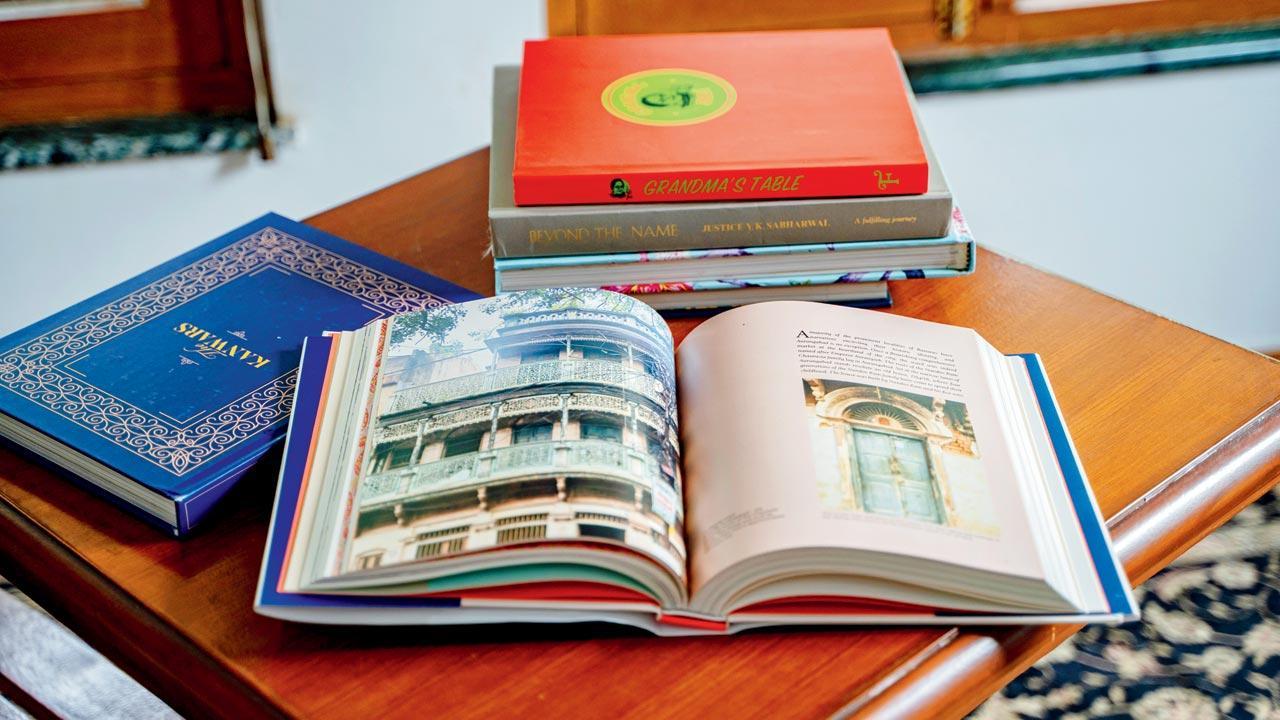 Family Fables Co., a bespoke publishing firm launched in 2017, has been helping families document, preserve, archive and share life stories of the previous generation, in the form of memoirs and other keepsake books. Pic/Nishad Alam
Who are we?" The innocuous question that came from his son caught Ajit Singh off guard. "My own identity was linked with that of my father and grandfather, and it ended at that," shares Singh. He remembers reaching out to his aunts and uncles to learn more about his family, but none of them, he says, had the answers, he was seeking. "They all belonged to a generation that did not question their elders, or even have open conversations with them. Perhaps, because of this, we may have lost out on many stories." One of the legends, says Singh, was that their ancestors had fought the First Anglo Sikh War between the Sikh Empire and the British East India Company in 1845-46 in Punjab. "It was just part of family lore, and we didn't know anything more."
Adamant about exploring his roots, Singh approached Family Fables Co., a bespoke publishing company that launched in 2017, and which helps families document, preserve, archive and share life stories of the previous generation. It's during research that the family learnt that they traced their ancestry to the first group of Sikhs, which came into Delhi. "A descendant, Sardar Sahib Sardar Sant Singh, was the Chief Minister of the state of Nabha," says Samrata Diwan, the founder of Family Fables Co. "We also found his appointment letter and other correspondence written by him at the National Archives of India."
Samrata Diwan, founder of Family Fables Co, says that the idea for the initiative came about when she lost two of her grandparents in 2016. "Their entire history went with them. I regretted not documenting it." Pic/Nishad Alam
The discovery has not only helped Singh see his family in new light, he now also has a prized keepsake, a recently completed book, The Jagatpur Legacy, which uses oral history and historical documents to stitch a compelling memoir of the illustrious Singh family.
Delhi-based Diwan, who along with her team at Family Fables Co, is the brainchild behind the memoir, has put together nearly 17 such books for families across India in the last four years. The idea for the initiative came about when Diwan lost two of her grandparents in 2016. "I realised that though I was very close to them, and had heard so many of their stories, I had never bothered writing them down. Their entire history went with them. I regretted not documenting it." Soon after, Diwan decided to record her maternal grandmother's life story, asking her questions, about everything from her childhood to marriage. She eventually presented it as a book to her, on her 80th birthday.
Sanghamitra Chatterjee and Deepti Anand, founders of Past Perfect Heritage Management LLP, have been creating novels, coffee table and illustrated books based and inspired from the back-stories of families
Diwan who has a history honours degree from St Stephen's College in Delhi, and a Master's degree in international relations from SOAS University of London, was a marketing professional before she switched careers. "When I was trying to write my nani's memoir, I was looking for people who could help me put it together, but I found no one," explains Diwan.
Every family, she says, has a story, and it should be recorded for posterity. In non-pandemic times, Diwan's team of "personal historians" and writers, would meet the family, conduct extensive interviews with each one of them, while simultaneously collecting photographs, sifting through diaries, letters and other material memory, while doing independent research, if and when needed. Once they gathered enough material, the stories would be written, edited, and then handed over to the designers. The team, which is from across India, has been working remotely for the last year-and-a-half.
Delhi-based Gita Rathore, daughter of the late Group Captain Himmat Singh Ravubha Gohel, commissioned Flights of Valour, a memoir, stitched together with the help of interviews and logbook entries by the air force veteran
It's not easy writing a memoir of a family, which had previously never seen merit in preserving its stories. A lot of valuable voices have long passed on, which means that Diwan and her historians have to squeeze more out of what is made available to them. It all depends on the scope of the book, says Diwan. "Sometimes, it's just a one-person account, and the elders of the family have such good memory that they remember everything. On other occasions, we piece the puzzle by interviewing different families across generations. There are books, for which we have interviewed close to 50 people."
Udaipur-based Gita Rathore is the daughter of the late Group Captain Himmat Singh Ravubha Gohel. This year is the centenary birth anniversary of her late father. Rathore, who is a retired school principal, says she learnt a lot about her father's glorious career in the air force, while working on the book with Diwan.
A coffee table book for Suhas Jangle of SJ Contracts Pvt Ltd, where the Past Perfect team has supplemented photographs with dramatic narration
"My dad, who passed away in 2006, had been commissioned in the Royal Indian Air Force in 1941. He flew about 20 different kinds of planes in his 30-year-long career. He was also one of the rare pilots, who had flown both, Jawaharlal Nehru and Indira Gandhi."
To her advantage, her late father had kept several logbooks, where he recorded the minutest of details about the flights, including many photographs from his travels. "After retiring, he missed his life so much, that he started writing everything down, from those years." These logbooks, until recently, were with Rathore's brother, a former Captain in the Merchant Navy, who lives in Bhavnagar, Gujarat. "He wanted to give it to my son, who is in the Indian Army." Having had access to her father's personal records, Rathore discovered the invaluable material therein. "He led the first Republic Day parade in 1950, when there was a flypast. He also had a personally congratulatory telegram from the Commander-in-Chief of the Royal Indian Air Force [Sir Thomas Walker Elmhirst]."
The material became the backbone of the soon-to-release coffee table book, Flights of Valour, a title suggested by Rathore herself.  "A family tree can wither, if no one tends to its roots," says Rathore. "Family histories are important as they build bridges between each generation of a family. Each generation is like a branch of a tree, growing in different directions, yet the roots are one and these should be nurtured by each generation."
Of late, Diwan has branched out from memoirs to work on family cookbooks, and "dadi ke nuske" that are equally celebrated heirlooms.
In Mumbai, Sanghamitra Chatterjee and Deepti Anand, founders of Past Perfect Heritage Management LLP, which offers expertise and services in the fields of archiving, research and oral history, have been creating novels and illustrated books based and inspired from the back-stories of families. "While we started digging deeper into family histories, we realised that many of them have not kept enough archival material. The usual photographs get preserved and maybe, educational certificates and awards. Some even stopped writing letters to each other after a point. This material doesn't give you enough insight, especially when it comes to the inter-personal dynamics between family members," feels Chatterjee.
Often relying on oral histories is not enough. "All kinds of things come up. Of course, you have a protagonist in every story. But, as you speak with more people, you realise that each person has a different memory associated with the protagonist. And that just kept adding layers to the story of the person we were writing about. We figured that there was no linear way of telling this story, unless we got all these perspectives," adds Chatterjee, explaining why fictionalising the accounts sometimes would do justice to the story of the personality or that of the family.
For Past Perfect, which has been handling corporate and institutional archives for the last six years, the expertise in the area made the process a more seamless one.
One of their clients, Aditya Gupta, knew that he wanted his family history to be told in a manner that was enjoyable to the younger generation. "I have been trying to piece together my family history for many years. With my children, grandchildren and extended family scattered all across the world, I strongly believed that the rich history of our family, spanning over 200 years, would be lost unless converted into a comprehensive book, one worthy of reading for generations to come," says Gupta.
Theirs is a massive four-part historical fiction series, which Past Perfect has been working on, for the last two years. "Through the family tree, we were able to vaguely trace the family back to the sixth generation. We also learnt that some of them had lost their lives in the 1857 mutiny, but of course, there were a lot of gaps and questions that we didn't have answers to," says Anand. "There was derivative information that we were able to source through the archival records and certain events in history. Unfortunately, there was no oral history for us to fall back on, except for the recent generations. Our research, thus, lent itself naturally to the account we had to set out to write."
In a coffee table on Suhas Jangle of SJ Contracts Pvt Ltd, they used dramatic narration to tell his life story. Bhargav Jangle, the younger son of Jangle, says, "I decided to undertake an oral history project of our family from a place of curiosity, really. The basic expectation I had was to bring out the essence and ethos of our family through the simple life stories of my grandfather and my father. Having them documented in one place would mean that they will be there for 
all future generations to read from as well."
While the rigour involved in working on fictional narratives of family histories is not very different from a serious archival project, it gives archivists more leg room to explore the story. "Usually, when there's a collection that we are archiving, a lot depends on what has been preserved. But, the moment we bounce the idea of creating a fictional work, that gives us the liberty to take some leaps of faith that we couldn't have otherwise in an academic work," says Chatterjee. "But, it always has to be something that is palatable for the family."  
To connect https://www.instagram.com/pastperfectlive/ and  https://www.familyfablescompany.com/