Peter Mukerjea in his first interview since being granted bail in the Sheena Bora murder case, says he's keeping busy writing books, growing organic vegetables on his terrace and staying fit with a half-marathon in sight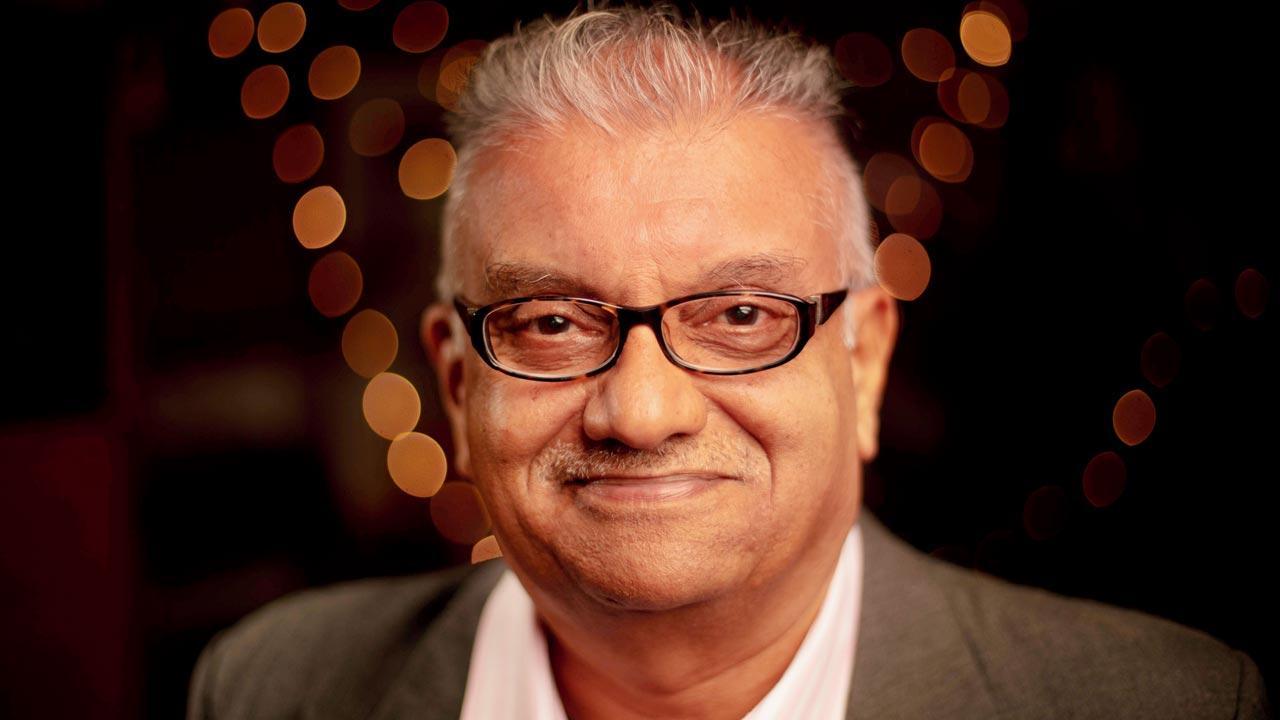 In his memoir, Peter Mukerjea steers clear from talking about his personal life, only focusing on his journey at Star India Network, where he rose to become Chief Executive Officer. Pic courtesy/Vivek Araga
Where the pandemic had everyone home-bound for a better part of 2020, former media baron Peter Mukerjea has had little to complain. It's been nearly a year since he was granted bail by the Bombay High Court in the Sheena Bora murder case, where his former wife Indrani Mukerjea is main accused. Incarcerated for over four years for his alleged involvement in the high-profile murder of Indrani's 25-year-old daughter over a possible property dispute, Mukerjea is now looking at life with new meaning and better purpose—writing books. "Time is in short supply these days as there's so much catching up to do and simply not enough hours in the day," shares Mukerjea, in his first interview since being released on bail.
He has agreed to speak with mid-day, albeit reluctantly. The last time he gave an interview to a news channel in 2015, the issue had escalated quickly. The resistance, hence, is evident, when Mukerjea says he will respond to our questions over email. If he has agreed to come out of his shell, it's because he is making a fresh start with his book, Star Struck: Confessions of a TV Executive (Westland Business), which releases this week. The book is a "personal recollection" of his experiences at the "coalface in the formative years of the satellite television industry in India" and his own journey to becoming the CEO of Star India Network.
Peter Mukerjea with Ekta Kapoor
Mukerjea started writing the book in 2009, nearly six years before his life took a turn for the worse. "In fact, I had almost completed the first version of the book and had spoken to a publisher who was extremely keen to publish it. They had even paid an advance, which I subsequently returned before abandoning the plan," he says. It was, however, his ex-colleagues, who he says, persuaded him to finally finish it. "So I reworked the whole thing, chopped and changed it in large chunks. Hence, it's taken some time to complete. Meanwhile, the world of broadcast media has also evolved big time and in many ways the current phase we're in is also the cusp of significant change. As I was recovering from a major heart surgery a couple of years ago, I thought some of these stories needed to be shared and that in fact, was the impetus for the book. Also, as readers will hopefully find out, good things take time! So, in a manner of speaking, the adage 'the more things change the more they stay the same' seems totally relevant here."
His "memoir" though skims and skips through his personal life. Barring a glimpse into his early years at Doon School in Dehra Dun, sprinkled with brief mentions of his late parents, first wife Shabnam and children, Rabin and Rahul, he steers away from anything that would put the spotlight on Pratim alias Peter Mukerjea, the son, husband and father. "[They] admittedly are few and far between because there really wasn't very much of a personal life to write about from that time period," he claims. "My personal life was largely governed by my work life and there was a gross imbalance, which in many ways I regret. My life at the time was dedicated to my work, which I enjoyed immensely and my personal life consequently, was sadly relegated to the back of the bus. I didn't want to dilute the core aspect of this book by bringing in personal life elements," he argues. 
Peter Mukerjea, Dheeraj Kumar and Indrani Mukerjea at The Indian Television Awards 2007. Pics/Getty Images
For those, who hadn't known much about Mukerjea's professional strides until before the controversy, this book offers a glimpse into his "star" power. Among them are his trysts with media mogul and former boss Rupert Murdoch, who he says, was "instrumental in making spectacular changes in the media landscape that we enjoy today".
"We would meet perhaps only about three or four times a year, and each time we would pick up the thread from the last conversation, which was indicative of his level of alertness to the tiniest of detail. To say that he has an incredible mind capable of looking around corners, is instinctually intuitive, and with a razor sharp memory would be an understatement… Spending a couple of days with Rupert, was any day, far more productive than spending an entire semester at any business school," he says. Mukerjea also writes about his early years as CEO of Star being a mixture of "panic and horror" and how being a workaholic was second nature to him. "Getting back home at the end of the day to my empty apartment was the most challenging part of my early days as Chief Executive," he recalls. Home, he says, was boring compared to the workplace.
One of his biggest successes came at the turn of the century when he and his team changed the business of television with the launch of Kaun Banega Crorepati, and Ekta Kapoor's saas-bahu soaps. "I had learnt early on that taking a risk was what it was all about… Fortunately most people only remember the shows that did well and not the ones that we had to pull off the air as they weren't performing. That's the nature of the beast."
Despite this writer having posed a few questions about his time at Arthur Road Jail, Mukerjea chose to stay mum. "…there are a couple of books in the offing, which cover my more recent past and the more recent experiences of my life, which I hope to complete sooner rather than later," he says.
For now, there are other things occupying him. "Keeping the weight off is one of my biggest challenges and after my open heart bypass surgery a couple of years ago [in 2019], which I must say was funded entirely by some of my dearest friends and ex colleagues from my days at Star, I'd like to get myself fit enough to take part in at least a half-marathon," he says, adding, "Technology in the broadest sense of the word is the other focus of my attention and getting up to speed with the vast changes that I have missed out on these past few years is what is keeping me busy. Thankfully, the period of the pandemic lockdown has given me the transition time to reconnect with friends, which has been a blessing. I was mentoring a couple of young executives who have reached out to me. I [also] started a kitchen garden growing organic vegetables on my terrace in Mumbai, which I'm proud to say has surprised me with some delicious results and I'm hoping that one day I might turn that into a slightly larger enterprise. Last, but not least, I'm continuing to write and complete the next two books. When I put all of these together, I can see why there isn't enough time in the day."