Pune-based Sarhad group is travelling back in time, to the 11th century, to study an inspiring thinker - from a now violence-torn state whose treatise can be useful for conflict resolution in Maharashtra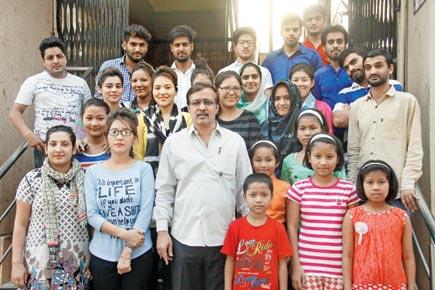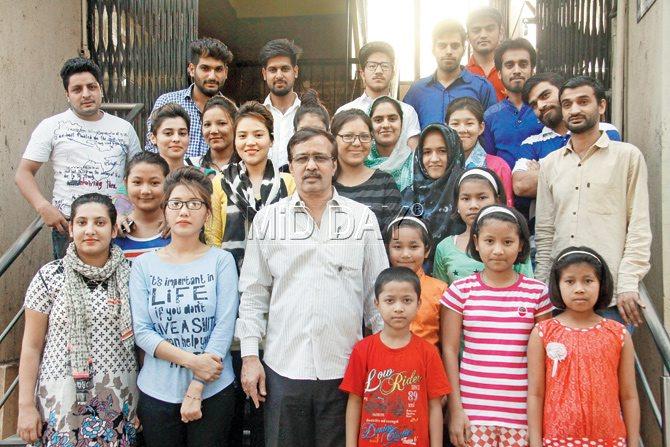 Sanjay Nahar of the Sarhad group with children hailing from conflict-ridden Kashmir and parts of the north-east India. He adopted them a decade ago with the intent of raising the seeds of peace in an inclusive environment. Pic/Madar Tannu
If Maharashtra has to live up to the greatness in its prefix (Maha), the state needs to excel in its understanding of other Indian states, especially the border states of Jammu and Kashmir and Punjab, from where are traceable the most durable historic-cultural bonds and equally vibrant philosophical exchanges.
One such historical connect has currently seized Pune-based Sanjay Nahar, the founder of the Sarhad non-governmental group working with crisis-affected people from three states (Kashmir, Punjab and Assam). Nahar has decided to travel back in time, to the 11th century, to appreciate and apply the teachings of Kashmiri polymath, philosopher, poet and dramatist Acharya Abhinavagupta (950-1016 AD) who spoke of universal harmony and inclusivity. "If Maharashtra seeks intellectual leadership in India, which the leaders attempt, a study of Abhinavagupta is the way to go. If we miss out on this liberal, we will miss crucial lessons in conflict resolution," observes Nahar.
In a recent note issued to the media, which has a peculiar now-or-never urgency about the appreciation of Kashmir's history that Maharashtra should undertake, Nahar has outlined Sarhad's celebration of 2017 as the millennium year of Acharya Abhinavagupta's death and, more importantly, the 1,000 long years of his impact on Indian saints, with special focus on Maharashtra's Sant Dyaneshwar. Under the stewardship of historian Dr Sadanand More, Nahar has started tracing texts and other forms of evidence that link Maharashtra's Bhakti movement to Abhinavagupta's liberal thoughts. "Abhinavagupta is the truest advocate of the middle-of-the-road moderate religion which finds oneness with the Almighty, but does not ask for renunciation from the seeker of peace. His creative expression in theatre and poetry was divine and stemmed from his intense realisation of pain, pleasure and sorrow as a pathway to Lord Shiva." Nahar says the hymns nourished not just Kashmir for years, but have the capacity to nurture other states today. He sees an interesting Abhinavagupta connect in Dyaneshwar's accommodative religion which was against obscurantism but was premised on surrender before a creator.
In a bid to popularise Abhinavagupta's over 35 masterpieces, the most popular being Tantraloka, a treatise on the philosophical beliefs within Shaivism that emerged in Kashmir, Sarhad's publishing house Chinar (which specialises in books on Kashmir and Punjab) is preparing reader-friendly booklets explaining each gem. Nahar has also sponsored a monthly lecture series (first held in Pune in March) of India-wide Abhinavagupta scholars like SE Bhelke, Neeraj Rastogi, who are slated to speak in the next two months.
Nahar is currently pooling resources for a year-end symposium in Srinagar on Abhinavgupta's liberal teachings which defined self-awareness as oneness with God, but never endorsed superstitions in the name of religion.
There is a reason why Nahar has planned for a Srinagar setting for the symposium. "Just as there are people in Maharashtra who don't know Abhinavagupta's contribution, least of all its impact on the Nath sampraday and the Warkari tradition, there are those in Kashmir who equate him with Hindu revivalism. That is why the state government there fears that controversy might erupt over a proposed commemoration. Sarhad has therefore intervened as an apolitical third party, appealing to Indians to treasure this genius and not view him through a narrow prism."
Sarhard's celebration of Abhinavgupta in Srinagar is marked by another coincidence. In June, Chinar is releasing the Marathi translation of Rajtarangini, one of the earliest sources on Kashmir which is being translated in Marathi by historian-linguist Dr Aruna Dhere and writer Prashant Talnikar. Rajtarangini (The River of Kings) termed historical despite being a legendary metrical text written by Kashmiri poet Kalhana (12th century CE), is a chronicle of 7,826 verses, which are divided into eight books called Tarangas (waves). For Sarhad, it is another translation (text available in Hindi, Persian and French) aimed to enlighten the Marathi reader about the suffering of a border state, the invasions that changed its political narrative, the active role of women in street agitations. It makes a defining point against the use of military force to quell mobs as that has worked to the detriment of the state; good results have emerged whenever the locals have been spoken to.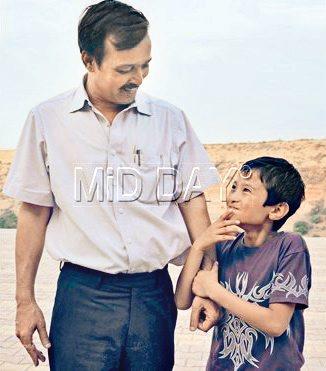 Nahar with a Ladakhi child
Meanwhile, another Chinar book on Kashmir's folk tales is also due this month. "Going by the response to the 100 books published by Chinar so far, we have been able to create grounds of commonalities with Kashmir, a state which has seen unrest for too long. Kashmir's history — as against the recent developments of civil strife, repression and state control — can offer solace to Maharashtra, particularly Mumbai, which has the negative potential of becoming a terrorist den," says Nahar, who feels that neither intelligence agencies nor social groups realise the city's explosive nature. "Peace-time studies of historical literature are not in our culture. We are shaken only by major bombings or communal riots. But historical texts of Abhinavagupta or Rajtarangini serve a long-term purpose — they point to seeds of conflict and ways to contain it."
Goodwill go a long way in resolving political conflict between states, more so when people are shown how their histories converge rather than clash. The recent book by Punjabi poet Jaswant Singh Zafar, published by Chinar, on the impact of three Marathi saints Namdev, Paramanand and Bhagat Trilochan on Sikhism, is noteworthy in this context.
The reader was happy to notice the actual examples of their saints' resonance in the holy text of Sikh Shri Guru Granthsahib; happier because the 88th All India Marathi Literary Festival (April 2015) was held in Ghuman (Punjab) where Namdev spent his last years. "There was a need to tell the Marathi world that one of their saints is revered in a faraway land. It serves a positive purpose in today's us-versus-them climate," observes Talnikar, who rendered Zafar into Marathi.
History is pregnant with information that can offer solutions to current crises. But it's only for those who revisit history. As Nahar says: "Some stories grow stronger with repetition — like Lachit Borphukan in faraway Assam taking inspiration from Chhatrapati Shivaji Maharaj; Guru Nanakji visiting Maharashtra during one of his journeys." And in that vein Abhinavagupta's impact on Maharashtra's Bhagwat Dharm warrants recalling in 2017 and thereafter. Sumedha Raikar-Mhatre is a culture columnist in search of the sub-text. You can reach her at sumedha.raikar@gmail.com