One Plus 6T still provides exceptional value for money, but offers little reason for OnePlus 6 users to upgrade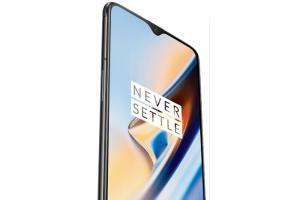 OnePlus 6T
OnePlus has a six-month release cycle, which means they launch a new phone every six months. While it has worked in the past, with the 6T it feels a bit forced.
Don't get us wrong, it is an excellent phone for the price. The only one that probably comes close, in terms of value, is the Xiaomi Poco F1, but even there, corners have been cut to bring down the price. Whereas the OnePlus 6T is still comparable to most flagships in the specs department.
The specs are near identical to the OnePlus 6 and you can buy the phone in three variants and colours starting at R37,999. It performs a little better in benchmarks over its predecessor despite the identical processor and GPU.
The design is also similar to OnePlus 6 except for the missing fingerprint scanner at the rear. Instead, there is an in-screen fingerprint scanner which is slower because the screen has to be on to use it. The build quality overall is very high and the device feels good when you hold it. We tested the mirror black variant and found the phone to be very slippery without a cover.
The phone has also let go of the headphone jack. Now, it has a free USB to Stereo converter in the box. This means that you cannot plug your headphones and charge at the same time.
The screen has also been upgraded and we love the tinier teardrop notch which is less intrusive than a full-sized one. The tiny notch improves the visual appeal of the phone as well. The camera though good performs similarly to the 6 and the battery on the new phone has been upgraded.
The 6T, as we mentioned, is a good phone, but the changes are minor and not all of them are successful. However, if you are looking to move from say a OnePlus 5 to the new 6T, then it makes a lot of sense; but not so much if you are looking to upgrade your OnePlus 6. This phone is relevant if you are looking to upgrade on a budget to a more premium one without giving up on too much.
LOG On TO http://bit.ly/op6tspecs (spec sheet); http://bit.ly/op6tsamples
(camera sample); http://bit.ly/op6tbench (benchmarks)
Pros
*Bang for your buck.
*The teardrop notch makes for a better screen.
*Bigger battery.
Cons
*In-screen fingerprint is slow.
*No more headphone jack.
*No real reason to upgrade for OnePlus 6 users.
Camera: 9/10
User Experience 9/10
Design 9/10
Performance 10/10
Features 8/10
Software 9/10
Overall Score: 9/10
Catch up on all the latest Crime, National, International and Hatke news here. Also download the new mid-day Android and iOS apps to get latest updates