The film also has echoes of Chandan Arora's wonderful Secret Superstar. And apart from Zoya Akhtar, how many Indian Muslim women directors get to direct a big budget feature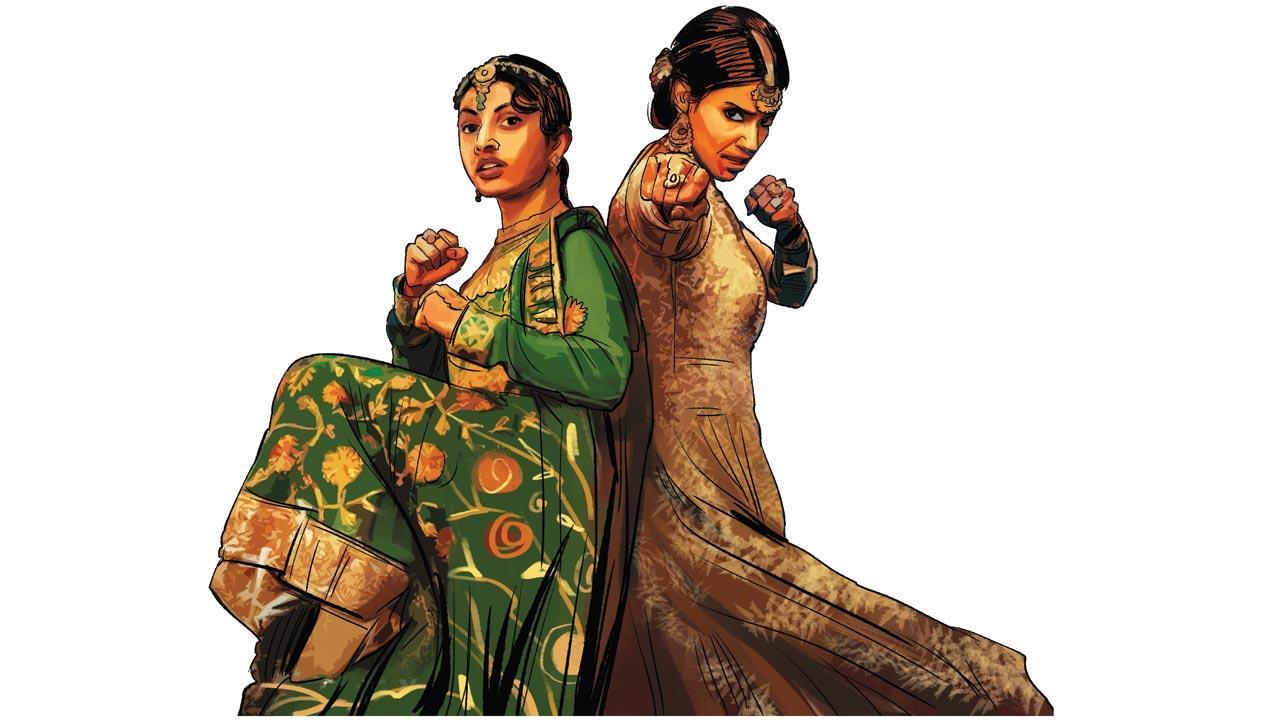 Illustration/Uday Mohite
Nida Manzoor's Polite Society is a charming film by the British-Pakistani director that was screened at the Sundance Film Festival, and opened in Indian theatres on Friday, following a preview at the Jio Mami Year Round Programme. 

The film taps into a rich lode of Pakistan and Pakistani diaspora films questioning the status quo in Pakistani/diaspora society since decades, including a younger generation of women clawing back the conservative crap of an older generation. Beyond the pioneering work of Sabiha Sumar (Khamosh Pani), these include Haroon's brilliant Burka Avenger animation TV series, whose young superheroine wears a burqa: her alter ego is Jiya, a girls' school teacher, who fights corrupt politicians like Vadero Pajero, by using Takht Kabaddi, a martial art involving throwing books and pens. There's British-Pakistani Asim Abbasi's Churails series on Zee5, that featured four cool women, whose female detective agency exposed philandering husbands; Indo-British Meenu Gaur's Pakistani series Qatil Haseenaon Ke Naam (Zee5); Norwegian-Pakistani Iram Haq's What Will People Say; Sarmad Masud's My Pure Land, British-Pakistani filmmaker Seemab Gul's short Mulaqat/Sandstorm, produced by Abid Aziz Merchant, that was at the Venice film festival, and the work of Maheen Zia and Afia Nathaniel. Pakistani-Canadian Sharmeen Obaid Chinoy's two-time Oscar-winning documentaries, Saving Face and A Girl in the River: The Price of Forgiveness, question the terrible price some women pay for having/rebuffing desires. Saim Sadiq's Joyland (Cannes) is a frontal attack on patriarchy, as are Iram Parveen Bilal's Josh and forthcoming Wakhri, and the Pakistani-Canadians Zarrar Kahn's (director) and Anam Abbas' (producer) In Flames, at the Cannes Film Festival's Directors' Fortnight. And there's also Ms Marvel, Kamala Khan, the American Desi superheroine. 
ADVERTISEMENT
Polite Society celebrates sisterhood: the adolescent Ria Khan (Priya Kansara), a schoolgirl who dreams of becoming a stuntwoman, is concerned that her older sister Lena (Ritu Arya), who dropped out of art school, has agreed to an arranged marriage with the hot, wealthy Salim Shah (Akshay Khanna). The masterstroke is that the youngest, goofiest girl of the family is the heroine, trying to "save" her older sister from the clutches of a shady marriage, conservative parents and in-laws, and forcing her to re-think her dreams. Salim is completely under his mother's thumb. Shades of some of the above films and Crazy Rich Asians here. But what makes it delicious is the innocence and naïve intensity of Ria, ending with a hoot of a climax with a glorious, feminist reimagining of Madhuri Dixit's Maar Dala song from Sanjay Leela Bhansali's Devdas. So Manzoor's screenplay is part coming of age, part sister-bonding/rivalry story, part-Jane Austen, with amateur martial arts and splashy Bollywood song and dance and melodrama, Brit-style, part send-up of the Big Fat Wedding. With those clipped British accents, I must have missed a lot of one-liners; I hope they leave the English subtitles on.
In this autobiographically inspired tale, writer-director Nida Manzoor walks the tightrope between camp and social comment with panache. The screenplay falters in the third act, with the big reveal about a key character proving unconvincing villainy. And the villainy is so outlandish, it is unclear if incest is being suggested. The direction is confident for a debut feature: Manzoor's previous work includes We Are Lady Parts, a Channel 4 series on a punk band that consists entirely of Muslim women, some in hijab. The film also has echoes of Chandan Arora's wonderful Secret Superstar. And apart from Zoya Akhtar, how many Indian Muslim women directors get to direct a big budget feature?
Kansara is endearing as Ria, but occasionally falters; and Nimra Bucha plays Rahila, the feisty mother-in-law-from-hell. And only a woman director could conceive of a waxing session as an interrogation scene. The ensemble cast is quite good; Ria's two buddies Clara (Seraphina Beh) and Alba (Ella Bruccoleri) are a hoot. Produced by Working Title Films/Focus Features, the women crew include writer-director Nida Manzoor, and cinematographer Ashley Connor. "I am the fury," Ria snarls, while delivering a roundhouse kick in an anarkali. Women are seldom furious enough, as I've pointed out before. 
Meenakshi Shedde is India and South Asia Delegate to the Berlin International Film Festival, National Award-winning critic, curator to festivals worldwide and journalist. Reach her at meenakshi.shedde@mid-day.com