Despite attempts to check it, spitting and littering at railway stations across Mumbai has gone up by 123% since last year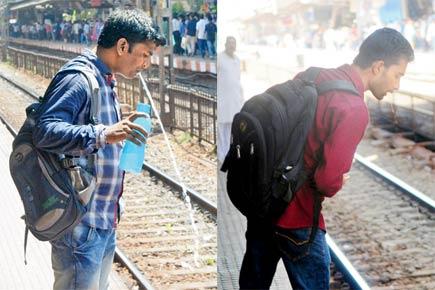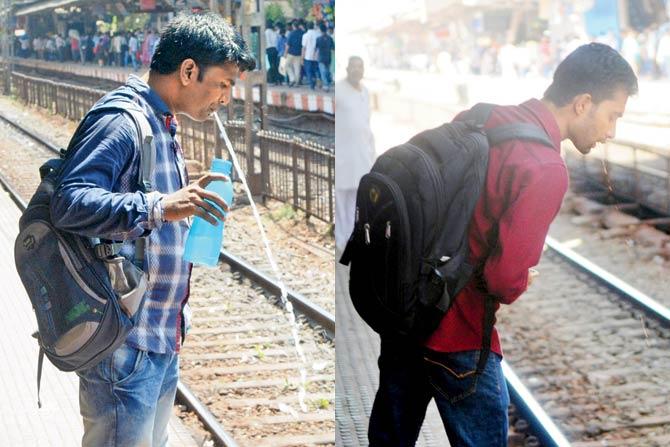 Commuters continue to spit at station premises. Pics/Datta Kumbhar
Here's an ugly stain on Mumbaikars's conscience -- despite several attempts to keep the city's stations clean, data from the railways show that spitting and littering has doubled since last year. Figures from Western Railway (WR) shows that as many as 6,870 people were littering and spitting in March alone -- more than twice the number caught in March 2016 (3,069).
In 2016-17, total number of spitting and littering cases registered under Section 198 of the Railways Act went up to 89,378 -- nearly double the figures from the previous year, when 45,009 were registered.
Nothing has worked
Last month, a front-page story in mid-day highlighted how this menace continued to plague railway stations, despite efforts to beautify the premises with art. In fact, artists took offence to citizens spitting on their work and announced that they would no longer participate in the beautification project (Mu­­mbai says Aakh thoo to pretty railway stations', April 17). Railway authorities conducted many clean-up drives and also raised the pen­alty for defiling station premises from R100 to R200 in October 2016. Despite this, the filthy practice shows no sign of abating.
Divisional railway manager (Mumbai) for WR, Mukul Jain said, "Though we cannot assign officials at every spot to catch people spitting and spreading dirt, we are trying our best to maintain station hygiene. However, the condition is poor at every public place because people are not ready to change their attitude. According to the data, since the past two years, spitting has only increased at railway stations. This is why we increased the penalty for it, but despite this the figures have more than doubled in March 2017."
Jain added, "From Western Railway, Andheri station is where the largest number of people are caught spitting. On a daily basis, around eight cases of spitting are registered at this station alone."
Double at CR too
mid-day also approached Central Railway for information on such cases, but officials stated that they wouldn't be able to provide the data. However chief spokesperson Narendra Patil admitted that they had also witnessed a significant increase in offences. "The railway authorities are trying all possible means to keep our stations clean. Our figures of spitting and littering have also doubled, but this is only because we have started strict patrolling at the railway stations in the past year."