What's on Movie Reviews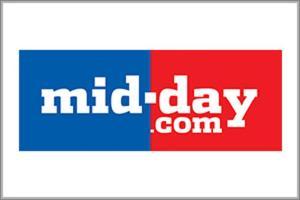 Why Will has us Smithen

Film: Seven Pounds (English)
Director: Gabriele Muccino
Cast: Will Smith, Rosario Dawson, Woody Harrelson
at: Fame Lido, PVR, Inox
Verdict: ***1/2u00a0


Director Gabriele Muccino and actor Will Smith, who gave us the brilliant film, The Pursuit of Happyness, work their spell on us once more. The theme organ donation is handled with deftness ensuring that you keep thinking (and weeping) about the film long after it's over.u00a0

The pace may not be typical Muccino but the classy camera work keeps you riveted. Seven Pounds rides entirely on Will's shoulders. Perhaps, it's a little too early in his career for him to have attempted a role of such gravitas, but we admire him for the effort and the courage. Our only quibble is with the background score. It's jarring.u00a0

Lessons from the film:
>>Don't use mobile phone while driving.
>>Donate your organs to give life to others.
>>Find happiness in making others smile.

Lesson best not learnt:
>>Suicide solves problems.
>>Box jellyfish (chironex fleckeri) are fascinating creatures to know.

Logic defying moments:
Will Smith's hair cut: Why does his hair go from long to short and back, between scenes?
Emily's fall from grace: She hits the ground, face down but suffers neither bruise nor scratch. Miracle landing, eh?
Print magic: Emily uses an old traddle printing machine to print an invitation, which comes out in multi-colours.u00a0

Oh,oh!
The premiere of Seven Pounds had very few celebs in attendance, and those who did land up were heard discussing clothes and holidays. We spotted Kannada stars Sanjana and Mayuri, musician Raghu Dixit, designer Namrata G, and producer Dayal Padmanabhan among others.

Radical and riveting


Film: I am not there (English)
Cast: Cate Blanchett, Christian Bale, Richard Gere, Heath Ledger, Ben Whishaw
Director: Todd Haynes
Theatres: PVR Cinemas
Verdict: ***

Imagine a startlingly different cinematic tribute to Bob Dylan that doesn't mention the singing sensation by name even once!u00a0 Director Todd Haynes gets not one or two, but six actors to play Dylan in this docu film. We loved the way he uses actors to cut across age (Gere as the reclusive Billy), race (Marcus Carl Franklin as Woody) and gender (Cate Balchett who takes your breath away as the young, troubled Dylan).

The six phases of Dylan's life are portrayed through the evolution of the six characters. While Marcus plays Woody (a tribute to Woody Gutherie), Ben Whishaw is Arthur (French poet Arthur Rimbaud). The intense Christian Bale is seen first as Jack Rollins, the prophet of folk music, and then as John Pasto after he converts to Christianity. Heath Ledger plays Robbie, an actor who plays Dylan onscreen and has a failed marriage with painter Claire, mirroring Dylan's marriage to Sarah Lownds and subsequent divorce. Richard Gere plays Billy (Dylan who went into exile after his 1966 motorcycle crash). And lovely Cate Blanchett plays the troubled Dylan in his early days. Playing the skinny, androgynous Dylan in his electric years, she is mesmerising. No wonder this film is a winner all the way.

Laugh a little

Film: Billu (Hindi)
Cast: Irrfan Khan, Lara Dutta and Shah Rukh Khan
Director: Priyadarshan
Theatres: PVR, Fame, Inox, Fun
Verdict: ***




Billu (Irrfan Khan) is a diligent barber, who struggles for roti, kapda and makaan. His wife (Lara Dutta) stands by him, but his kids, Gunja and Duggu, ridicule him. A film unit comes to Budbuda, Billu's hamlet. Superstar Sahir Khan (SRK) makes his dramatic entry. Billu's enamoured kids start the rumour that the star is their Papa's chuddi-buddy. The star-struck villagers begin cultivating Billu in the hope of meeting his famous dost.


Kudos to Priyadarshan for drawing laughsu00a0 from the most ordinary of situations. Irrfan Khan as Billu is a delight.

Watch the climax to know why SRK deserves his King Khan tag. Priyadarshan regulars Rajpal Yadav, Asrani, Manoj Joshi, Om Puri and Rasika Joshi are good. The glam brigade is adequately represented by Kareena Kapoor, Deepika Padukone and Priyanka Chopra.



Ride to nowhere





Film: KA-99 B-333 (Kannada)




Cast: Suneel, Deepachari, Kashinath




Director: G Arunkumar




Theatres: Kapali




Verdict: *

u00a0
u00a0

Mop shock: Curly-haired Suneel romances Deepachari in KA-99 B-333

Everything, from the title to the theme, in this film is targeted at one loyal section of the film-going jantau2014auto drivers. Their daily grind has been captured in gritty detail. There's some sanctimonious lecturing on how auto drivers can serve society (we suggest they start with not rigging their fares.)u00a0

In the midst of such moralising, there's a love story. Dini (Suneel), an auto driver loves Varsha (Deepachari), who goes to college during the day and drives an auto in the nights to pay her mom's medical bills.u00a0

Realising that his plot is hanging by a thread, director Arun Kumar introduces drama, action and sleaze in quick succession. Varsha is raped by goons who hire her auto and, in turn, she kills them. She lands in jail but the story doesn't end there. Tears and trauma follow. We won't blame you if you skip the rest, hop into the nearest auto (rigged meter or not) and wing your way home.