A new chapter opens in Mumbai cricket with the appointment of Chandrakant Pandit as coach of the Ranji Trophy team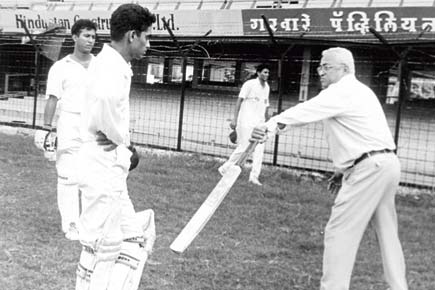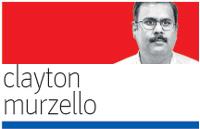 A new chapter opens in Mumbai cricket with the appointment of Chandrakant Pandit as coach of the Ranji Trophy team.
Pandit will walk into a different Wankhede Stadium dressing room, not the same one nearer to the turf, closer to the action and a handshake away from former players and well wishers, who were always around, even sharing evening snacks and tea which were served to the players.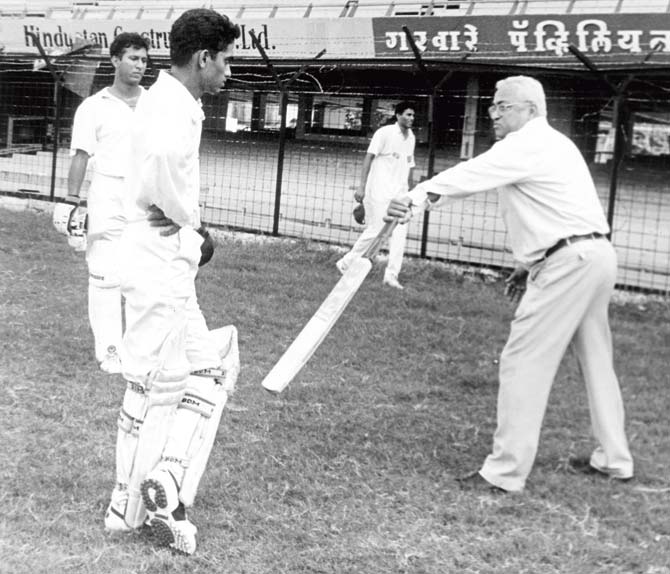 Dilip Sardesai offers batting tips to Mumbai batsman Salil Vaidya at the Wankhede Stadium in the 1998-99 season. Pic/mid-day archives
If there is one former Mumbai stalwart Pandit will miss, it will be the late Dilip Sardesai. On this day in 2007, Sardesai left his crease for the eternal pavilion.
"He was often in our dressing room, either encouraging the boys or discussing tactics with me. He was always blunt, but didn't mind you disagreeing with him. Of course, the players just listened," recalls Pandit.
We journos loved to meet him and I think he loved talking to us, especially at lunch breaks spent at the SS Hall at Wankhede Stadium. He loved his food and had no problems standing in queue for it, but what used to get his goat was when someone's plate touched his back while in queue.
He was known to enjoy a nap in the dressing room. And if he woke up to the sight of a stressed batsman padded up, he would ask him brusquely if he had got out. "No Sir, I am the next man in," would be sweet music to his ears.
Mumbai cricket needs a Sardesai-like character as they deal with a crossroads phase. He was always on the look out for fresh talent.
He loved a good batting sight but style would not be enough to convince him about ability. With Sardesai, runs counted. It was always the cornerstone of his judgement. Current India selector Vikram Rathour impressed Sardesai when Punjab played Mumbai in the 1994-95 Ranji Trophy final at Wankhede Stadium. When someone said that Rathour's technique didn't exactly conform to the norms of cricketing purity, Sardesai roared: "But he's getting runs and he must be picked for India." By 1996, Rathour was opening the batting for India.
Shishir Hattangadi, former Mumbai opening batsman and Ranji Trophy captain remembers Sardesai telling him that the Mumbai under-22 team, which Hattangadi led in 1982-83, must include Sanjay Manjrekar, no matter how many or few runs he gets. When the skipper asked why, Sardesai simply said, "Because we (selectors) are looking at him to play at a higher level."
It was Sardesai who broke the news to Hattangadi of his October 1981 Ranji Trophy debut for Mumbai. Hattangadi had just returned from Ahmedabad where he scored 192 and 11 not out at a CK Nayudu Trophy under-22 game against Maharashtra. The next day he would be walking out to open the Mumbai batting with Sunil Gavaskar since regular opener Ghulam Parkar was injured. Sardesai was one of the selectors who also blooded left-arm Ravi Thakkar in place of Eknath Solkar. It must be stressed that Solkar had led Mumbai to victory in the Ranji Trophy, the previous season in 1981. Thakkar, who joins the senior selection Milind Rege-led panel this year, will remember that piece of selection.
Sardesai was a custodian of the hard world of Mumbai cricket and if he didn't react to Ranji Trophy defeats kindly, it was probably because he didn't play in a Mumbai team that lost the national championship. Hattangadi says, "If you got a hundred, people like Sardesai and Ramnath Kenny expected a double century, then a triple. Sardesai used to ask, 'who's going to score double centuries? Mera baap?' "
Behind that sharp tongue was wit, compassion and fairness. As Gavaskar wrote in Viva Goa magazine's special edition on Sardesai, "I failed in my first couple of appearances for Mumbai and quite understandably, not just my technique, but my temperament as well was questioned. But Dilip believed in me and kept telling me to ignore all the catty comments from some of the players who belonged to a rival club and to simply practise harder."
Alongwith Gavaskar, Sardesai helped India beat the West Indies in 1971, a watershed moment in Indian cricket. Five months prior to that historic overseas victory, Sardesai found himself out of favour in the home season of 1969-70. That scar stayed with him. During an interview at the Bombay Gymkhana in 1990, I asked him about his lowest moment and he mentioned being dropped for the India vs New Zealand home series. "Write it, write it," he urged, "thanks to Vijay Merchant."
When his son Rajdeep asked him about his Caribbean success formula, Sardesai Sr attributed it to the West Indies' similarity to his birthplace Goa.
The Goa to Mumbai journey began when Sardesai was just 16 with probably only cousin Sopan, an established player, as a cricketing role model. By the time he was 20, he was playing first-class cricket.
Sardesai was not a man for speeches, but if he delivered one, it could have been similar to the one actor Sidney Poitier gave after he received the Honorary Award at the 2002 Oscars: "I arrived in Hollywood at the age of 22 in a time different than today's, a time in which the odds against my standing here tonight 53 years later would not have fallen in my favour. Back then, no route had been established for where I was hoping to go, no pathway left in evidence for me to trace, no custom for me to follow."
Dilip Narayan Sardesai shouldn't just be remembered on the day of his passing.
Clayton Murzello is mid-day's Group Sports Editor