Here are a few ways how you can contribute to the CM Relief Fund for Kerala Flood Relief and rehabilitation, and make sure that Kerala fights its biggest 'disaster' in 100 years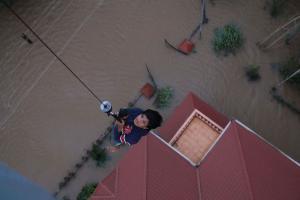 People of Kerala are airlifted by Navy personnel during a rescue operation at a flooded area in Paravoor near Kochi, Kerala. Pic/AFP
The state of Kerala has been ravaged and tormented by unprecedented floods following torrential rains that also triggered landslides, claiming more than 300 lives since 8 August. The torrential rains have managed to disrupt air, rail, and road traffic in several places across the state of Kerala. Union Home Minister Rajnath Singh did an aerial survey on August 12 of the flood-hit regions and announced an immediate central assistance of Rs 100 crore to the state for relief works against the Rs 1,220 crore that the Kerala CM Pinarayi Vijayan had requested. Today, after taking an aerial survey of the flood-hit state, Narendra Modi had announced Rs 500 crore as interim relief fund saying, 'Nation is with Kerala'. The Rs 500 crore relief package is in addition to Rs 100 crore package that was announced by Home Minister Rajnath Singh on 12 August.
The floods have created havoc as it is the first time in 100 years that 'God's own country' has been devastated completely. Houses of lakhs of people have been waterlogged and destroyed, leaving them displaced as people of Kerala are forced to take refuge in relief camps. Kerala's chief minister, Pinarayi Vijayan, added in a statement that more than 200,000 people had now been displaced by torrential rain that began nine days ago. Yesterday, Prime Minister Narendra Modi took stock of the situation in Kerala. Modi through the aerial survey witnessed the massive loss and destruction triggered by the torrential rains in Kerala but his journey was cut short on Saturday due to bad weather, state government officials said. 
ADVERTISEMENT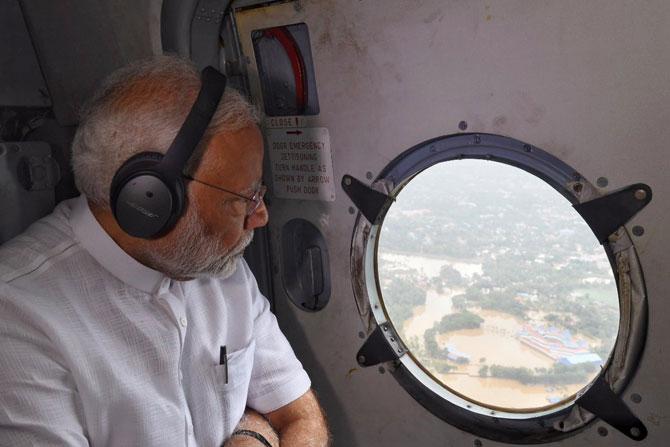 PM Narendra took stock of the situation arising in the wake of the devastating floods across the state through an aerial survey. Pic/Twitter/Narendra Modi
Modi shared the news through his social media profile platform Twitter:
In Kerala, I took stock of the situation arising in the wake of the devastating floods across the state.

Joined a review meeting and undertook an aerial survey to assess the damage caused by flooding.

The nation stands firmly with Kerala in this hour. pic.twitter.com/PFeWTTZAwl

— Narendra Modi (@narendramodi) August 18, 2018
Earlier in the day, the Telangana government dispatched 100 tons of nutritious food, 'Balamrutham' for the benefit of children in rain-ravaged Kerala. It is used by the state government under the Integrated Child Development Services scheme. 'Balamrutham' packets worth Rs 52.5 lakh have been sent to Kerala by a defence aircraft from the Begumpet airport here today, an official release said. The state government yesterday announced financial assistance of Rs 25 crore to the flood-hit Kerala state.
While most state governments have come forward and announced financial aid to Kerala, varying from Rs 5 crore to Rs 10 crore, Maharashtra Chief Minister Devendra Fadnavis too announced Rs 20 crore as financial aid for the flood-hit state. Also, additional funds will be coming in from corporate and industrial houses in the UAE. Updating about the situation in Kerala the CM tweeted:
Kerala is facing its worst flood in 100 years. 80 dams opened, 324 lives lost and 223139 people are in about 1500+ relief camps. Your help can rebuild the lives of the affected. Donate to https://t.co/FjYFEdOsyl #StandWithKerala.

— CMO Kerala (@CMOKerala) August 17, 2018
The Kerala government has appealed for financial donations and essential items to help thousands of displaced people, living in relief camps around the state. Here's how you can help the people of Kerala who are affected by the worst disaster in 100 years: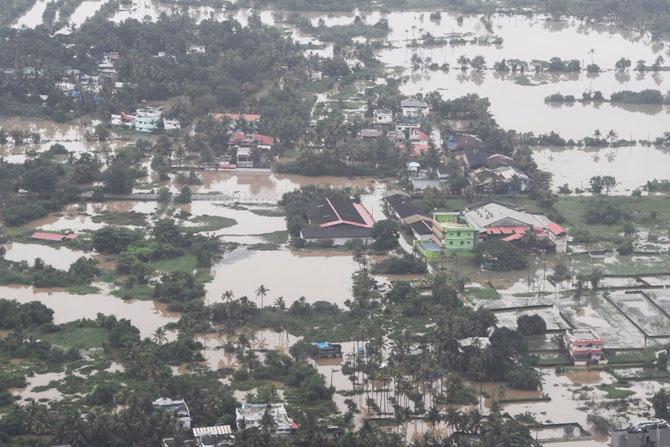 An aerial survey reflecting the aftermath of the Kerala floods. Pic/Twitter/Narendra Modi
Contribute through the Chief Minister's Distress Relief Fund (CMDRF)
The chief minister's office released a letter appealing for help to rebuild the lives of people affected by the floods in Kerala. Chief Minister Pinarayi Vijayan said, "We have an important task before us, the task of bringing life back to normalcy."
Here's how you can help those affected by the unprecedented floods in Kerala. Now you can make donations online to Chief Minister's Distress Relief Fund through the site, https://t.co/OFHTHlZ9by #KeralaFloods #StandWithKerala. pic.twitter.com/XNlBKqdCUT

— CMO Kerala (@CMOKerala) August 14, 2018
One can even donate for the cause through the direct link: https: donation.cmdrf.kerala.gov.in
Donations can also be made through cheques or demand drafts (DD), or even via the medium of internet banking.
Address for cheques: The Principal Secretary (Finance) Treasurer, Chief Minister's Distress Relief Fund, Secretariat, Thiruvananthapuram – 1;
If you wish to contribute online (Internet banking) -
Account number: 67319948232
Bank: State Bank of India
Branch: City branch, Thiruvananthapuram
IFS Code: SBIN0070028
PAN: AAAGD0584M
Name of Donee: CMDRF
If you're worried about any of your closed ones or are looking to know about the whereabouts of your missing ones in Kerala then the chief minister's office has also released helpline numbers:
Alert: People in the low lying areas along Chalakudy river and its tributaries are requested to move to higher locations as a precautionary measure. All stranded people are being attended by the forces in maximum capacity. #KeralaFloods2018 pic.twitter.com/6QWiTj2Guc

— CMO Kerala (@CMOKerala) August 16, 2018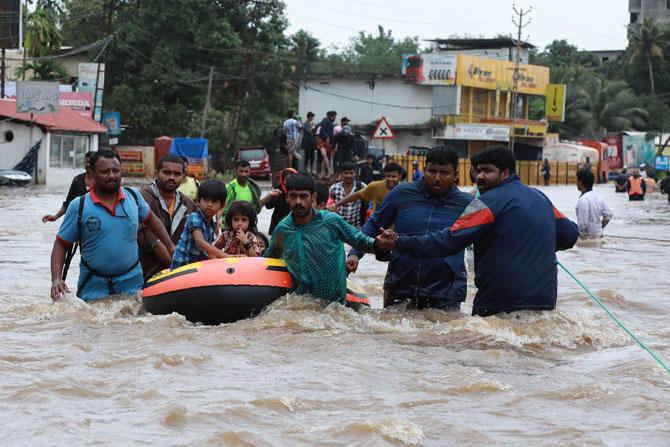 Indian volunteers and rescue personal evacuate local residents from Aluva in Ernakulam, Kerala. Pic/AFP
Donate essential items: People in relief camps across the state of Kerala are in need of essential items like food (pulses, lentils, milk powder, other food items), sleeping mats, water, toiletries, sanitary napkins, towels, blankets, cooking utensils, basic household furniture, containers, and footwear, among others. You can donate any of the above essential items as well. 
Amazon India, Paytm, are a few platforms that you can choose to in order to do your bit for the people of Kerala. Amazon India has tied up with NGOs in order to provide much-needed help to the victims of Kerala floods. In order to donate via Amazon, all you need to do is to log in to your Amazon account and select from the list of various NGOs that are doing their bit from providing help to taking care of groceries and daily need items. After selecting the NGO, you can now select the products you wish to donate across categories and send through your NGO. Then proceed to checkout and write the gift registry address. The last step is to make the payment. And there you are. You too have helped the people of Kerala! Whereas if you're a Paytm geek then it won't be that tough, All you have to do is click on the Kerala icon and you will be able to see choices of fund you would want your contribution to go through. The visible choices are Kerala CM's Distress Relief Fund, Gaon Connection Fund, and Kailash Satyarthi Children's Foundation. Proceed to pay whatever amount you wish to donate for the flood-hit Kerala state. Truecaller, that offers an integrated caller ID service is also allowing users to send in a donation with a quick UPI or net banking transfer to the CM Relief Fund.
Other initiatives: 
In Ernakulam, the district administration too has joined hands with Anbodu Kochi, an NGO, and has rolled out a social media campaign called #DoForKerala by setting up collection points across the state. The District Collectors of the Kannur and Idukki put up posts on social media with ways to donate for the people in the districts. Infosys and UST Global have also arranged multiple collection points for relief items. 
One can even donate through other alternatives such as the Kerala chapter of Institute of Electrical and Electronics Engineers (IEEE) with the IT has launched a donation website (keralarescue.in), wherein the people can appeal for help and provide specific locations and requirements. Individuals who wish to volunteer can also register as volunteers on the site. Rapid Response India has also released a portal for donations. Their teams have been providing on-ground assistance in Kerala since the onset of the calamity, by distributing food and medical assistance. 
Here are some glimpses from the aftermath of the torrential rains and floods in the state of Kerala: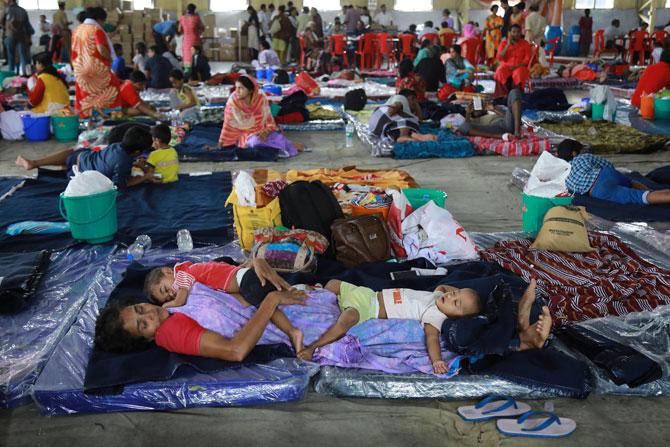 An Indian woman rescued by the Indian navy personnel rests with her grandchildren at the Naval relief camp in Kochi, Kerala. Pic/AFP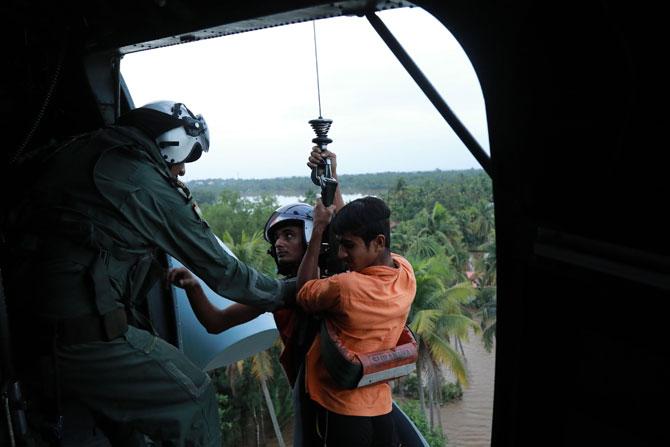 Citizens of Kerala are airlifted by Navy personnel during a rescue operation Pic/AFP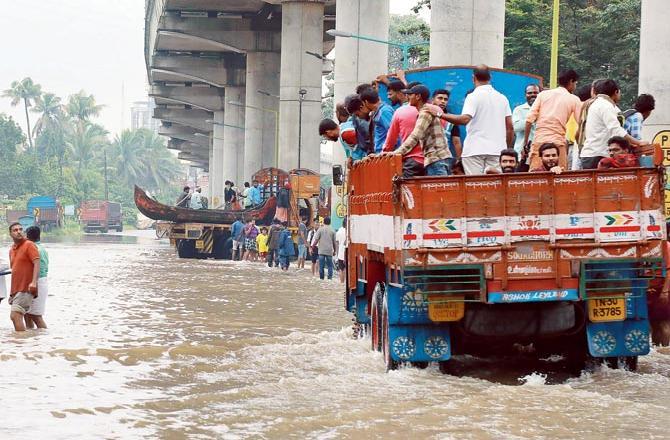 People travel in a truck to a safer place, as floodwaters ravaged the National Highway 47 in Ernakulam district of Kochi. Pic/PTI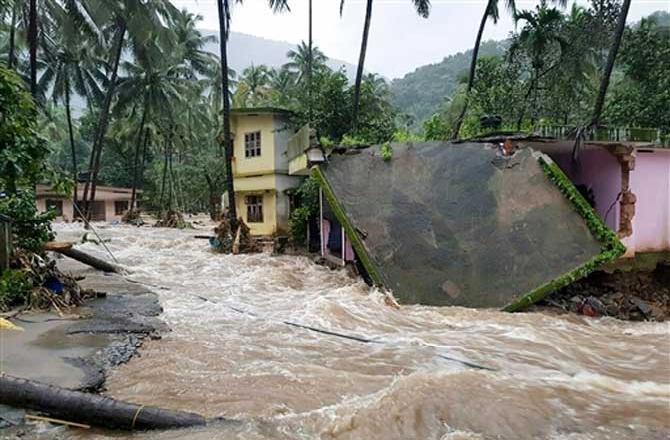 The roof of a house collapses following a flash flood, triggered by heavy rains, at Kodencheri in Kozhikode district of Kerala on Thursday, Aug 9, 2018. Pic/PTI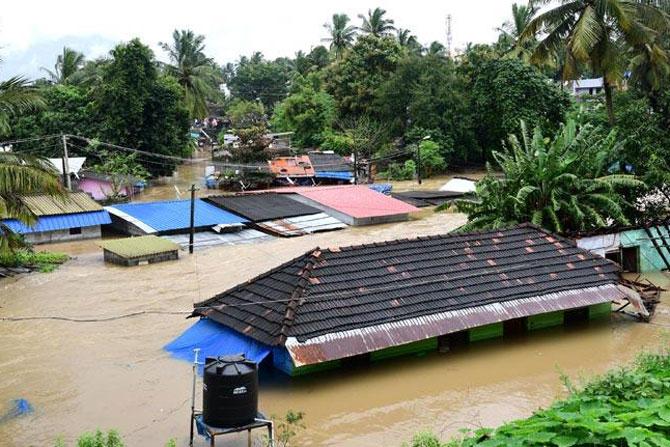 A view of houses submerged in water following a flash flood, triggered by heavy rains, at Palakkad in Kerala. Pic/AFP
Catch up on all the latest Crime, National, International and Hatke news here. Also download the new mid-day Android and iOS apps to get latest updates
"Exciting news! Mid-day is now on WhatsApp Channels

Subscribe today by clicking the link and stay updated with the latest news!"
Click here!