mid-day reconstructs the firebrand activism of the five leaders, who were arrested for their connection with CPI (M)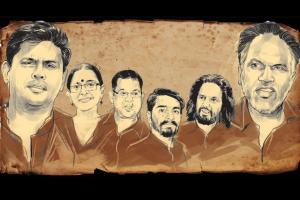 Arun Ferreira, Shoma Sen, Surendra Gadling, Mahesh Raut, Roma Wilson and Sudhir Dhawale
Sudhir [Dhawale] is a relentless activist, and his work is solely stirred by atrocities against the Dalits. I have known him for 15 years, and all I can say is that he has been working hard against repression of Dalit voices. Yes, Sudhir has his own understanding of Maoism, but in India having an opinion [about a movement] is not illegal," said Feroze Mithiborwala, national convenor of the Bharat Bachao Andolan, who has lambasted the state machinery for linking the Dalit movement with Maoism. Mithiborwala, a self-proclaimed progressive Ambedkarite following the Gandhian school of thought, is shocked at the unexpected turn of events over the last week.
On Wednesday, the police arrested five Dalit activists - Dhawale from Mumbai, Roma Wilson from Delhi, and Shoma Sen, Mahesh Raut and Surendra Gadling from Nagpur - for their alleged links to the banned Communist Party of India (Maoists). Soon after, reports surfaced that the CPI (M) had allegedly helped fund the Elgaar Parishad event, held in December last year to mark 200 years of the Bhima-Koregaon battle.
The police also claimed that a letter allegedly found in the house of one of the arrested, spoke about "another Rajiv Gandhi-like assassination."

Several shops were vandalised and vehicles were burnt in Pune, following the violence at Bhima-Koregaon in December last year. Pic/PTI
Voice of the Dalits
When mid-day reached out to family and friends of the arrested accused, more than the shock of the arrests, they reiterated the impossibility of the Maoists links. "We had predicted that the arrests would happen when the houses of several activists were raided around two months ago. But what is most disturbing is the letter that has surfaced. It is so ridiculous and stupid. If you read the content, you will realise that the plot [to kill] is so bizarre," said Mithiborwala.
Dhawale, who was arrested from his home in Govandi, had founded the Republican Panthers Jatiantachi Chalwal in 2007 to provide a common political platform for Dalits. He is also editor of the bi-monthly Marathi magazine Vidrohi, where he writes about human rights abuse against the community. "Dhawale's movement is part of a larger alliance led by Prakash Ambedkar," said Mithiborwala. Sudhir was previously arrested in 2011 on charges of sedition for his alleged Maoist links. But, he was acquitted in 2014, because they could not prove his association with the movement.
Mithiborwala insist that the arrests are an attempt to take away from right-wing Hindutva leader Sambhaji Bhide's role in the riots of January 1 in Bhima-Koregaon.
Megha Shivsagar, who recently completed her Masters in Social Work from Tata Institute of Social Sciences, and is a member of the Bhima Koregaon Shauryadin Prerna Abhiyan - that Dhawale is a part of - said the group had gathered enough evidence against Bhide. "The authorities got a whiff of this and decided to use Maoist links as a ruse to shield the real culprit."
Dhawale's ex-wife Darshana, who is also sister of another arrested accused Gadling, refused to comment on the issue. The couple separated around four years ago.
Passionate Gandhian
The family of Raut, 31, a TISS alumnus and a Prime Minister Rural Development (PMRD) fellow, can't believe that he could be part of an "anti-national conspiracy".

Raut's mother Smita, 54, works as police patil in Gadchiroli area. The second born among three siblings, Raut has two sisters, one of whom is married. His younger sister, who has completed her MTech, works with a Mumbai-based company. "As a PMRD fellow, he worked in the interiors of naxal-affected areas. He used to teach children there. Several anti-social elements tried to stop him, but he continued, because he was a passionate Gandhian," said Raut's younger sister, who refused to be identified.
Recalling the day he was arrested, she said, "On Wednesday, at 6.30 am, around 35 policeman came to our house in Gadchiroli. At the time, Mahesh was in Nagpur. Instead of letting us be, the police raided the house. They took away all his books, and confiscated his laptop and pen drive. My mother is in shock." She maintains that her brother is innocent. "On the day of Elgaar Parishad, my brother was in Kolkata to meet his college friends. He has been unwell for the last six months, as he is suffering from ulcers. He was on complete bed-rest. How can he hatch any kind of conspiracy?" she asked.
Teacher of the marginalised
Professor Shoma Sen, who was arrested from Nagpur, holds a PhD in feminist criticism. "Her thesis focussed on dalit women writers," said her filmmaker daughter Koyal Sen, who is an FTII alumnus and lives in Goregaon. "My mother is a social worker and has been a teacher for the last 35 years. While we originally hail from Mumbai, my mum shifted to Nagpur to teach students from the marginalised and Dalit communities. My mother took special interest in their education. Is that a crime?" asked Koyal. Shoma's husband, Tusharkanti Bhattacharya, was also previously arrested for Maoist links in Gujarat. "But the police had no evidence against him and he was subsequently acquitted," said Koyal.
Koyal said that the allegation that her mother was a criminal was completely baseless. "Both my parents are senior citizens, but the police treated them like hardened criminals."
Legal torchbearer
Gadling, 49, who was rushed to Sassoon General Hospital after he complained of chest pain, is currently in the ICU. A lawyer by profession, Gadling is general secretary of the Indian Association of People's Lawyers, and is known to be a tribal and dalit rights activist. He previously provided legal aid to Kabir Kala Manch artistes, who had been questioned by the Nagpur Police in September 2013 for carrying banned literature. "If taking up the case of a naxal accused makes my husband a Maoist, will a lawyer representing Dawood Ibrahim, be labelled a terrorist? My husband has always fought cases where people have falsely been accused. We never asked for anything in return," he said.
The family of Wilson, who works as public relations secretary for the Committee for Release of Political Prisoners (CRPP), was unavailable for comment. He is supposed to be a close aide of Delhi University professor GN Saibaba, who was arrested in May 2014 and convicted for having incriminating documents related to the CPI (M). He was sentenced to life imprisonment in March last year.
'Arrests not misplaced'
When contacted, JCP (Law and Order) Ravindra Kadam, Pune Police, said, "When we started probing the Elgaar Parishad case, we found that these five people were directly connected to the Maoist top brass.
Wilson is a full time leader working for Maoists. Raut hails from Chandrapur area and he along with Harshali Potdar [close associate of Dhawale] are connected to Maoists too. Our primary investigations have mentioned their role and how Maoist money was used in Elgaar Parishad." A police source said around R8crore was raised for
the event.
The police have registered a case under relevant sections of the Indian Penal Code and have slapped additional charges under the Unlawful Activities Prevention Act (UAPA).
Susan Abraham, who is consultant lawyer for all the accused and works with Committee for Protection of Democratic Rights, said, "This is a false and fabricated case. This is being done to shield Milind Ekbote and Bhide, who were involved in the Bhima-Koregaon violence."
With inputs by Jane Borges