Mumbai restaurants are expanding their menus and adding curated events to attract footfall. On the table are comedy acts, painting workshops, art shows and wellness activities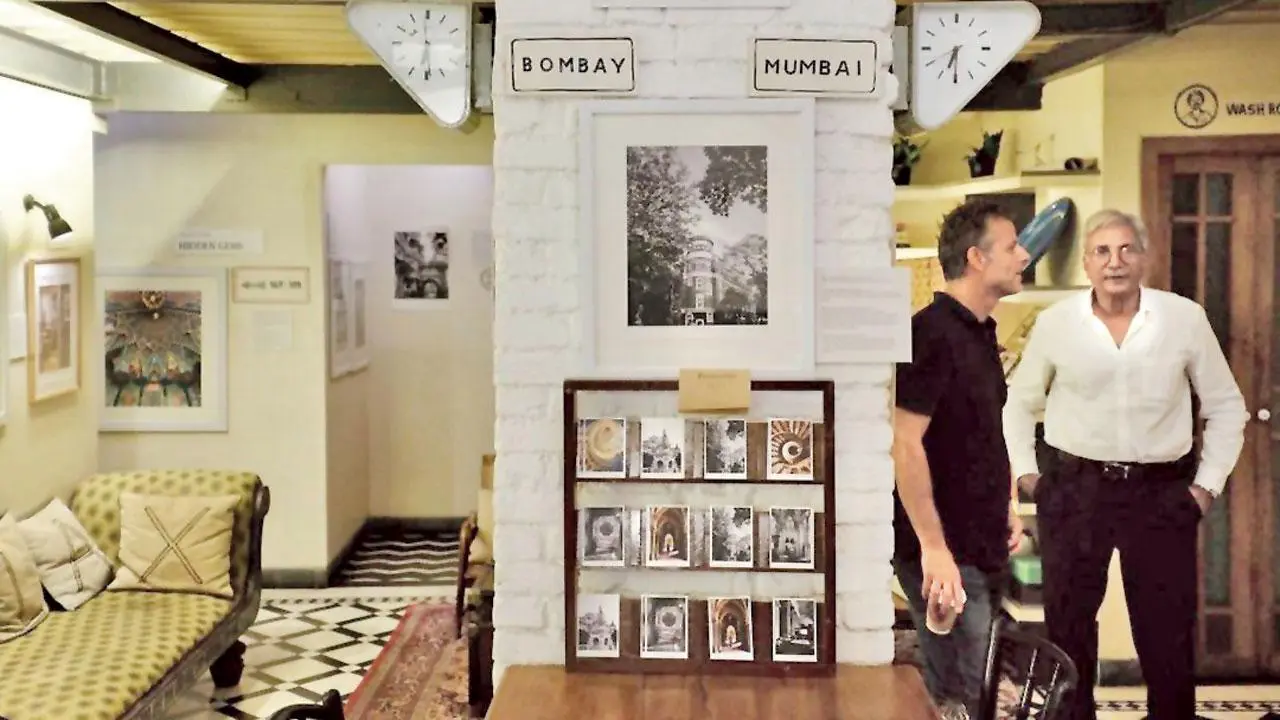 Anushka Gupta's photographs at Subko Coffee in Abode Hotel
UP the wooden staircase, on the first floor landing reception of Abode Hotel in Colaba, is Subko Coffee, housed inside a 120-year-old heritage building. Last month, city-based photographer, poet and historian Anushka Gupta exhibited her collection of Mumbai photographs, titled Histories of Bombay, at the coffee house. We got ourselves a specialty coffee infused with vanilla and soda. A refreshing pick-me-up, the words of poetess Gupta and her black-and-white frames drew us into an artsy embrace.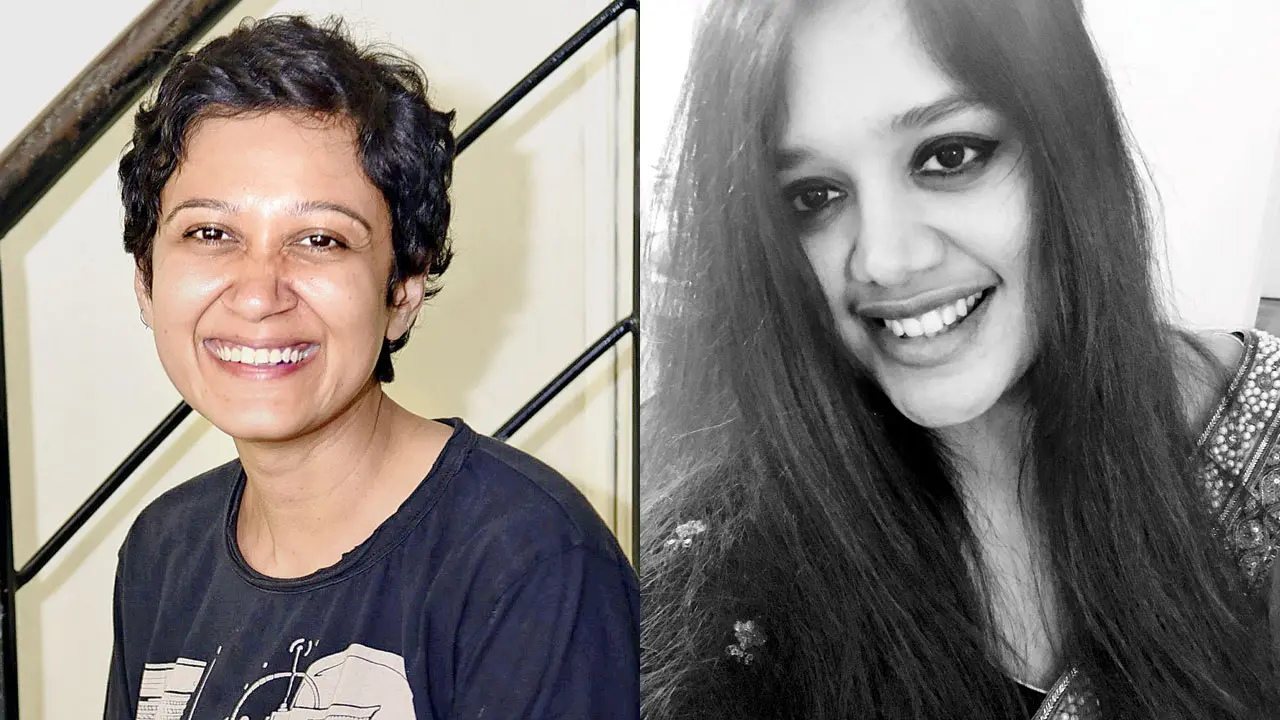 Bidisha Basu and Anushka Gupta
From pictures of theatres and libraries to Irani cafes and staircases of old Bombay buildings, the lobby turned into an exhibition space for her photographs, creating a perfect juxtaposition on the exposed brick walls. The backdrop of the high ceiling, a shimmery chandelier and teak-wood panels offered the perfect setting. Add to this, the wafting aroma of freshly brewed coffee. "A lot about my exhibition was about the space. I am trying to capture the heritage beauty of Bombay and here, I get to showcase it in a 120-year-old heritage structure. As an artist, I am looking to tell my story in a deeper sense, and have the walls resonate with what I am trying to say," shares Gupta, who was there every other day of the exhibition to receive an encouraging response from hotel guests and walk-in visitors. "People shared their stories about the city. It was a wonderful gathering," she tells us.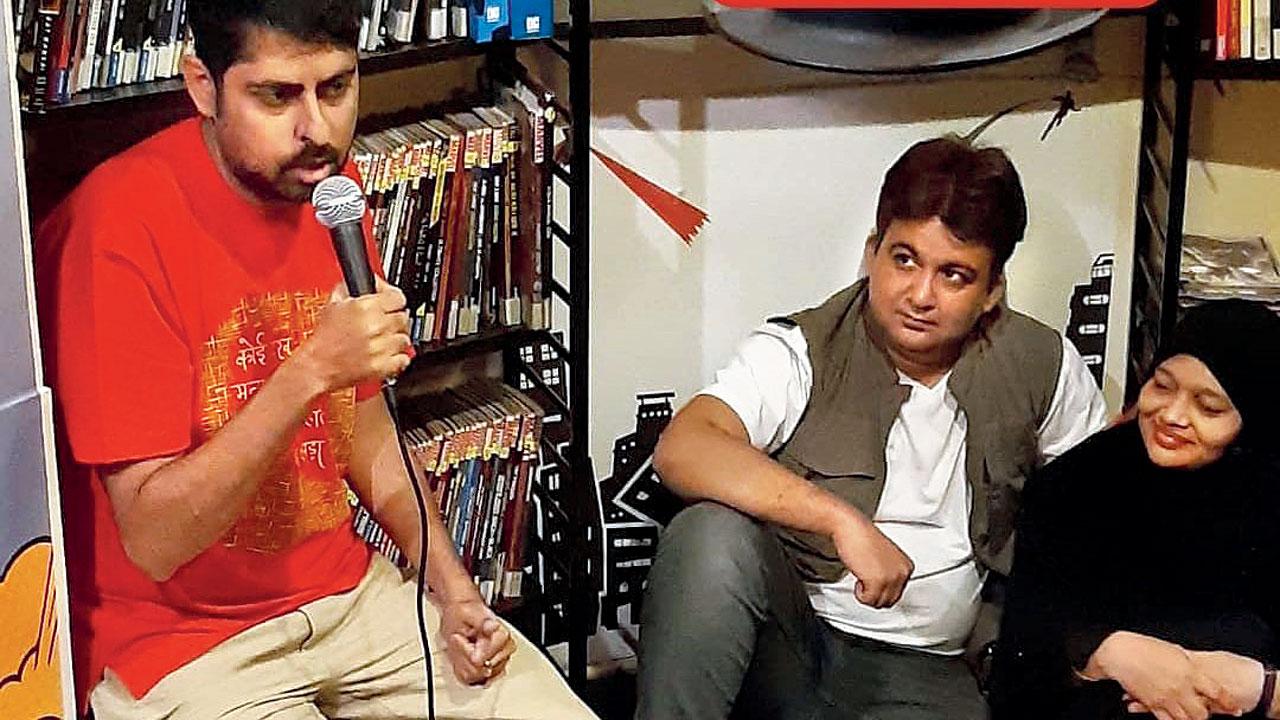 Varun Grover at Leaping Windows
Restaurants have picked up on what holds the attention of guests and earns them footfalls. While experiences beyond food and drinks offer a sense of community, they also alter the vibe of the space, welcoming a larger audience. For Bidisha Basu and her partner Utsa Shome, Leaping Windows in Versova took off in their drawing room as a comic book library. "When we didn't have the space in 2010, we did meet-ups at Mocha, Bandra. For us, the café came later. So, when we eventually did have the space, we knew it would be used for comic book events. Later, it opened up for drawing competitions for kids, music gigs and mental wellness awareness sessions," explains Basu. From their Friday night pub quiz, to Live at Leaping on one Saturday every month, events have reduced since COVID-19. 
"We are conscious of ensuring that the regulars don't shy away from the space because they find it packed with a gig. So we space it out, and retain the chill vibe," says Basu, adding, "On October 1, we are doing a collaboration with Mood Space, a mental health organisation. As October 10 is World Mental Health Day, they are going to put up a vent board for people to share their innermost feelings." 
Similarly, from perfume workshops at restaurants to painting sessions at beer pubs, here's how eateries in the city are opening up their space for interesting food-meets-activities experiences.
Flex your art over beer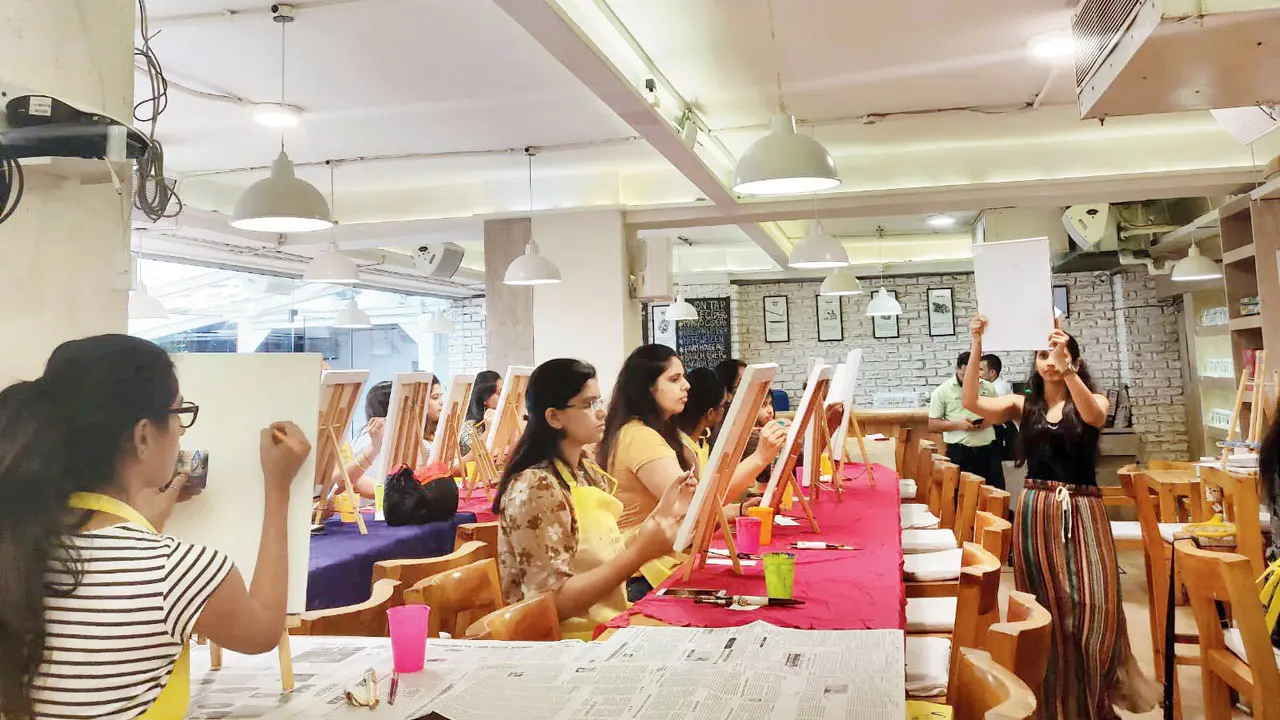 Canvas painting session at Doolally
One of the first spaces to offer interactive and experiential workshops in Mumbai was beer haven Doolally. Today, they offer a range of activities for all age groups and across interests. This week, you don't need to be a Picasso to sign up for their Greek summer house canvas painting workshop, organised by Bombay Drawing Room. It promises to be a Greece-inspired fun and laidback art session. You get to take the painting home.
On: September 16; 2 pm to 4 pm
At: Doolally Taproom, Andheri. 
Log on to: doolally.in/events
Cost: Rs 1,500 (inclusive of F&B worth Rs 300)
Resin a toast 
While you sip on sangrias and dig into tapas, take a canvas painting class, resin art or paint and sip workshop by Bombay Drawing Room at tex-mex joint, Poco Loco. 
On: Every Saturday
At: Poco Loco Tapas & Bar, Khar.
Call: 9619602123
Cost: Rs 1,500
Purr-fect plans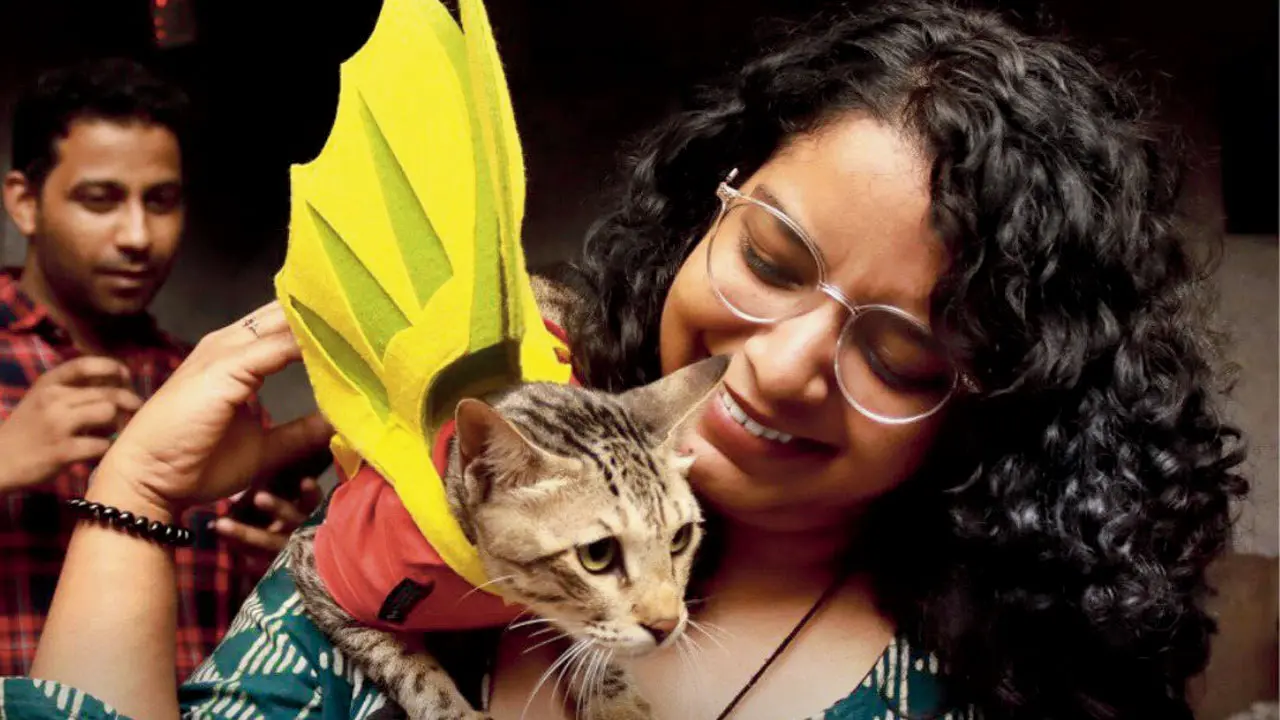 You don't have to make plans and leave your pet out of it. Attend Kitty Bash at the BrewDog, which consistently hosts pet-friendly events. Participate in games and win gifts by @shakehandsindia. Get a complementary basic health check-up and treat your cats to a food buffet. 
On: September 18; 3 pm
At: BrewDog Midtown Mumbai, Kamala Mills, Lower Parel.  
Log on to: petfed.org/events/mumbai/kitty-bash-18-September
Cost: Rs 399
Comedy with compassion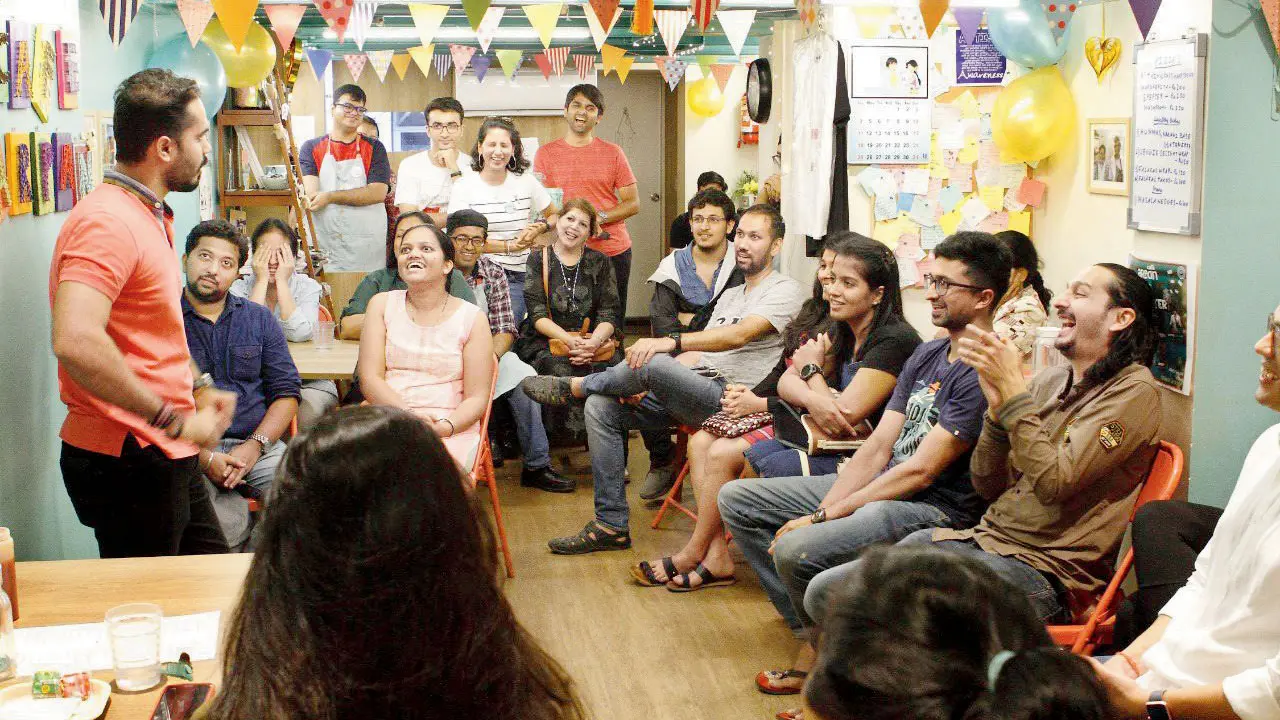 In 2019, Cafe Arpan introduced The Laughter Hour. With the intention of the space being able to offer a therapeutic setting, and laughter being the best medicine, hosting a comedy show was a no-brainer. The space has been supporting upcoming artistes and doesn't charge any fee for them to showcase their art.
On: September 17; 7 pm to 8 pm
At: Cafe Arpan, Juhu
Call: 7400490008 
Cost: Rs 200 (each ticket holder will get a complementary refreshing beverage)
What an ice space
In April, art, design and architecture space IF.BE opened inside a Ballard Estate ice-factory. With The Banyan Café to feed the cravings, the space is designed to host exhibitions and workshops. At the upcoming talk and performance by Aditya Prakash, the Carnatic vocalist will take us on a journey that traces his ability to seamlessly blend the Indian classical style of South India with jazz, and the process of finding his creative voice. He will also launch his album Isolashun, in which the classical language becomes his medium to tell a deeply personal story, one that speaks of xenophobia, beauty norms, radicalism and mental health.
On: September 19; 6.30 pm 
At: 10-12, Calicut Road, Ballard Estate, Fort
Log on to: @ifbe.space
Call: 9619024000
Laugh like nobody's watching
Grin Revolution: Easily Embarrassed with comic Aman Jotwani promises an evening filled with laughter.
On: September 19; 8.30 pm 
At: Leaping Windows, Versova
Log on to: insider.in
Cost: Rs 200 When is Shardiya Navratri 2022?