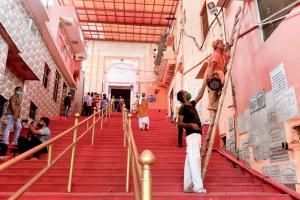 Workers decorate the Hanuman Garhi temple ahead of the ground breaking ceremony of the Ram Mandir in Ayodhya, on Tuesday. Pic/PTI
With the Ram Mandir finally becoming a reality, residents of the twin towns of Ayodhya and Faizabad want the region to be peaceful again and get the much-needed boost in terms of infrastructure and employment in the years to come. The towns have rarely fought on communal grounds, but what has affected them the most is a long-standing feud between the outsiders, who had larger interests than the locals.
mid-day spoke to some residents from both the communities and observers ahead of the mandir's bhoomi pujan today. All of them welcomed the initiative but some questioned the timing of the ceremony and the purpose behind it.
Boost infra, tourism
Dr Pradeep Khare, former principal of Saket PG College, believes that outsiders were responsible for disturbing the region's peace in the past three decades. He also wants the locals to get the real benefits of the initiative. "Once the pandemic ends, Ayodhya will have a steady flow of devotees. The number of tourists will increase further after construction of the temple is over. But what facilities do we have to host these people? We don't have roads, parking lots, hotels, local transport and recreation facilities," added Dr Khare.