In G North ward, Dharavi has 30 new cases, the highest number reported in a single day, which included five cases from Shastri Nagar and another eight cases from another slum pocket identified as a high-risk area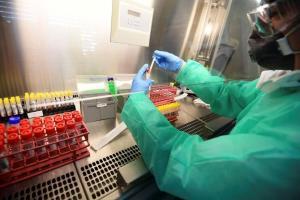 This picture has been used for representational purpose only. Photo: AFP
The steep rise in the number of COVID-19 cases in the city continued as 308 new ones were reported on Monday, taking the total count to over 3,000 cases. Meanwhile, civic officials said that Kasturba Hospital would soon start plasma therapy for COVID-19 patients who are unable to fight the infection on their own.
In G North ward, Dharavi has 30 new cases, the highest number reported in a single day, which included five cases from Shastri Nagar and another eight cases from another slum pocket identified as a high-risk area. Only three of the patients were senior citizens while majority of them were people in their late 20s or early 30s.
Dharavi now has a total of 168 COVID-19 cases while Dadar reported three new cases on Monday.