Two foreign nationals from the Middle East were arrested by Colaba police after an American woman alleged that she was molested in her own room at the posh Taj Mahal hotel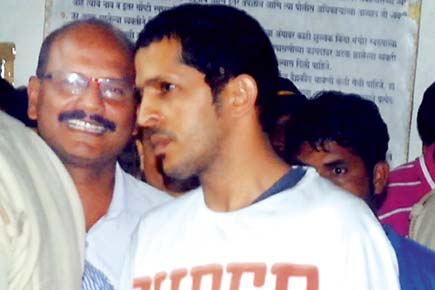 The survivor met the alleged accomplice, Mohammed Hassan (in pic), at a bar at Taj hotel, where they exchanged phone numbers. On the night of the incident, she invited him to her room for a drink
Two foreign nationals from the Middle East were arrested by the Colaba police after an American woman alleged that she was molested in her own room at the posh Taj Mahal hotel at Apollo Bunder.

The survivor met the alleged accomplice, Mohammed Hassan (in pic), at a bar at Taj hotel, where they exchanged phone numbers. On the night of the incident, she invited him to her room for a drink
ADVERTISEMENT
In her statement, the 52-year-old survivor said she had arrived in Mumbai from the US on February 22 and checked into the hotel, where she met Mohammed Hassan (24), an Omani, at the bar the next day.
Hassan was staying at a different hotel in South Mumbai, but he exchanged phone numbers with the woman and they began texting and chatting on the phone, and even met at the bar at Taj hotel again, on February 24.
On Wednesday night, around 12.43 am, she called Hassan to her room for a drink. Around 1.20 am, she returned from the washroom to find Hassan waiting in the room with another man who was unknown to her.
Hassan told her that the man, Fahad Alghatani (44) was his friend from Saudi Arabia. The survivor realised that she had seen Alghatani following her several times earlier. At that point, Hassan left the room, but Alghatani stayed on.
When she asked him to leave, he grabbed her instead and molested her. The woman tried to flee the room, but he grabbed her again from behind and pulled her back inside. However, the hotel security came to the rescue and saved her.
Alghatani was arrested on the spot, but Hassan was nowhere to be found. He was eventually arrested at the airport on Thursday evening. "We arrested Hassan from the airport when he was trying to flee. We arrested him as he helped Alghatani to approach the survivor.
We still have no clear picture about how Alghatani and Hassan know each other, or how long they have been in Mumbai, because they don't understand English and we are finding it difficult to take their statement," said a senior official from Colaba police station.
The police have, however, learned that both are businessmen in their native countries, and were staying at the same SoBo hotel. Both had come to India as tourists, Hassan with his brother, and Alghatani on his own.
The survivor returned to the US after giving her statement, while a case was registered against both men under Sections 354A (sexual harassment), 354D (stalking) 452 (house-trespass) and 34 (acts done by several persons in furtherance of common intention) of the IPC.
When Hassan was presented at Esplanade court yesterday, his lawyer argued that he had had no role in the molestation. He also argued that that the survivor had invited Hassan to her room, so he was not at fault. Nevertheless, the court gave the police custody of both men till March 2.
Hotel speak
A Taj spokesperson said, "The privacy and security of our guests has always been our topmost priority. We have assisted our guest to file an FIR and are cooperating with the investigation in every way possible."