Congress Vice President Rahul Gandhi addressed a workers' meet at Malad on Friday; turns out, some who attended, came only for the goodies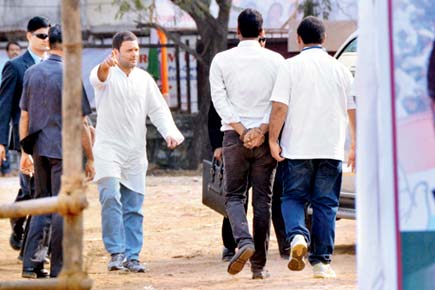 Congress Vice-President Rahul Gandhi began his speech with 'Til gul ghya, god, god bola,' (Have tilgul, talk sweetly) the traditional greeting on Makar Sankrant, at Malad on Friday. While his speech saw a huge crowd, it seems some had gathered because they had allegedly been sweet-talked into attending and given promises of what they would get if they did. mid-day spoke to a number of people at the event. While some said that they were promised R100, one said that she was given biryani before the event. Some residents of Kandivli's Damu Nagar who had lost their homes to the fire said that corporator Ajanta Yadav had promised them houses.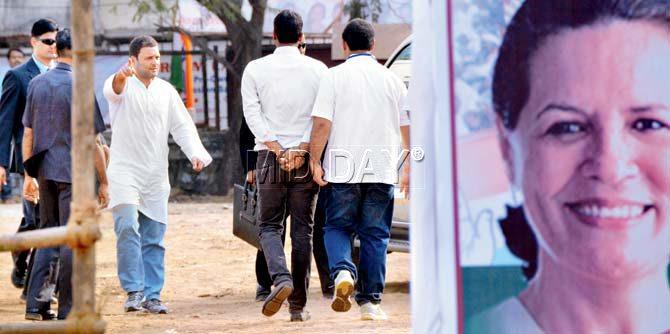 Congress Vice President Rahul Gandhi arrives to address a workers' meet at Malad yesterday. The Congress leader arrived more or less on time, but had to wait while other leaders gave their speeches
Also Read: Rahul Gandhi's Mumbai padyatra over power tariff hike evokes good response
Makar Sankrant was unusually busy for Malad this year as the Congress had organised a karyakarta melava (workers' meet), to be addressed by Gandhi at the St Joseph's School ground. A moderately sized school ground, it had the stage at its far end and a shamiana for the audience. All routes to the ground were decorated with Congress posters and banners. The police, as well as traffic police, were having a busy time controlling the situation as people thronged the gates in large groups. Inside the shamiana, people were given vada-pav and packaged water since they had been waiting for hours. The crowds largely consisted of people from the Malad, Kandivli, Charkop areas, including Malwani, Congress MLA Aslam Shaikh's stronghold. Sanjay Nirupam, Kripashankar Singh, Priya Dutt were also present for the meeting.
Also Read: Rahul Gandhi blasts RSS, BJP's 'rigid thinking'

Gandhi sat next to the AICC secretary, Sanjay Nirupam. Nirupam passed him a chit with "Til gul ghya, god, god bola," (Have tilgul, speak sweetly) the traditional Marathi greeting on Makar Sankrant, written on it. Gandhi used it in the beginning of his speech, to the delight of the crowds. He said, "I am going to take this phrase back with me to Delhi. And whenever Congressmen fight amongst themselves, I will say this to them." Pics/Sayyed Sameer Abedi
Also Read: Start ups and intolerance can't go together, says Rahul Gandhi
The event started more or less on time. Gandhi's convoy arrived at the venue around 2.20 pm, but since other leaders gave elaborate speeches, Rahul, dressed in his trademark white kurta, stood up to speak only around 3 pm. Starting off with "Til gul ghya, god god bola," Gandhi tried to reach out to the masses. People instantly cheered and some shouted slogans like "Rahul Gandhi ki jai". His speech ended in less than 30 minutes and he made a swift exit.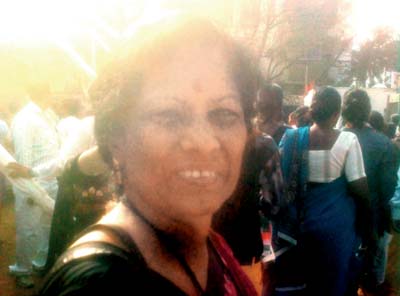 Chetna Kadam claimed she was promised Rs 100 if she attended the speech
Promises
This reporter chatted with several people from the audience and there emerged shocking details of how the party had allegedly got them to attend the event. Money, food, houses...there was no end to the things allegedly promised to get people to come and join the meeting on a hot afternoon.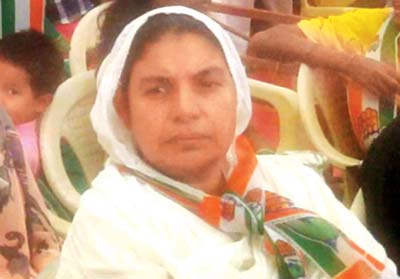 Mahmooda said Indira Gandhi's son Sanjay Gandhi was coming
Chetna Kadam and Lata Joshi, seated in the back row, said, "We have been promised Rs 100 by her (Neelam Mhatre) for attending. Otherwise, why would we leave our household chores?" Both are residents of Charkop and had reached the venue around 1 pm. "Today is the day of Sankrant. We were supposed to do puja in the house. The programme was supposed to start at 1 that is why I couldn't even do puja properly and rushed here. A lot of housework is remaining." When asked who promised them money, Joshi said that Mhatre promised it to them, and that it will be delivered to their houses soon. "You also contact the person (from Congress), you will also get it," she said.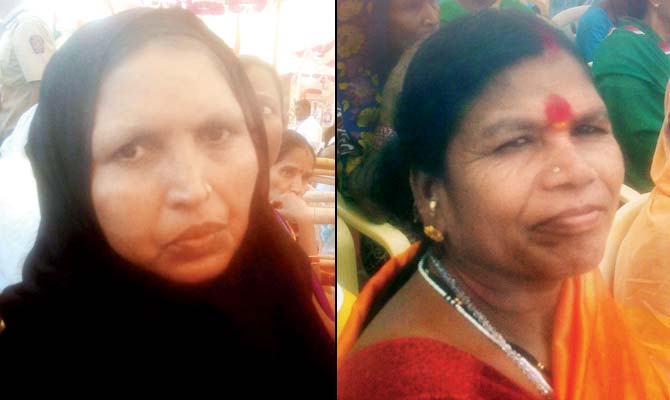 Hamida said they were given biryani to attend (right) Kastura of Damu Nagar said they were promised houses
Homes for all
There were a large number of people from Kandivli's Damu Nagar attending the event. This is the area where a major fire ravaged 2,000 shanties last month.
Kastura, a resident who had lost her house in the fire said they had been promised houses by local corporator Ajanta Yadav. "Yadav has called all of us here. She arranged buses for us. Do bus bhar ke log aaye hai, (Two buses full of people arrived)" she told mid-day. Kastura and people like her were allegedly given passes by Yadav along with transportation. "I have come here for a house. Yadav said we would be given houses." When asked how big the houses would be, where and when they would get them, she said she did not know.
Even Alka Vidyadhar, another resident of Damu Nagar, said they had been promised houses by Yadav. "I lost Rs 80,000 in the fire. I had my shanty there and that was the day we all had got our salaries. Fridge, TV, cash... everything got burnt. Right now we are living there (in another shanty). Today, we have been brought here in luxury buses," she said.
Shakeela, another resident said that they were promised breakfast. "Pata nahin kya milega," she said.
Biryani treat
Hamida, a resident of Ambulwadi in Malwani, had been waiting in the crowd for about two hours before Rahul Gandhi arrived. Dressed in a burkha, she said, "Aslam's (Shaikh) men have been coming to our area for 3-4 days and registering us for the event. They gave us passes and even arranged a bus for us. Today morning, we were given biryani," she said. "I don't know if we'll get anything in the evening as well."
Sanjay Gandhi?
Mehmooda, a resident of Malwani unit no.8, was sitting in one of the front rows with her daughter. In a reply that said a lot about the sorry state of affairs in the country, when asked who is coming for the event, she said Indira Gandhi's son Sanjay is coming. When asked why she was attending the event, she said their local Congress people asked them to come. They had not been offered anything.