The woman said how she made space for the senior and later found out that she'd been a hockey player, a model and an employee at the French embassy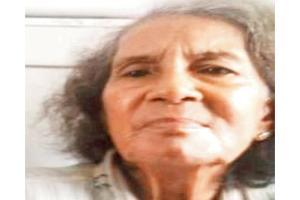 Ivy Pinto
On July 25, you might have come across a now deleted thread on the Twitter handle @EmpoweringGoa, about a young woman who described a heart-warming experience she had in a Churchgate-bound local train with a senior citizen, who wasn't being given a place to sit by fellow passengers because of how she looked.
The woman said how she made space for the senior and later found out that she'd been a hockey player, a model and an employee at the French embassy. Turns out, almost all of those claims are untrue. mid-day learnt this after speaking to Virar resident Ivy Pinto, the septuagenarian whose story went viral through the tweets.
No state-level hockey
Last Wednesday, a user named Dipika Naik posted a picture with Ivy, detailing the experience she had with her on a Churchgate local. Dipika mentioned how Ivy, wearing 'messy clothes' carrying an 'unorganised bag' was met with judgemental stares in the women's compartment, where none of the passengers budged to offer her some space to sit. The passengers moved eventually, but refused to sit next to Ivy. She came and sat next to Dipika, who felt bad about Ivy being judged for her appearance.