India's blind cricket team retain World Cup by beating arch-rivals Pakistan in Sharjah thriller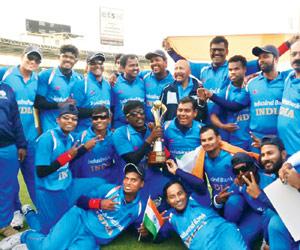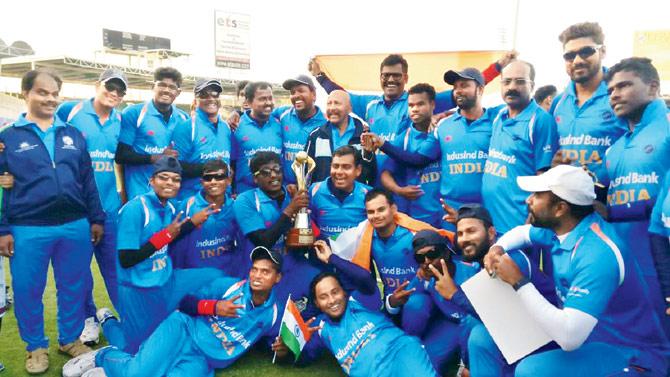 The Indian blind team celebrate their World Cup final win over Pakistan in Sharjah on Saturday
Like in the 1980s, the Sharjah Stadium in the United Arab Emirates witnessed a thriller between India and Pakistan. This time it was a final contested between the talented blind teams. The Ajay Reddy-led Indian team chased Pakistan's massive 307 in the penultimate over to win the fifth ODI Blind World Cup after beating their arch-rivals by two wickets.
Impressive total
Batting first, Pakistan piled up 307 for eight in 40 overs, thanks mainly to Badar Muni's 57 off 61 balls. Risayat Khan and skipper Nisar Ali chipped in with 48 and 47 respectively. For India, Deepak Malik and Rambir claimed two wickets apiece. In reply, Sunil Ramesh played a crucial knock of 93 off 67 balls to hand the defending champions their final triumph. Skipper Reddy (62), Prakash Jayaramaiah (44) and Venkateswara Rao (35) complemented the efforts of man of the match Ramesh.

India skipper Ajay Reddy receives the winners' cheque
Cracking stand
Jayaramaiah and Rao managed a scoring rate of 10 per over. Rao scored 35 in 32 balls, while Jayaramaiah scored 44 in 42 balls. India struggled in the final stages of their run chase as Pakistan claimed three successive wickets to gain an upper hand over their arch-rivals. However, a wide delivery rolled on to the boundary and the pendulum swung back in India's favour. India had beaten Pakistan on January 13 in the group stage. The defending champions had beaten Bangladesh by seven wickets in the semi-final. Cricket Association for the Blind (CABI) president GK Mahantesh congratulated the team and thanked Prime Minister Narendra Modi for his quick congratulatory message on Twitter. However, Mahantesh was critical of Sports Minister Rajyavardhan Singh Rathore, who was not as quick as the Prime Minister with his message.
Rathore 'late'
"It's a shame the honorable Sports Minister has not tweeted yet (till 8:15 pm) while the honorable Prime Minister did so immediately and congratulated the team. Is it not a shame? Being a sportsman (shooter) himself it is sad he hasn't acknowledged our boys' contribution. I hope he appreciates the contribution of our boys because we all clapped for his (Olympic) silver medal which he won in the 2004 Olympics in Athens," Mahantesh told mid-day over the phone from Sharjah on Saturday. Rathore sent out a congratulatory tweet at 9:17 pm The CABI president appealed to the Board of Control for Cricket in India (BCCI) for recognition and rewards. "I want to make a strong appeal to the BCCI to announce a cash prize for the boys and recognise the CABI. It's time they acknowledge the contribution of the Indian blind cricket team and their stupendous, consistent performances," Mahantesh added.
Veteran off-spinner Harbhajan Singh also heaped praise on the team. "What a win by #TeamIndia. Congratulations on winning #BlindCricketWorldCup," he wrote. Former stylish batsman VVS Laxman wrote: "Congratulations to each and every member of the Indian team for winning the #BlindCricketWorldCup."
With inputs from PTI