Jayshreeben, who had two daughters apart from Sandeep, was reportedly suffering from a brain haemorrhage and had to be continuously cared for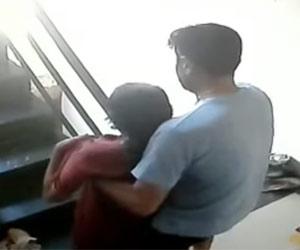 CCTV Footage of Sandeep carrying his mother to the terrace. Pic/Youtube
In a chilling case of murder, a young man was captured throwing off his ill mother from his building's terrace in a viral CCTV video. The incident is said to have taken place several months back in Gujarat's Rajkot.
The young man, who is identified as Sandeep Nathwani, a professor at Mody Pharmacy College in Rajkot, claimed to have no idea about his mother's death. The video however, shows him dragging his mother, Jayshreeben Vinodbhai Nathvani, to the terrace of the Darshan Avenue building in the Gandhigram area where she stayed and returning back alone. 
Jayshreeben, who had two daughters apart from Sandeep, was reportedly suffering from a brain haemorrhage and had to be continuously cared for. It is speculated that an ongoing argument between her and Sandeep, regarding his sister's marriage was the reason why Nathwani resorted to the gruesome act.
According to Sandeep's earlier claims, however, his mother had sent him to the apartment to get water to offer her prayers on the terrace. He then came back to the apartment wearing his mother's slippers.
A report by Zee News quoted Rajkot's Deputy Commissioner of Police, Karan Singh Vaghela, as having commented on the case and stated, "She could not walk properly, needed support even to go to the washroom. This raised our suspicion towards the incident after which we examined various footages from different CCTV cameras of the building."
Sandeep has reportedly complained of chest pain and is under medical treatment. The report further quotes the DCP as having added, "Sandeep pushed his ailing mother from the terrace of his apartment building on 27 Dec in Rajkot. We have verified the CCTV footage. We will arrest him once he is discharged from the hospital."
DISCLAIMER: The content/reporting displayed above is user-generated and made available on site as received by us, without any verification from our side. The reader's can rely on the content at their own will. mid-day.com accepts no responsibility or liability for its dependability, trustworthiness, reliability, data, text, images, video, messages, or any other material whatsoever or for any claims/loss/action that the reader may suffer as a result of relying on the content on our site. Mid-day management/mid-day.com reserves the sole right to alter, delete or remove (without notice) the content in its absolute discretion for any reason whatsoever.
Catch up on all the latest Mumbai news, current affairs from Mumbai, local news, crime news and breaking headlines here
Download the new mid-day Android and iOS apps to get updates on all the latest and trending stories on the go
Trending videos