By Krishnakumarsinhji Gohil, running a campaign to save soil in schools. Saving the soil can save the entire creation.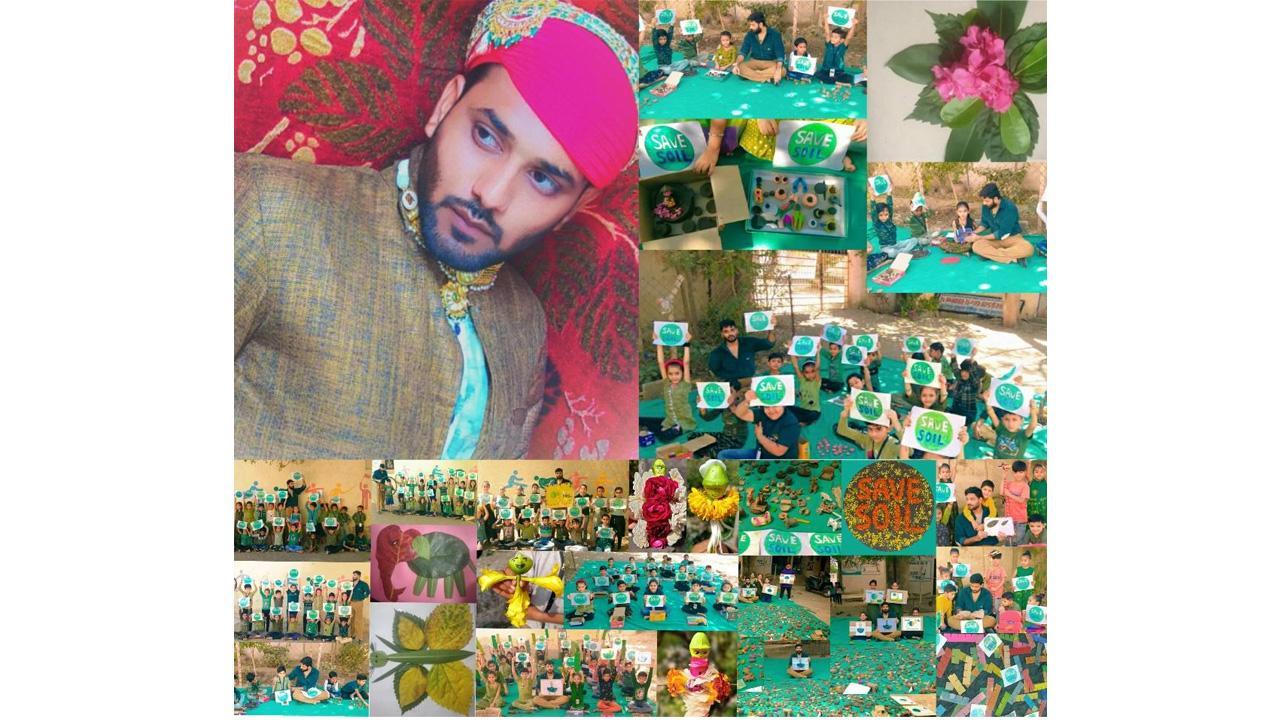 Just for this purpose, 25-year-old krishnakumarsinhji has started the save soil campaign by thinking something different.For public awareness, Krishnakumarsinhji Gohil is running a campaign called "Save Soil and Power of Krishnakumarsinhji Gohil" to save land and save lives, through which he is trying to sensitize the countrymen.Moreover, Krishnakumarsinhji Gohil has been running the 'Save soil' campaign in schools for the last four months to make children aware of soil. By explaining about soil they are working to spread awareness through various games, posters, stories, pictures. Children love to play with soil, which sparks children's interest, for that purpose krishnakumarsinhji has created more than 5000 soil toys for children through activities to bring out the hidden power and artistry in children. Letters to the Prime Minister in the form of pictures depicting various messages on full-leaf crafts, how to make organic compost, planting trees, raising plants and saving soil have been sent to PM House in Delhi. In which krishnakumarsinhji conducted a letter writing activity by school children on the topic of 'Measures to save soil'. Letters were then written to the Prime Minister. Krishnakumarsinhji created beautiful Save Soil posters for public awareness. krishnakumarsinhji made the save soil campaigns a success keeping in mind the public awareness.
Krishnakumarsinhji says, Isha Foundation has undertaken this soil campaign to create public awareness against the fact that the quality of fertile soil is going down to an alarming level in the world. As soil quality is of great importance for human health and the health of other creatures, this campaign can become a mass movement to save soil among the masses as it is the collective responsibility of all to maintain the fertility of the soil.There are many temples and religious places around us, where thousands of fruits and flowers are offered daily, the waste fruits and flowers can be used as organic fertilizer. Our body is made of soil, we came from soil and we have to go back to soil. At present, soil fertility is gradually decreasing across the country due to which soil strength and water storage capacity are also decreasing. People should again turn to natural medicines and natural fertilizers. At present, the chemical fertilizers used in modern agriculture can produce abundant crops. But it damages the soil and environment. Therefore, it is very important to allow the soil to remain natural and to protect the human life and animals from the effects of chemical fertilizers. In the future, the country's land will not be suitable for agriculture. for this we have to be aware from now. Farmers and government have to work on a war footing to increase agricultural productivity. Instead of using chemical fertilizers, organic farming, plant best, animal waste and alternative crop production have to be done. He expressed concern that the amount of carbon including zinc, copper, iron in our soil is decreasing. If we talk about carbon, it is much less than the 3 percent prescribed in soil. Which is worrying for the future. That is why Krishnakumarsinhji Gohil started the Save Soil campaign.
ADVERTISEMENT
Krishnakumarsinhji Gohil's unique initiative for education, "Phaliya Shikshaan", the school started teaching in the traditional way with board drawings. Also Krishnakumarsinhji Gohil's unique campaign to educate through the current letter was very successful and thousands of people joined the campaign spirit of collective life.
Krishnakumarsinhji Gohil is a Young Writer and the Fashion Stylish from Gujarat. Krishnakumarsinhji Kirpalsinh Gohil, who lives in Savarkundla and his native is Motishri (taluka Palitana) which is very famous in the field of literature. He has become an inspiration for the youth.
He took his early education from local Gurukul or K.K. Highschool Savarkundla, Amreli. Krishnakumarsinhji Gohil done his Bachelor of Arts with Economic in Savarkundla and Complete Master of Arts with Economic & Bachelor of Education with Economic in Amreli or Health Sanitary Inspectors in Amreli ITI.
Krishnakumarsinhji Gohil is a writer, many of his books are very famous.
Krishnakumarsinhji Gohil's Grandfather JAYPALSINH GOHIL was present in Operation Blue Star during Indira Gandhi's time, he was shot on the head. Krishnakumarsinhji Gohil has written a book on his Grandfather which is very famous even today. Krishnakumarsinhji Father KIRPALSINH GOHIL Water Supply and Sewerage Board government were working in Palitana Gujarat. Apart from this he had a big name in Palitana and used to help many people.
#krishnakumarsinhji gohil #krishnakumarsinhji gohil writer #savesoil #conscious plane
"Exciting news! Mid-day is now on WhatsApp Channels

Subscribe today by clicking the link and stay updated with the latest news!"
Click here!