In today's corporate world, corporate training programs are becoming more crucial in helping the employees in the organisation perform better. Employees are the most valuable resource in the organisation.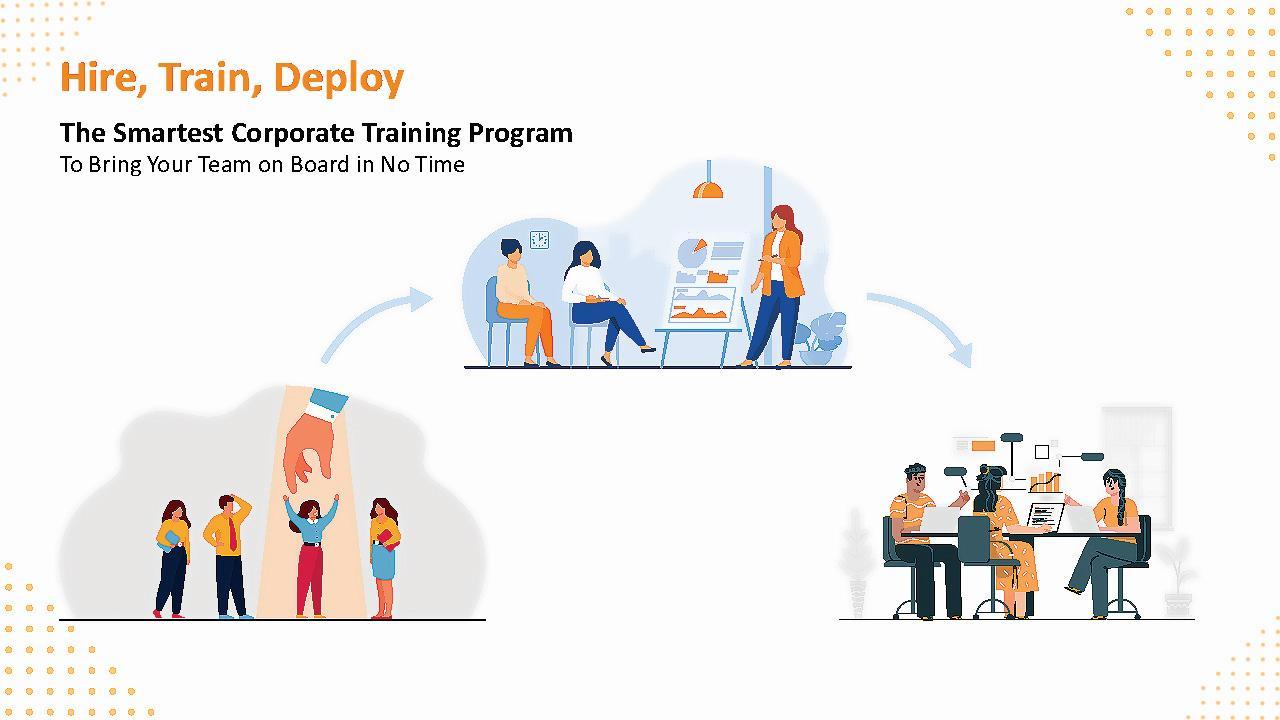 Hire, Train, and Deploy - The Smartest Corporate Training Program to Bring Your Team on Board in No Time
Whether you are recruiting new hires or upskilling existing employees, HKR Trainings has been a leading corporate training provider for many years, enabling your employees to acquire new skills, increase productivity, and perform better.
As part of our corporate training, HKR Trainings has come up with the "Hire Train Deploy" program to lessen your burden of hiring and save massive amounts of time and money on hiring and training. Have a glance at our Hire, Train, and Deploy program details.
Hire Train & Deploy
HKR Trainings' Hire Train Deploy model focuses on delivering a productive workforce from day one. The customised requirements are taken by the corporate organisations and accordingly resources are hired, trained, and deployed by HKR Trainings.
HKR Trainings ensures that the trainings are in line with market trends and technological advancements. The part that makes this training unique is that the trainees begin to upskill from day one. Not only does it increase their productivity as an employee, but it gives them an overall boost.
The Hire Train Deploy program has trained over 5000 aspirants so far, and each of those employees is well-settled in a top-tier job. The top-notch training program is provided by a pool of talented and skilled trainers who have at least 10 years of experience in a similar field.
Why choose Hire Train Deploy?
In a world full of training and certifications, Hire Train Deploy is something different. It is not like any other training programme that allows you to upskill; it is a training programme that lives up to its name, "Hire Train Deploy," from the first day.
Some of the most notable features that distinguish Hire Train Deploy training from HKR Trainings are:
Professional Output from Day One
The corporate clients can see the employees showing output and working on their tasks smartly from the first day. HKR Trainings considers the organisation's work ethics and business targets with utmost sincerity and trains the hired employees accordingly before deploying them.
Risk-free resource solution
With HKR Trainings there are no risks of fraud. The process of providing the "Hire Train Deploy" service is entirely professional and completely secure. The newly hired individuals are trained by experts and provided with practical training on real-time projects.
Cost-effective Model
The "Hire train, Deploy" model not only enables corporate organisations to save time and resources but also saves a lot of money. Moreover, HKR Training's cost-effective model ensures that there is no excess hiring.
Customised Training Solutions
HKR Trainings ensures that newly hired employees receive corporate training that is tailored to the needs of the employer. So, to ensure that these trainings meet the business requirements and industry standards and match the real-time scenarios, the training solutions are highly customised.
Better Monitoring of Progress
The progress of candidates is duly monitored to ensure there are no gaps. The newly hired professionals undergo one-on-one training sessions, and regular feedback is taken from both the trainers and the trainees.
Assured Quality
HKR Trainings ensures that all aspects of the "Hire Train Deploy" process are of the highest quality. Whether it is the training material, the evaluation system, or the industry-expert trainers, all that is taken care of to ensure top-notch quality.
End-User Support
HKR Trainings offers complete support to hired learners who are being trained. They can raise issues, track the issue's progress, and suggest better resources whenever they want.
HKR Trainings provides corporate training on all technologies based on the organization's needs. Our experts are always ready to deliver specialised training sessions to freshmen and working professionals on various in-demand technologies like Java, AWS, Devops, Snowflake, Tableau, PowerBI, Salesforce, ServiceNow, SailPoint, etc.
The nature of the training and the expertise of the development program is such that the trainees are set to deliver and make an impact in their corporate journey from day one. HKR Trainings has it all covered when it comes to expert mentorship and hands-on, practical training.
How does Hire Train Deploy work?
Like the name of the training, "Hire Train Deploy," there are three steps:
Hire: The requirements from the client organisation are taken, and suitable candidate profiles that match those requirements are submitted for their consideration.
Train: Once the students or trainees are filtered by the organisation, it is our forte to train them with the right job-oriented skills as per the company project requirements.
Deploy: Once the trainees are all set and ready to make an impact in their professional journey, they are deployed.
Why should you choose HKR Trainings?
Availability: Always ready and available to serve the client's requirements.
Economical: exceptional quality with cost-effective services.
Network Access: To meet all of the requirements, a vast array of resources and a network of connections are required.
Security: All the client data is secure and confidential, as all the corporate policies are followed.
Hiring without risk: The best resources are hired while keeping the client's needs in mind.
Customized Training: Trainings can be tailored to meet the needs of both new hires and existing employees.
Manage Skill Shortages: Never have a shortage of skills when you need resources.
Talent Pool: There's a pool of talented candidates for you to choose from.