When you think about electricity, the first name that will probably pop up in your mind is the great Thomas Edison.
While the advent of electricity changed our lives for decades, the mounting frequency of shortages and ever-increasing duration of shortages has necessitated the need for another innovation. As this sorry state of electricity shortage continued for generations, behind the scene, a game changer with a non-technical background was putting in his hard work and determination. His name is Kunwer Sachdev, the poster boy of India's power backup industry and the man behind Su-Kam, one of India's fastest-growing and most innovative organizations. The following story is based on the book 'Booming Brands - Inspiring Journeys Of 11 Made In India" Brands ' written by Harsh Pamnani. Later in the article, we will continue the story of Kunwer Sachdev and how he is going to re-transform the power-back and storage sector after Su-Kam got liquidated.
The humble beginnings
ADVERTISEMENT
Kunwer Sachdev, a real "rags to riches" figure, was born and nurtured in Delhi's Punjabi Bagh neighborhood to a railway clerk making a meager income and with a dream of launching his own business one day. He attended a public school with a Hindi-speaking curriculum, and after graduating from college in 1984, he began working full-time in his brother's company selling pens. Being a visionary from a young age, he soon began to realize the possibilities in the power backup sector. He decided to close his cable TV company in 1998 and launch Su-Kam due to the problems of severe power deficit.
The story behind the name - Su-Kam
While he founded many more businesses since then, he has kept the same Su-Kam for all his businesses throughout his entrepreneurial journey. But how did the name Su-Kam come into existence? There was a period when Kunwer would think of his business name as a combination of the initials from the girl's name, his name, and his future kid's names. The first two letters, "Su," came from the girl's name while initially, he thought about the second word to be "Kan," where the first letter was from the first name of his own name Kunwer and "a" and "n" from the first name of his two future kids. He hired a designer who ended by mistakenly changing the letter "n" to "m" and delivering a logo with the name Su-Kam. Since he didn't have more money to get the name corrected, he decided to continue with it.
The rise of a brand
He struggled greatly to raise money for his company, so it astonished him when his first 100 inverters were returned by customers because of problems. Never one to give up, he corrected all the mistakes and continued to improve his invention to create a superior product to anything else on the market. He started by talking to several of his cable TV clients before making cold calls to potential new clients. He began to approach dealers and distributors after realizing that he could not expand his business by selling directly to customers. Although the market was already saturated at the time, most manufacturers rapidly discovered that Su-Kam was unbeatable in terms of product quality and price. As a result, they were forced to accept Kunwer's offers in order to become his company's first partner. Su-Kam soon became the first business in the sector to begin exporting its goods to the aforementioned markets. During this time, Kunwer began to travel to other countries and establish his business there. Despite new difficulties related to government regulations, business customs, national laws, and rivalry, Kunwer overcame these challenges and turned Su-Kam into a well-known brand in many of these nations. Kunwer Sachdev received numerous honors for his accomplishments, including "Bharat Shiromani" from the Indian government and "Entrepreneur of the Year" from Ernst and Young.
Turning problems into opportunities
Although many people can accept the issues, relatively few of them can genuinely transform them into enormous opportunities. One among those select handfuls is Kunwer Sachdev. After experiencing issues at his home, where local innovators were unable to withstand repeated power outages, he entered the power backup market. Su-Kam continued to create tailored solutions even as India's power shortages became a serious issue. His inverters ended up being a perfect alternative to conventional backup systems like diesel generators. Su-Kam collaborated with the government authorities to grow into the largest supplier of solar-powered backup solutions in North East India when the Indian Army's reliance on heavy power sources like diesel increased due to the lack of adequate power supply in remote areas of Assam and the neighboring states of Manipur and Nagaland. Su-Kam led the first-of-its-kind solar project with the UP government and installed solar DC systems in over 40,000 rural households in Uttar Pradesh even as he encountered the issue of energy shortage in lakhs of households in far-flung Indian villages. Su-Kam carried out similar programs in 27,000 homes in Tamil Nadu and other African areas.
Constantly innovating products
The inventor market was previously controlled by a large number of regional competitors who sold inferior products. But Kunwer's entry transformed it for the better as he developed high-quality inventors in India for the first time. One of the first businesses in the sector, Su-Kam established a separate R&D unit that was authorized by the Department of Scientific & Industrial Research (DSIR, Government of India). When Su-Kam introduced the first MOSFET-based inverters in India in 2000, which were one-fourth the size of conventional inverters and had significantly higher efficiency yet were less expensive, they changed the inverter market. In 2001, the first sine wave inviter was introduced in India. By 2002, Su-Kam had even introduced the first plastic body inverter. The first time two distinct power backup devices—an inverter and a UPS—were combined was when Su-Kam developed the first residential UPS system in 2003. Later, Su-Kam created the first inverter in India with temperature sensing, automatic voltage, and current control for battery charging. Due to his never-ending innovations and numerous contributions to the business, Kunwer soon came to be known as the "Inverter Man of India."  Today, Su-Kam has a portfolio of more than 250 products, and it is recognized for having filed more patent applications than any other company in the sector—more than 100, to be exact.
Getting inside people's head
Getting inside people's minds and getting them to think about your brand are the first steps in brand building. Kunwer achieved this by simply choosing to work with dhabas to place his signboards rather than opting for expensive billboard advertising. With little expense, this exercise provided Su-Kam significant visibility. In addition, he discovered other low-cost, highly visible choices when he made the decision to brand the boats in Srinagar's popular tourist destination Dal Lake with the Su-Kam logo. He started Su-Kam's own vans, with each vehicle transporting a 100 KW inverter to the power source, and even established Su-Kam branding on the traffic barriers. In order to find innovative salespeople, Su-Kam also debuted the first business-themed TV reality show, "Sales ka Baazigar," where the minimum qualification was 10th-class matriculation. No wonder the show received such a positive response in that time. As an exceptional orator and one of the most sought-after speakers in the country, Kunwer has also played an important role in establishing Su-Kam as a brand.
Under the able guidance of Kunwer Sachdev, the company kept expanding quickly and became widely known for its expertise in the solar energy industry. In fact, it also became widely known for filing the largest number of patents in the power backup industry. On average, two patents were filed each month – including 76 technology patents in India, the United States, and other countries. This was greatly influenced by Kunwer Sachdev's innovative mindset and ambitions.  During his tenure, the company became the first to launch plastic body inverters, a product that made it on the list of the top ten innovations of the decade in 2010. The company also introduced innovative products, including India's first touchscreen Solar PCU with an MPPT solar charge controller that could be controlled remotely using a smartphone and wifi. It likewise introduced solar streetlights using built-in lithium-ion batteries.
Keeping employees and partners happy
Kunwer has always maintained that brand experience starts internally first and then externally. This is why while on the one hand, he created new challenges for employees to upgrade their skills, on the other hand, he celebrated all festivals in full spirit and took many initiatives to increase the bond between his employees. As he also considers his channel partners (dealers and distributors) as an extended part of his family, he took time to answer their queries and educate time on new technologies and products at each meeting. Today, Su-Kam organizes more than 200 channel partner meets every year, both in India and abroad.
Like Thomas Edison, Kunwer Sachdev has also craved his name in history for founding one of the most admired Indian brands, Su-Kam, which revolutionized the power backup industry, and he is not finished yet.
The brand Su-kam was taken away
Due to a series of unfortunate circumstances, Su-Kam Power Systems Limited went into bankruptcy, and Kunwer Sachdev became embroiled in several legal battles and was compelled to leave and disassociate himself from what he considered his own for 32 years of his career.  The legal battles of a single entrepreneur who changed the map of the power backup sector in India continue to date.  The company was closed for 2 years. 2019 Apr - 2022 Apr. No support was available. Nobody was picking up the phone or responding to emails. Customers and dealers suffered heavily during the period.
The turnaround and a new beginning.
The exit of Kunwer Sachdev from the company he founded and ran from its inception till 2018 left a vacuum for the customers, distributors, suppliers, and others connected with the company. Dealers and distributors, along with the customers, were suffering on one side of the services and materials lying with them unsold, and the customer's warranty claims were left without any solution.  In these circumstances, after much struggle and challenges, his wife, Khushboo Sachdev, came forward to help Kunwer Sachdev.  With a lot of help and support from friends and family members, Khushboo Sachdev started a new venture Su-vastika under the mentorship of Kunwer Sachdev. She took financial help from Kunwer's friends and her relatives and started this new company she had no prior experience of running any company, but her own challenges forced her to start, and then there was no looking back. She planned, met people, and understood the whole process. She was new, but with her bravery and zest she created a team and started Su-vastika. She managed with her kids and took Su-vastika to new heights.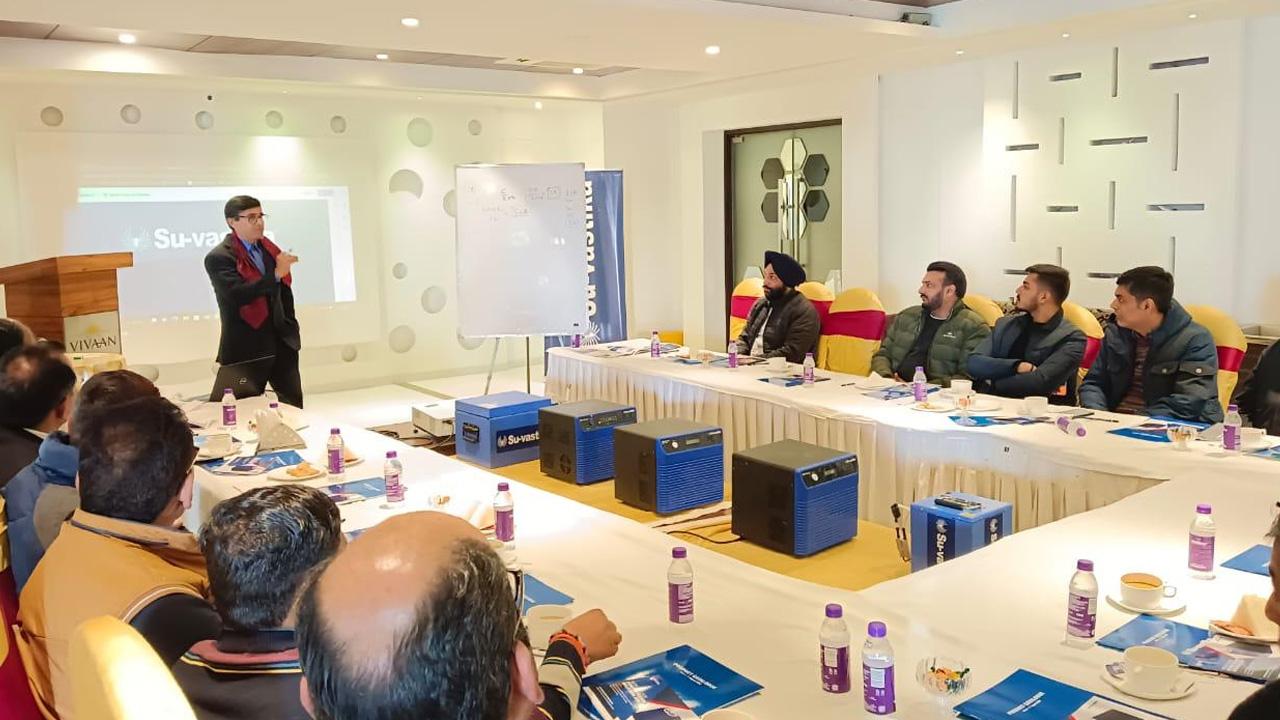 Su-vastika is here to drive the future of the power backup industry.
Su-vastika has been built on new technologies as per the changing times. In recent years, battery technology has changed drastically, and hence power backup industry is also changing at a fast rate.
Su-vastika is built on a new thought as far as technology is concerned. The Inverter/UPS technology is going to be the things of the past, surviving on the age-old Lead Acid technology. From the storage point of view, Lead Acid battery technology is quite inefficient, bulky, and expensive. The future of battery storage technology is lithium based. Specifically, LiFePO4 has taken over the world and has given a new meaning to the storage and Solar Storage industry. So far, all the off-grid systems installed by the industry generally increase the user's power bill, which is a standard complaint. At Su-vastika the company is developing Solar Storage systems based on the LiFePO4 battery, which starts giving dividends the day they are installed. The major challenge with the existing lead acid hybrid solar system was related to charging (for both Tubular and SMF). Their cycle life is 20 percent of Lithium battery so there is no competition for LiFePO4 batteries. Its charging concept is totally different when compared to lead-acid batteries. At Su-vastika the company has filed 3 technology patents based on similar technology to bring a hybrid technology that gives instant power backup in case of a power failure and saves power during power availability by using solar and lithium batteries.
The world has shifted to solar storage solutions, and solar Grid feed systems are not preferred, nor the hybrid offgrid solar systems preferred that is why Su-vastika has come out with the technology where solar is completely utilized by not only storing but running the load when solar is available even when the mains power is available.
Joining Su-vastika as a Mentor.
The products built by Kunwer Sachdev at Su-vastika outsmart others due to their easy handling and ruggedness. The products he has developed at Su-vastika are set to bring the next generation of power backup solutions to India.
Under his able guidance, Su-vastika made a record for being the only company in the power backup industry to file for over 60 patents, with six already granted. At Su-vastika he is continuously coming up with newer patent ideas, not just in the power backup industry but in many other fields related to energy, artificial intelligence, communications, etc.
Some of the key products developed by Kunwer Sachdev as a mentor of Su-vastika include LiFEePO4 battery technology-based Energy Storage Systems, Automatic Testing Setup for EV, PCB, BMS,  Solar compatible EV chargers and Emergency Rescue Devices for lifts and elevators.
"I wish to see every household in India get powered by solar energy. I want every business, big or small, to invest in solar energy and reap the seamless benefits of this natural resource," says  Kunwer Sachdev.
Kunwer Sachdev is once again revolutionizing the power backup sector in India. With so many innovations he is doing with LiFePO4 batteries, he is set to acquire a new title, "The Lithium Man of India."