Union Law and Justice Minister Kiren Rijiju has questioned the conduct of Supreme Court Collegium in putting sensitive, secret reports about appointment of judges in public domain.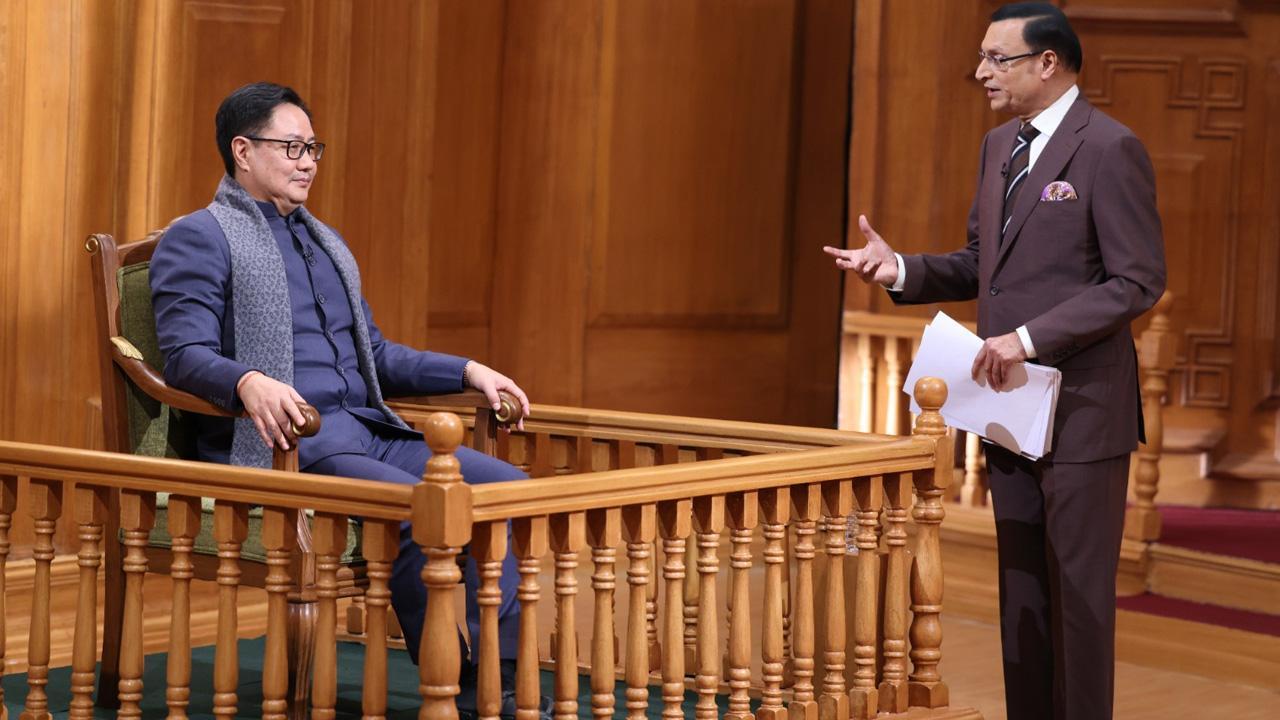 Asked by Rajat Sharma in India TV show 'Aap Ki Adalat', was telecasted on Saturday, why there should not be transparency, Rijiju replied: "The standards of transparency are different. There are some matters which should not be disclosed in national interest, and there are matters which should not be concealed in public interest."
Rajat Sharma: 'By putting secret reports in public domain, the Collegium may be trying to convey that the government is not in favour of appointing advocate Saurabh Kripal as Delhi High Court judge, because he was involved in same-sex relationship with a Swiss national?'
Kiren Rijiju: "The Supreme Court Collegium brought these facts in public domain, and I do not want to comment. Whenever I have to speak, I will speak as the Law Minister. We work in accordance with the thinking and guidelines of our respected Prime Minister, but I cannot disclose all this here."
The Law Minister said, "appointment of judges is a sensitive issue, which we cannot discuss on public platforms. I cannot discuss the process, but I can say, government takes its considered decision carefully and follows a policy. Neither from the government, nor from the judiciary, such matters should be put in the public domain."
Asked about allegations that the judiciary was under attack, Rijiju said, "Tell me one instance in the last eight and a half years of Modi ji's rule, when we tried to curtail the rights of judiciary or tried to show it in a poor light? Whatever I have said about the judiciary was only in reaction...When it was said from the Supreme Court bench that the government is sitting on files, then, in a democracy, it becomes necessary for me to reply. We do not sit on files normally, but we follow the process as required. The courts should realize that they should not say anything which sends a wrong message to the people."
Rajat Sharma: You seem to be the first Law Minister who has attacked the judiciary in this manner?
Rijiju: "I never attacked, but I said whatever I had to say in a correct manner. This should not be taken as attack. We all respect the judiciary, and if Indian democracy is strong, the biggest reason is that our judicial structure is strong and robust. That's why we say, we will not interfere in the work of judiciary, and the judiciary should not interfere in the work of executive and legislature. There is a 'laxman rekha' (dividing line) drawn in between. We have got this from our constitution. It will be in the nation's interest if neither side cross that 'laxman rekha'."
When Rajat Sharma pointed out to Rijiju's earlier remark that since judges do not have to contest elections, there must be accountability, the Law Minister replied: " Thousands of people meet me and write letters to me saying, judges should be made accountable. Some say, there should be accountability as it is a democracy, and there cannot be a king in a democracy. I want to tell them, the people are the final arbiter in a democracy, and the Constitution is our holy book. We rule according to the Constitution. That's why I said since judges do not have to  contest elections, they are appointed, they should ensure that their work is good because the people are watching. I made this remark in that context."
Rajat Sharma: "In the past, most of the Law Ministers used to be practising lawyers who knew the working of the Supreme Court. Now lawyers say, the new Law Minister has no legal experience?"
Kiren Rijiju replied: "To some extent, it's true. Law Ministers had good knowledge and experience about law, but some people find it difficult to accept a minister who does not know much about law. But they do do not say that 99 per cent judges think in my favour...There are some lawyers who belong to the other ideology or political party. These big lawyers find it difficult to accept me as the law minister...There are two or three senior MPs and former Congress ministers who say that the law minister is new and he knows nothing. I am new, and you will hear new things from me."
On the issue of appointment of judges, Rijiju said: " Till 1993, the government used to appoint judges, as per the Constitution. Later the definition was changed. In 1993 the Supreme Court formed its Collegium for appointment of judges.  First, it was a three-member one, later it was expanded in 1998. So, the system was changed under court order."
Rajat Sharma: "The latest charge is that you want to control the judiciary?"
Kiren Rijiju: "We cannot control, and we should never think about this. I have always said, Modi ji has done much to provide all facilities for the judiciary in the last eight and a half years. ..Earlier, hardly Rs one to two thousand crore rupees used to be allotted, but now Rs 9,000 crore will be spent in the next four and a half years on court facilities. ...It was during Indira Gandhi's rule that the argument was made for having a committed judiciary. Judges were superseded ignoring their seniority. Emergency was clamped. Judiciary was then brought under control. And the same people are now alleging that we are trying to control the judiciary......I never said that judges have hjacked the Constitution. A former judge said this, and I only said, his words need to be heard. I shared his views."
When Rajat Sharma pointed out that he had once said Supreme Court should not waste time on hearing bail applications, Kiren Rijiju replied: "No, I did not say this. I said, Supreme Court has bigger Constitutional issues before it, and it would be better if it pays more attention to those issues. Bail applications involving human rights, liberty rights, execution, should be heard, but  the Supreme Court should not waste time on hearing bail applications in Section 420 cases. I never said, Supreme Court should not hear bail applications."
Rajat Sharma: Big lawyers say, the law minister may not have read Justice V R Krishna Iyer's judgement where it was said, "bail should be the rule, jail an exception" "
Kiren Rijiju:  "It is not the rule. It should be seen from the principle that bail is a right, otherwise you go to jail. This is legal wisdom, not a rule."
The Law Minister said, the Chief Justice of India has set up a committee under Justice Abhay Oka to carry out translation of apex court judgements into four Indian languages, (Hindi, Gujarati, Odia and Tamil). "We are providing a vocabulary data bank from Indian languages for common words in legal usage, and also providing translation arrangements."
Rijiju said, "Please don't take it otherwise. The fact is that lawyers who speak better English in courts command lucrative fees. Some of them get up to Rs 20 to Rs 40 lakhs.  Those who speak less English get lower fees.  That's why I am insisting why can't lawyers argue in Indian languages like Hindi, Tamil, Telugu, Punjabi in high courts...All the lawyers will get work if hearings are done in regional languages."
On huge pendency of cases, the Law Minister agreed that there are nearly 4.9 crore cases pending from lower courts to apex court. .."We are trying to use technology, apart from alternate methods, like alternative dispute resolution through village level arbitration or conciliation in family matters. Given the support that we are getting from the Prime Minister and a pro-active judiciary, we will surely lower the number of pending cases. But please understand one thing. A judge on an average disposes 100 cases a day, but daily 200 new cases are registered."
The Law Minister said, judges work overtime and need time to relax when they go on vacation. "No judge in the world works as hard as an Indian judge. In India, a judge on average disposes 100 cases, while in the US, a judge disposes only one case. Normally an Indian judge looks into 50 to 60 cases daily. Our judges work under pressure and they need holidays to relax. If you work for 24 hours, you can collapse. At least, our judges need some break."
The Law Minister also spoke on issues relating to the BBC documentary on Gujarat riots and Chinese threat near Line of Actual Control.
On the ban on screening of BBC documentary, Rijiju said: "The Supreme Court went into the nitty-gritty of Gujarat riots for 20 years, and finally gave its verdict. The apex court said there was no truth in the allegations, and it seemed to be part of a conspiracy and move to defame. After the Supreme Court gave its verdict, BBC has come out with its documentary, and Communists, Leftists, Congressmen and Maoists in our country are justifying the BBC report. It means they do not trust our Supreme Court. As Law Minister, I had to say, that Supreme Court in our country is supreme, and what the BBC and others are showing are nothing, for us."
On Chinese threat near LAC, Rijiju, who hails from Arunachal Pradesh, said: "I want to say repeatedly that our entire border is safe and secure since the time Modi ji became Prime Minister, and all necessary measures are being taken to protect our border."
On the recent statement by Superintendent of Police, Leh,  P. D. Nitya, that 'security forces have lost access to 26 of 65 patrolling points in Leh, Ladakh", Rijiju replied: "Patrolling points across the several thousand kilometre border are not demarcated. There are some areas which are 15 to 18,000 feet above sea level with temperature minus 30 to  minus 40 deg Celsius. In winter, there are places which forces cannot reach. So, these are undesignated areas, Maybe she was referring to them."