Recent works of a group of 8 eclectic contemporary artists from Bengal and Lucknow will be displayed in a group art exhibition at Jehangir Art Gallery, M.G Road, Kala Ghoda, Mumbai 400001 from 6th to 12th June 2023 between 11 am and 7 pm.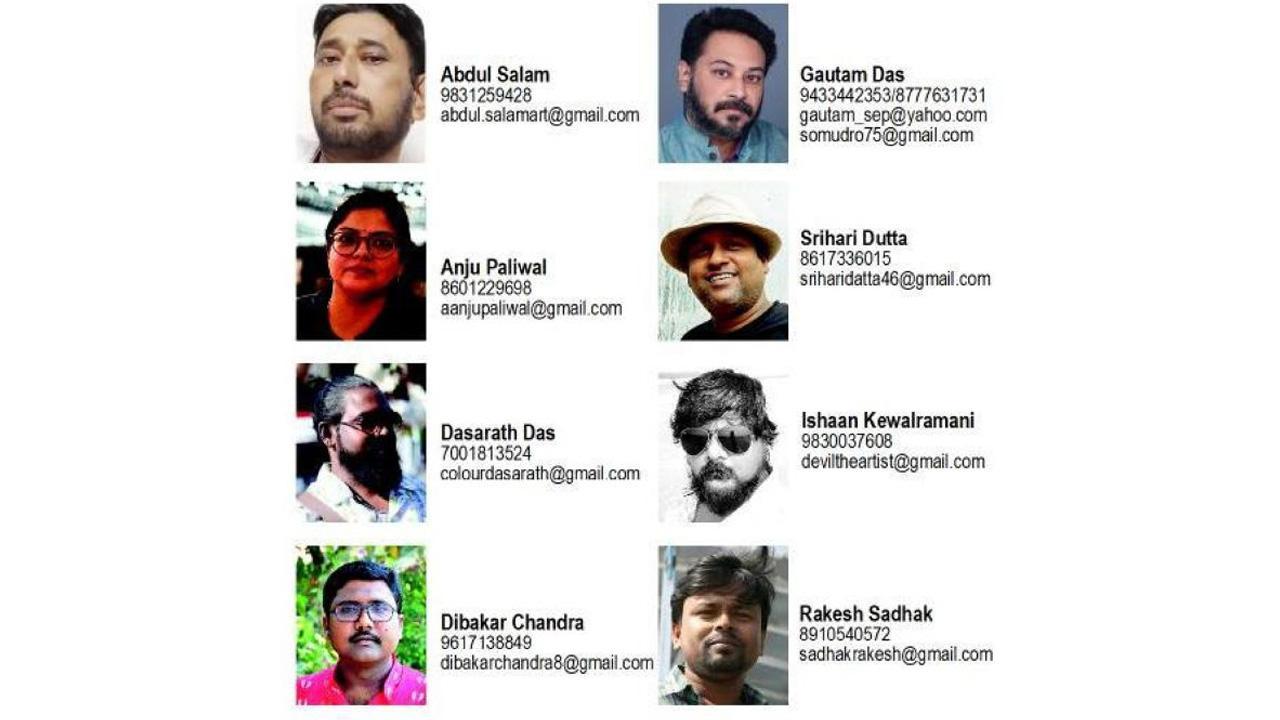 Participating Artists
It will showcase the unseen thoughts and art practices of 8 contemporary talented artists under one roof in an array of styles and artistic approach towards the medium technique adopted by the participating artists for the aesthetic and artistic adornment of vivid art works with the expected visual perspective and glorious effects of reality and ecstasy in the apt arenas. This exhibition will be inaugurated  at Jehangir Art Gallery Mumbai on 6th June 2023 at 5 pm by the eminent Guests of honour – Mr Kumar Desai – Sr. Advocate, Bombay High Court, Mumbai and Mr Rajiv Harsora – The renowned Architect, Mumbai in presence of art lovers, collectors, patrons/ connoisseurs along with other art enthusiasts in the present art world.  
The participating artists in this group art exhibition are:-
ADVERTISEMENT
Abdul Salam, Anju Paliwal, Dasarath Das, Dibakar Chandra, Gautam Das, Shrihari Dutta, Rakesh Sadhak , Ishaan Kewalramani .
Abdul Salam :- His works illustrate good visual effects via balanced composition using known and often relatable objects. These simple art works render lucidity and pleasantness for any viewer to easily relate to his composition  and their very essence in apt perspectives of art forever.
Anju Paliwal :- Her ceramic works often reveal the hybridization of fusion and  its related features. She has made optimum use of such cultural juxtapositions and fusions about experimentation in her work. She has significantly revealed human emotion and human behaviour in her creative endeavours and tried to bring out meaningful conversations in her figurative works. Using Chimera – fusion of part of man and animals and other available references from Indian mythological stories, she has made some works based on drawings with oxides and filled with colour, glaze with firing at 12400  Celsius in a Gas kiln. She has tried to capture the peculiarity of wooden and terracotta dolls of Tanjavur. She has tried to maintain the balance between mythical stories drawings references from the folk style of India, toy like qualities of traditional Indian wooden and terracotta figures with a contemporary approach towards her work.
 Dasarath Das :- His works resemble a mirror in front of the world. It screams, protests and expresses anguish as per thematic relevance in order to keep his spirits alive before the world of political complexities. He has made optimum use of vivid everyday objects, their functions and social significance in our life as iconic motifs for his process of creation. These include household items in rooms, furniture, houses along with traditional and non -traditional objects. He has thoughtfully revealed their individual characters when placed together or apart as well in order to generate different contexts using their residues and leftovers. He often tries to reconnect his present work as per the needs that are not melodramatic and idealized compositions at the service of national conscience, glorification of analysis of relevant recent political or historical events etc. It is, in a way, the reconstruction of the present through the forgotten past.
Dibakar Chandra :- His sculptures reflect the immediate surroundings in vivid norms and perspectives. He has focussed on the relationship between a river and a semi-urban place and the sanctity as well as relevance of the civilization, heritage and traditions prevalent in the surroundings. He has juxtaposed and interpreted the overall abstract motion in a playful manner. He has chosen the materials very intuitively and tried to build a modernist approach where his main concern is to show the overall aesthetic presence of the work in relevant perspectives of visual arts. As a result, the various works offer the viewer an arena to enjoy playful juxtaposition of form, shape, texture and other things of thematic sanctity.
Gautam Das :- He has used his skilful technique and stylish innovative ideas to focus on several sensitive issues from society, environment, Nature or any other human related sentimental perception that makes a deep impact and thoughtful influence on mind. He has often endeavoured to create fusion and symphony through his forms, textures and concepts in etching techniques. He believes that medium is no barrier for an art expression and hence he has given them shape like etching charcoal drawings, paintings on canvas, ceramics etc using creative freedom of thoughts and expression.
Shrihari Datta :- He has presented the work based on the visual experience of the Torsha river using his unique thought process and perceptive ideology. He has created visual effect similar to the play of light and shadows in the forest and river having mystic thought provoking effects. He has artistically used black, burnt sienna, ranges of blue and red- brown to create the desired visual effect of dunes on the Torsha bank, the char and the desired texture of sand glowing via subdued tones on the surface and other peculiarities as per thematic relevance. His innovative works illustrate panoramic views in creating spontaneous work flow having a washed away look. Apart from using water colours, he has also ventured into other experiments to extend his perceptions to aesthetically decorate the works with the expected visual effects without any distraction. His works are pleasant and innovative as well as panoramic in apt perspectives of visual fine arts.
 Rakesh Sadhak :-His sculptures in wood and metal reveal two distinct patterns viz juxtaposition and fusion in composition. Using his artistic instinct and thought, he has duly amalgamated inanimate objects with the animate ones in his stylish expressive norms with luxury of creative freedom. He has worked on relationship between the working class, architecture and civilization. He intends to raise awareness of the people via the changing landscapes of the surroundings. In a way, he has focussed on the voice of the people whose history has been erased by our civilization.
Ishaan Kewalramani :- He is a professional  print maker  whose works elaborate the most eccentric art form which combine print making with his concept and stylization. His work is mostly based on his experience and an approach which is a blend of conventional and modern illustrational styles. His works showcase the tales of his life like Memoirs and Ponderance amidst the hues of his daily sight. His works are lucid and creative that share a dialogue with all due to simplicity and clarity thereby winning their applauds and appreciations.
From: 6th to 12th June 2023
"Unseen Thoughts"  
An exhibition of paintings, Graphics, Sculpture, Ceramics and Drawings By Contemporary artists –   Abdul Salam, Anju Paliwal, Dasarath Das, Dibakar Chandra, Gautam Das, Shrihari Dutta, Rakesh Sadhak , Ishaan Kewalramani .
VENUE:
Jehangir Art Gallery
161-B, M.G. Road,
Kala Ghoda, Mumbai 400 001
Timing: 11am to 7pm
Contact: +91 98312 59428, 98300 37608