'Jagga Jasoos' itself is a serious leap of faith. Honestly, I know no two faces as pleasant as Ranbir Kapoor and Katrina Kaif on the Indian screen. They naturally shine before the camera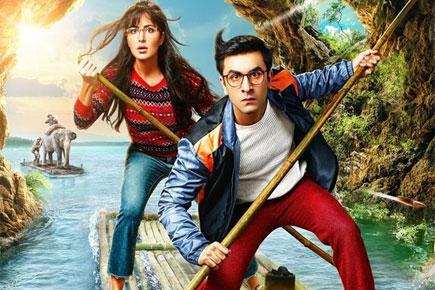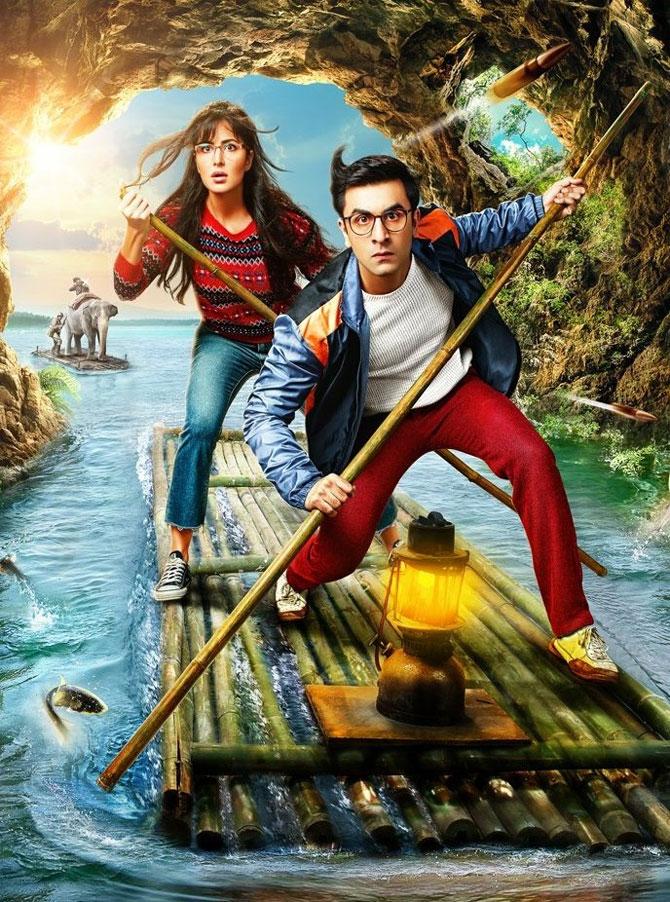 'Jagga Jasoos' poster
'Jagga Jasoos'
U/A; Mystery/Musical/Comedy
Director: Anurag Basu
Cast: Ranbir Kapoor, Katrina Kaif
Rating: 

This film itself is a serious leap of faith. Now it depends on whether the audience is also willing to take that leap. On the face of it, they should be. Honestly, I know no two faces as pleasant as Ranbir Kapoor and Katrina Kaif on the Indian screen. They naturally shine before the camera. And while Katrina may have a thing or two to worry about her performances per se, it's hard to find an actor so sorted, and yet with an innate star-like quality as Ranbir.
That said, for all cause and effect, this is a completely children's movie. Clearly that part of the message doesn't seem to have been relayed well as I look around at the morning show in my theatre, which is half packed, but mainly with young adults—the lead actor's personal fan base. There isn't a single kid. Now that's a bummer.
Ranbir Kapoor, 34, plays the orphaned high-school boy Jagga, in a uniform that could perhaps pass off for Harry Potter's Hogwarts', while the upward lick on the side of his full-hair decidedly belongs to Tintin, and the picture itself is a self-aware Hollywood style musical, since li'l Jagga can overcome his severe stammer only if he sings aloud what he wants to say, in perfectly poetic meter.
What we're being introduced to, altogether afresh, is a series of detective fiction adventures of Jagga (an odd sorta Indiana Jones), who has a knack for 'jasoosi'. Exactly how he cracks his cases is beyond me, but then if you're a 10-year-old (and this movie should have been in 3D), it definitely doesn't matter. What does is that Jagga is on his way—right across the Third World, from Kolkata to Africa—to find his missing foster father, played by Saswata Chatterjee (who, by the way, should be cast as Arnab Goswami, if there's a forthcoming skit/film based on the newscaster).
Both the story and screenplay of this film have been separately credited to Anurag Basu, the director. Basu, better known in Bollywood as the much-loved Dada, is, visually, the most sound mainstream filmmaker there is. And you can gauge this from pretty much all his leaps of faith in the past, including 'Kites' (2010), if you may, which was a visual delight, if nothing else.
This is one of the reasons he has been rightly allowed his self-indulgence in a commercial industry that has little cash or patience for testing bounds of creativity. A lot of his films, I'm told, live in his head and somehow come together at the edit. Which perhaps explains why it took three and half years to pull this deliberate haphazardness off. 'Life In A Metro' (2007) was a class act in that regard.
Frankly, Dada got away with 'Barfi' (2012), because it was beautiful, although with practically no basis in reality to touch you much. Through the Purulia arms dropping case, this film slyly looks into arms trade that circularly funds war. But 'Jagga Jasoos' is essentially a madcap, comic book style Indiana Jones. Or at least aspires to be. The time-line is flexible (flat-screen TVs exist alongside VHS tapes, as do cell phones with rotary landlines). There is nothing to undermine still the audacity of the imagination.
You can tell the filmmakers are attempting to create a semi-alternate world. Where does the world start falling flat ever so progressively? Well. It's one thing to feel like you're on a ride, quite another if you're tired of travelling all over the place. There's clearly an issue if you're mildly gob-smacked by the spectacle and the choreography, but care less for what happens next, and more for when this will all end.
Maybe I was this film's target audience once (at least I've something to recommend to my little niece). And maybe age has nothing to do with the audience anyway. Either case, this is certainly something you haven't checked out on the Indian screen before (so what if that's not always a compliment).
Watch 'Jagga Jasoos' trailer