'Moonlight' is a film for the purists. The aesthetics are perfect and the non-judgemental empathy and concern displayed here, creates a haunting aftermath- provided you are willing to sit through the unique experience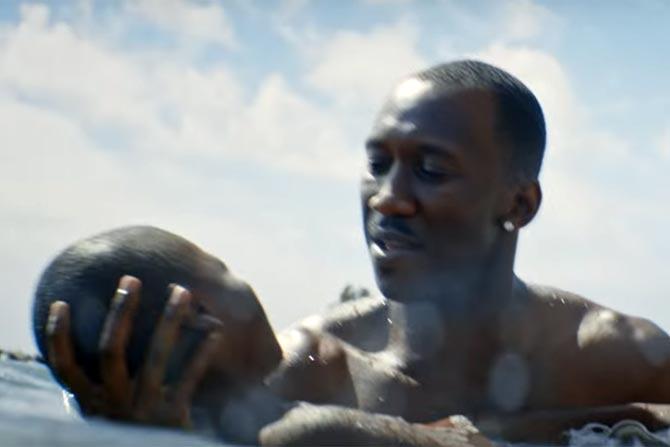 Mahershala Ali in 'Moonlight'
'Moonlight'
A; Drama
Director: Barry Jenkins
Cast: Mahershala Ali, Naomie Harris, Trevante Rhodes, Ashton Sanders, Alex Hibbert, Andre Holland, Jharrel Jerome, Jaden Piner, Janelle Monae
Rating: 

ADVERTISEMENT
An underwhelming story of human connection and self-discovery, 'Moonlight' chronicles the life of a young black man from childhood to adulthood, (through three clearly defined segments), as he struggles to find his place in the world while growing up in a rough neighborhood of Miami. The film may not have the dramatic thrusts to affect you but it certainly makes you think and feel for the protagonist and his many dilemmas.
This is a film for the purists. The aesthetics are perfect and the non-judgemental empathy and concern displayed here, creates a haunting aftermath provided you are willing to sit through the unique experience.
Writer-Director Barry Jenkins adapts a play by Tarell Alvin McCraney, to arrive at this seemingly simple coming-of-age story about a coloured inner city kid who grapples with the familiar hardships of his environment –poverty, drugs, crime, dispossession- while battling within himself for a state of grace that is not all that easy in the coming. This film's protagonist Chiron lives in the Liberty City neighbourhood of Miami- a place where the indignities of race and criminal neglect are all too evident. At age 9, Chiron (Alex Hibbert) is teased, bullied and thrashed for his difference – all because he gives out a gay vibe. He is confused, troubled and tries to hide away from the ugly beastliness heaped at him.
The film is set-up in 3 chapters with Chiron as Little, Chiron and Black- three distinct phases of his young life from preteen to teen to adulthood. Chiron's mother (Naomie Harris) though protective, is battling an addiction to drugs. It's only when Chiron comes to the notice of neighborhood dealer Juan (Mahershala Ali), that Chiron gains some sense of self. Chiron receives nurturing and acceptance from Juan and his girlfriend Teresa (Janelle Monáe). It is in their home that he finds a safe refuge for himself. But the irony is that Juan's influence on Chiron's life is as much a tragedy as that of his addict mother's.
Chiron knows no other way to empower himself other than to step into the role of a hardened drug peddler who has come to terms with his own weaknesses..or has he? The film hints at a Brokeback Mountain sort of affiliation between Chiron and childhood friend Trevor and arranges a chance meeting between them in adulthood, in order to make it a future of possibilities. Barry Jenkins treatment is lifelike. There's no space for subjective judgement here- just an impartial assay of a life that is lived and accepted. It's left entirely up to the viewer to make something of it. And that's a tough ask for those who have been brought up on formulaic nonsense.