This 3D animation comedy, 'The Boss Baby', has puppies and babies coming out of every frame - so you would think it's cuteness personified but that's not the case entirely
'The Boss Baby' - Movie Review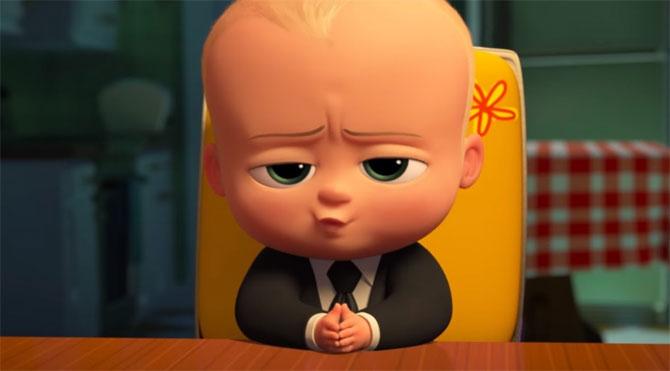 'The Boss Baby'
'The Boss Baby'
U/A; Animation/Comedy
Director: Tom McGrath
Cast: Miles Bakshi, Alec Baldwin, Steve Buscemi, Jimmy Kimmel, Lisa Kudrow, Patton Oswalt, Tobey Maguire
Rating: 

This 3D animation comedy has puppies and babies coming out of every frame - so you would think it's cuteness personified but that's not the case entirely.
The concept may have sounded like a winner given that two of the most lovable huggable beings, babies and puppies, are pitted against each other. And to multiply the benefits both come from assembly line factories that rival each other. With Alec Baldwin voicing the Boss Baby in his unique intonations it's quite a delight too. But unfortunately sustaining the interest through a 97-min duration isn't as easy as it should have been.
A wildly imaginative 7-year-old Tim (voiced by Miles Christopher Bakshi) is used to being the centre of attention when the most unusual Boss Baby (Alec Baldwin) arrives in a taxi, wearing a suit and carrying a briefcase. Of course he is not amused and with the Boss Baby taking over all the attention of his parents it's a case of hate full on. Until Tim discovers that Boss Baby can speak, is actually a spy and needs his help to thwart a dastardly plot that involves an epic battle between puppies and babies.
Marla Frazee's 2010 issue 36-page picture book is certainly the inspiration but there's not enough there to expand all the way to a full-length movie. The metaphor about new foundling babies taking over their parents lives with a slew of demands much like a business suited Boss giving his employees the runaround, is certainly imaginative. However director Tom McGrath (Madagascar) and writer Michael McCullers' (the Austin Powers sequels) adding of the sibling rivalry bit doesn't quite hit the right notes especially since it involves many more babies and puppies and espionage-revenge that stretches on to unviable limits.
The desperation to find hooks for all age groups is visible in the entreaty that involves an old school look, action sequences themed on 'S.W.A.T' and other '70s TV shows and a weird nod to Tolkein's Gandalf. The visual style is fun but it's not enough to spell entertainment. Baldwin gives it his all through his badass voicing but its benefits are lost in the unexciting extended outlay of rivalry and vengeance. So, cute is not always what you make of it!