From paragliding to battling your fear of heights, Smaaash's new virtual-reality game stations offer the real thrill without having to step out of the city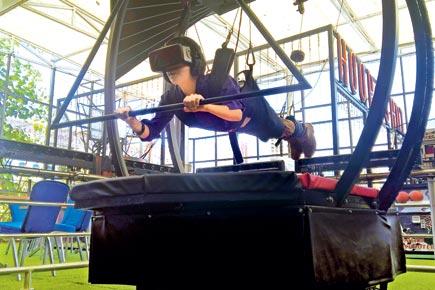 Are you in the mood for an adrenaline rush without sweating it out in far-off locales? Smaaash in Lower Parel has installed three new virtual-reality based game stations at their sports and recreation centre, and we were lucky to try it out.
Flymax
Our first stop was Flymax, a virtual game station that offers the thrill of paragliding without doing the actual paragliding activity. How? Flymax relies on the revolutionary virtual reality headset, Oculus Rift (Facebook took over its maker, Oculus, in 2014) and creative mechanics to offer you the thrills of paragliding.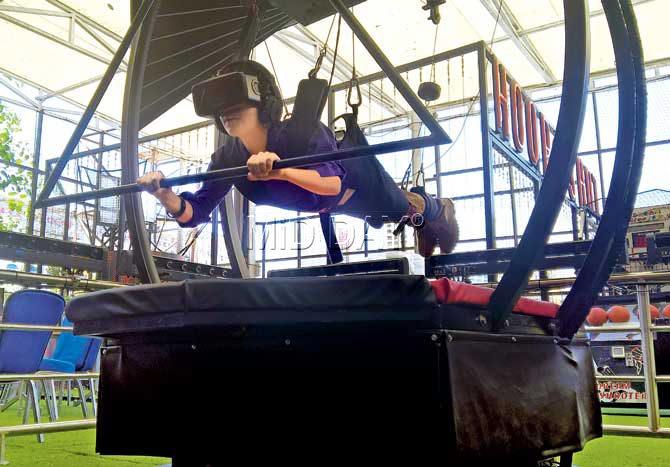 A visitor trying Smaaash's virtual reality game, Flymax. Pic/Hassan M Kamal 
ADVERTISEMENT
Watch the video on Flymax
Designed by Smaaash Labs, the game station resembles a real paraglider. You are required to wear a safety suit (similar to paragliding) that is then used to lift you up (a metre or two) above the ground. For stability, you cling on to a metal handlebar. After the set-up is ready, you put on the Oculus Rift headset.
The headset has two screens that play a 3D animated video of paragliding. Once you wear it, since everything else is blocked out of the view, it creates the illusion that you are actually in the act of paragliding. While a high-speed fan on the front creates the actual environment, a pair of headphones add to the sound effect.
We pass through mountains, glide over trees, amid horses, through active volcanoes, and down a waterfall to fly along with dolphins and then finally rest amid a picturesque lake. We must admit, it felt like the real deal. There are moments which felt scary while gliding down a mountain, when vertigo kicked in, or the fear of colliding with a mountain when we flew too close to it or when we brushed against a few tree branches.
However, we would have loved it if the characters and places appeared more life-like, and not as seen in video games. Also, the fan could have been faster. It would be even more interesting to see a user actually getting to control the movement while paragliding. Still, it was definitely an experience worth going back to.
You pay: Rs 250
Vertigo — Walk the Plank
The next stop, Vertigo — Walk the Plank was the scariest of them all. Like Flymax, here too, you put on an Oculus Rift gear, but instead of being suspended mid-air, you walk on top of a cushioned plank inside a dark room. A group of motion sensors placed inside the room track your movement as you try to walk on the cushioned plank, which on the oculus screen, looks like an actual wooden plank placed on top a gorge. While you try to walk on top of it, a flying dinosaur tries to attack you. Vertigo is a tad more interactive than Flymax; here, you can use a stick in your hand (visible only on the Oculus screen) to shoo it away.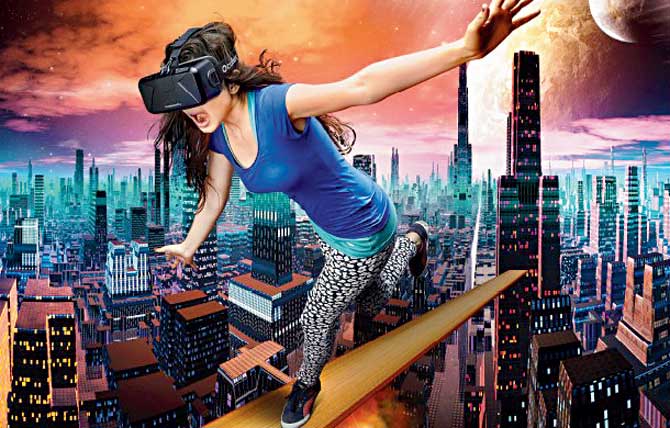 A creative work based on the game, Vertigo - Walk the Plank
But that's not where the danger lies. Ever wondered, why they tell you to not look down in movies during those mid-air stunts? We suggest, you try Vertigo — Walk The Plank to find it out yourself. The game has been designed to instill maximum fear of height on anyone. The plank in real life is placed over a soft surface surrounded with soft foam to save you from getting hurt during a fall, but inside the oculus, the virtual fall is like nothing you would have felt in a really long time. A warning, though; Walk the Plank is not meant for the weak-hearted.
You pay: Rs 250
Ronaldo
The third and final stop was the virtual goalkeeper station. Here, too, you wear a jacket, an Oculus Rift gear and a headphone, like in other VR-based games but with the addition of gloves that possess in-built motion sensors. We position ourselves in front of the goal post, while an animated Ronaldo readies to take the shot.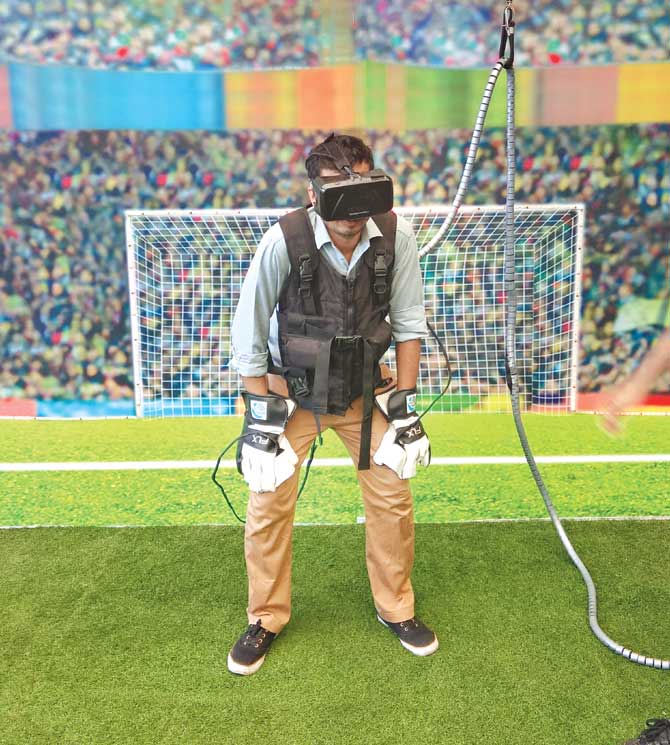 The suit that's used during the virtual-reality game, Ronaldo 
A camera on the front, tracks our movement, as we move along the goal post to save a goal. Each time we save or manage to touch the ball, the jacket and gloves vibrate to recreate the actual situation. We were able to save two out of five. Not bad, especially when we had to watch the striker. The game is in the development stage and will take time to be fully operational.
You pay: Rs 250
The guide verdict: Overall, these virtual reality games impressed us, especially Vertigo — Walk the Plank. Though, there is still room for improvement, we'd
recommend it to our readers. Try it at least once.
Time 11 am to 12.30 am
At Smaaash, Kamala Mills Compound, Gate No 4, Lower Parel.
Call 49143143