Our Dancehall class with Jahnavi Sheriff left us with sore glutes, and knowing that letting it all go is the best way to beat the blues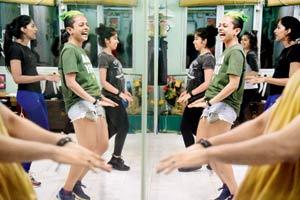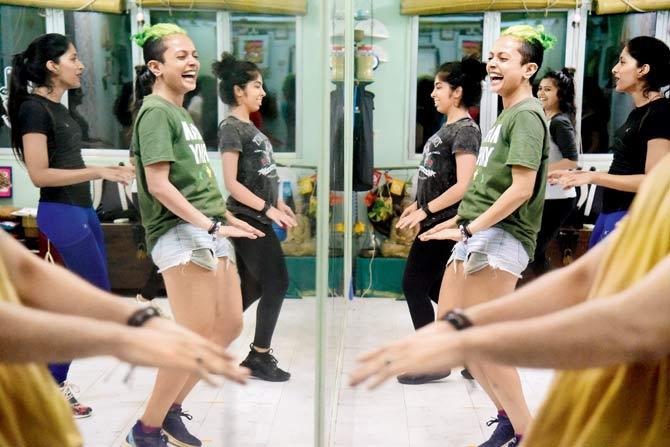 It's been a while since I have been at a dance class. My thighs aren't used to the stretches Jahnavi Sheriff is making me do as warm up before her dancehall classes on a hot Tuesday night. By the time the first round of stretches are over, I am already huffing and puffing like a pig forced to run a marathon.
I vividly recall Sheriff dancing at Raasta on the Thursday reggae nights. I also remember being in awe of her moves. She's trained at the Broadway Dance Center, and Urban Dance League in New York, and also in Toulouse, France, among many other places, and as she takes centrestage in class, I pay close attention to the green-haired talent.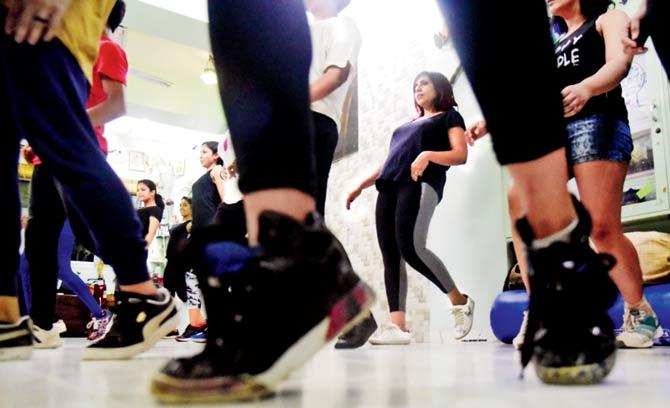 Sunday mid-day writer participates in the class
Dancehall originated in Jamaica. Now, imagine a cool Jamaican dancing. Do you see their booty moving? Of course, you do. That's what Sheriff is telling me to do as well. Chest, belly, hips, sit - that's how she is teaching a body wave, and I am already feeling my not-used-enough backside groaning. She then tells us to dip and thrust hips back, and I assume that I am now twerking. And my gluteus maximus is screaming and telling me to stop, but my heart won't let me.
Let's back it up a bit. When I walked into class today, I was in a bad mood. The day had not panned out well and I was the most melancholic I had been in months. But, half way into Jahnavi's class, and I found my spirits soaring. The dance form, which encouraged me to let go and be sexy, lifted my mood and made me see life like a dance itself - if you strut your stuff, and reclaim your confidence, nothing can look or feel better. Do yourself a favour and head to Sheriff's class, for the dance, for the sweat trickling down your back, and especially to get rid of those weekly blues.
When: Tuesdays and Fridays, 8 pm - 9.15 pm
Where: Yoga Kuteer, Makani Centre, 503, next to Or-g pub, Bandra West
Entry: Rs 700 per class
Call: 9167946960
Catch up on all the latest Mumbai news, crime news, current affairs, and also a complete guide on Mumbai from food to things to do and events across the city here. Also download the new mid-day Android and iOS apps to get latest updates