Crow is India's first company to bring immersive theatre to the country. Founders Nayantara Kotian and Prashant Prakash tell Kareena Gianani about their first, sci-fi play and how immersive theatre is a leap into the future of the performing arts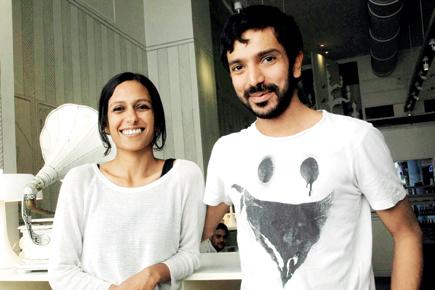 Nayantara Kotian and Prashant Prakash
  Turn the doorknob and shut the door behind you. You are plunged into an inky blackness. You emerge, only to realise how drafty the room is. It has a smell you can't quite place. Something crunches as you walk — a carpet made of computer keyboards. There's a faint hum of machines through the walls.
Far in the distance are two doors, ajar but only just. Which one do you take? You pick one at whim, and a voice speaks to you inside. It is not human.
You follow it, pick up things strewn around, enter the secret passageways with it, even read a letter the 'person' discards midway. A story unfolds.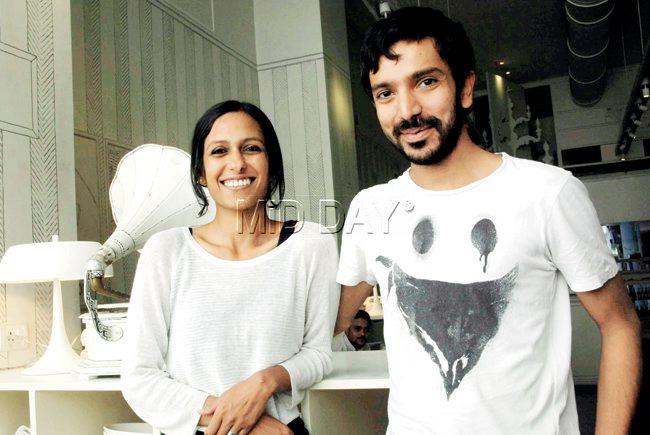 Nayantara Kotian and Prashant Prakash. Pic/Suresh KK
If, by now, you've guessed that you're in another universe, a thousand years ahead of time, you've just had your first experience of immersive theatre.
In June, this is the sensory experience artistic director Nayantara Kotian and actor Prashant Prakash will offer theatre buffs through their sci-fi play, The Bliss of Solitude, which is also the debut production of their company, Crow.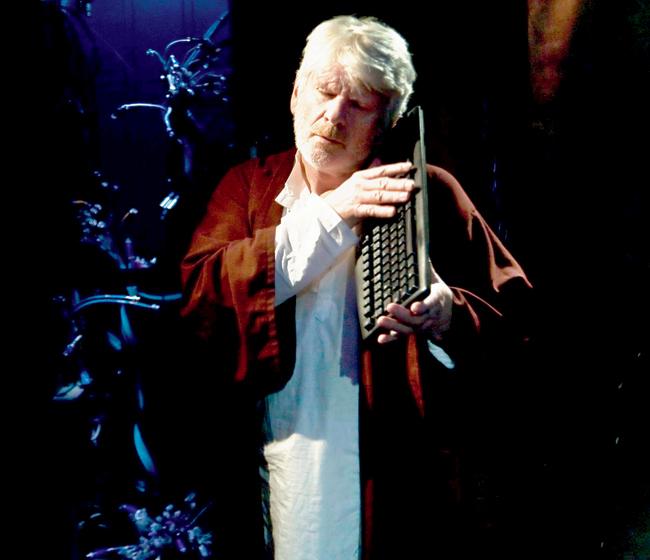 A scene from The Bliss Of Solitude. Pic courtesy/Shomil Shah
But more importantly, Crow brings immersive theatre to India. These are participative experiences in which the audience members are not mere spectators.
They can follow any actor, choose what they watch and where they go around the venue. They can move around the set, pick up and examine props and installations. Unlike traditional plays, the flow of the story is not static; it is layered and unfolds at multiple spaces across the venue, only to be neatly tied up at the end. The Bliss of Solitude, for instance, is set in a dystopian future and looks at the last man on Earth as he desperately battles loneliness.
Naturally, set design is key in immersive theatre, but Bangalore-based Kotian, 31, says its success lies in the audience-actor relationship. The proximity of the audience to the play's characters as they follow them around transforms it from a play to an experience. "An audience member has the potential to change the story in immersive theatre because of their involvement. They can influence the actors, which is not the case in a traditional play," she adds.
After studying Film and Video Communication Design at the National Institute of Design, Kotian co-founded Quaff Theatre with Prakash and actor Kalki Koechlin in 2008. In 2012, Kotian began pursuing her masters degree in London and founded Fiddler's Green, a collective dedicated to original science fiction theatre. "I also did a workshop with Punchdrunk, the theatre company founded by Felix Barrett, which pioneered immersive theatre. I've been reading science fiction by Philip Dick, Kurt Vonnegut, Isaac Asimov, Arthur C Clarke since I was a kid… and started wondering how I could include it in my work. My stint at Punchdrunk was the answer I was looking for," she smiles.
In 2013, Prakash visited Kotian in London and was immediately hooked to the idea. "For me, the most compelling part of immersive theatre is the worlds it straddles — it is theatre, an installation and a game all rolled into one," he says.
Bringing immersive theatre to India comes with its own set of challenges, of course. Venues for immersive theatre vary from traditional plays, because of the former's production-intensive, design-heavy format. Sets, explains Prakash, often take a month to build. For traditional plays, venues can be booked over a few days or the weekend, but for an immersive experience, which can accommodate 30-40 audience members, spaces must to be hired for at least a month to make it economically viable.
"In the UK, where immersive theatre has a rich history and a dedicated audience, we watched a play which featured 350 actors but allowed only one audience member," says Prakash with a hint of awe.
Kotian and Prakash are positive that the time to being immersive plays to India is right, especially because alternative venues open to experimentation are opening up in cities such as Mumbai, Delhi and Bangalore.
"I think the closest Indian theatre tradition has come to immersive theatre is the Ram Leela," says Prakash. Actors in an immersive plays have to be expert improvisers, too. "They must accommodate impromptu changes to their dialogue if, say, an audience member trips over a prop in their presence. Punchdrunk gives their audience members masks; apart from separating them from the actors, it also discourages them from speaking to one another," remembers Kotian.
Crow's second play will be a slice-of-life story about a small town actor disillusioned about his role of a rabbit, and begins quoting Shakespeare to make life bearable.
"We love sci-fi, but we also want to have a lot of fun with immersive theatre. We are toying with the idea of a children's musical. I think immersive theatre has huge potential there," says Prakash.
Why the name Crow? "Because crows are very, very smart creatures," he grins.
To crowdfund The Bliss of Solitude , log on to www.wishberry.in/campaign/the-bliss-of-solitude/
Log on to www.facebook.com/thecrowexperience