Anarkali walks through walls. A girl time-travels after being chosen for the MasterChef contest, and another sells her kidney to fund a beauty treatment. Kareena Gianani flips through Eat The Sky, Drink The Ocean, a young adult anthology of feminist speculative fiction for which 10 Indians collaborated with 10 Australian writers and artists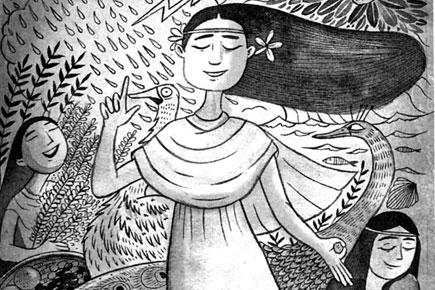 Books contain strange, comforting, improbable and impossible worlds within. But it is only once a while that one comes across a young adult book written just so that its 20 female protagonists can "mess with the boundaries of the possible and the probable" as Anita Roy, editor of Young Zubaan puts it.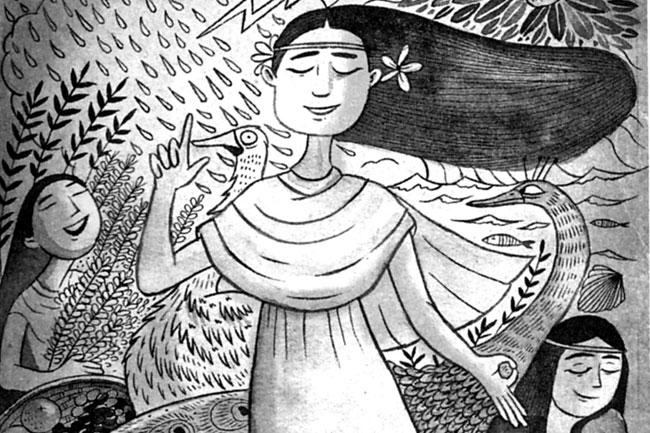 An illustration by artist Priya Kuriyan part of the graphic story, Swallow The Moon, which is written by Australian writer Kate Constable
For their latest book, Eat The Sky, Drink The Ocean, 10 Indian and 10 Australian writers and graphic artists, including Samhita Arni, Amruta Patil, Payal Dhar and Manjula Padmanabhan, imagine different worlds as part of this feminist speculative fiction. Between the pages lies time travel, dystopia, cyborgs, pixies and thought-provoking stories. What they do have in common is a girl at the centre of it all — either trying to make sense of her world, or subverting it.
In 2012, at a Delhi event, Roy was in conversation with Melbourne-based children's writer Kirsty Murray, whose writing largely explores Australian history. They discussed the rape of a 23-year-old physiotherapy student in Delhi and how many cities in India rose in protest. Murray, too, recounted violent crimes against women in Australia that had taken place around the same time.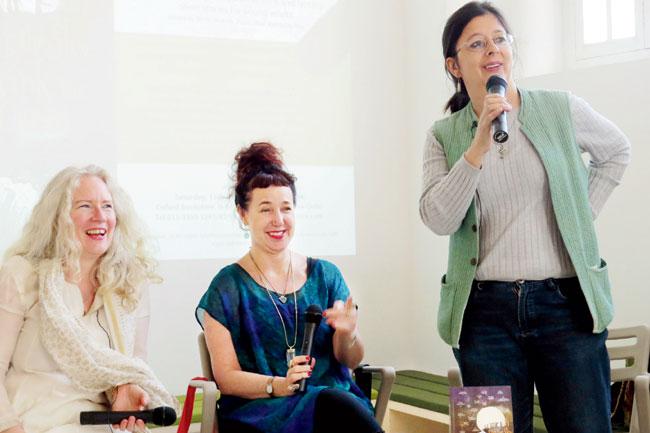 Australian writers Kirsty Murray and Isobelle Carmody, and Anita Roy, editor, Young Zubaan
"We realised how badly we both wanted to write something feminist, what young girls fear, and what they hope for. Feminism is not prescriptive — it makes you question the world, and show you that 'normality' is as odd as anything. We wanted to curate stories which could show young adults how different the 'given' can be," explains Roy. "A good book, after all, is one where you go for questions, not answers," she adds.
Eat The Sky..., which is funded by the Australian Council for the Arts, includes short stories, graphic stories and even a play script. The vast, baffling world of young adults (YA) — girls and boys — is explored and questioned in the anthology by writers who vividly remember what it was like to be a teenager, anywhere in the world.
Murray, who has co-edited the book with Roy, says Eat The Sky... is more relevant today than ever especially because Indian literature — YA or adult — doesn't reach Australia, and vice versa. "Australia has a two per cent Indian immigrant population, but all we know of Indian literature is diasporic and all things Salman Rushdie. On the other hand, to most Indians, Australia is all about MasterChef and cricket." When it comes to literature, Murray feels the US and UK have a cultural hegemony of sorts. "We have so much in common, and this gatekeeping is irrelevant. Issues young women face — be it about their body image or human rights, are universal. And what better way to dive right into these things than speculative fiction, which can throw up so much surprise? We hope Eat The Sky... gives readers in India and Australia a heightened sense of each other's culture," says Murray.
Her play script in the anthology, The Blooming, written with Manjula Padmanabhan, came out of the duo's concern about reproductive technology, a human rights concept Murray believes writers must not be squeamish to discuss.
Through her other story, Mirror Perfect, which is about a young girl who dislikes her body, Murray says she wanted to look at how consumerism affects the way we see ourselves.
Roy and Murray say they are thrilled at the sheer variety of ideas in the book, something young boys and girls have not missed out on, as the editors recently discovered on their ongoing three-city book tour. "This book is as much for boys as it is for girls, and I realised that young Indian boys are way more philosophical, sensitised and politically aware than many in Australia are today," smiles Murray. 
An appetite for everything
The book includes Appetite, a graphic story by India's first graphic novelist, Amruta Patil, who received this "sweepingly open-ended brief" from Young Zubaan: Contemplate different futures and future worlds from female perspectives. "There were many promising fragments that I sought to bring together here. The first was the idea of an extended sisterhood — beings not related by blood — an idea that formed the core of my first graphic novel, Kari.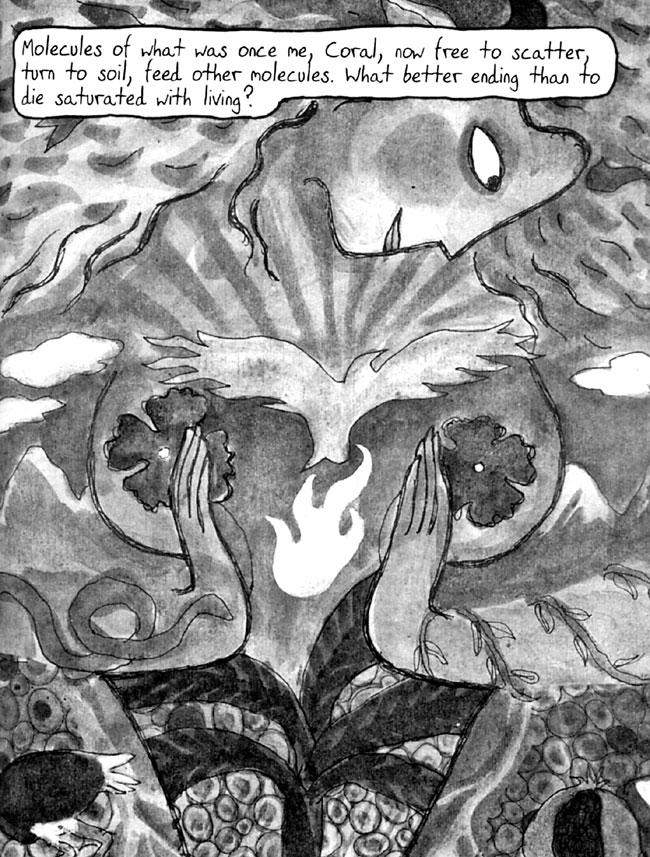 An illustration from writer and artist Amruta Patil's graphic story, Appetite
Then there was the matter of appetite, hunger for succulent things, food or not. Feminine beings in stories are generally denied a ravenous appetite. There are few feminine equivalents of 'Wolf Belly' Bheem; and generally, a convex form is given the green signal only in the case of pregnant women. These things came together in the form of Appetite's protagonist, Coral, whose hungers are large, and of a peculiarly ungreedy variety