A 50-year-old sex educator, mother of two, and stand-up comic has found a way to get people to laugh about sex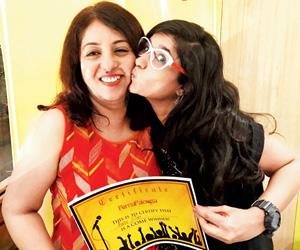 When Anju Kish asks her audience to chant the word 'penis', there are those who get shifty with embarrassment. Those giggling nervously, however, are not kids, but young men and women well into their college years, and some even young working professionals. "I suppose, they don't expect someone as old as me to say 'penis' out aloud," she tells us later. Anju, who turned 50 this year, is making headway into Mumbai's stand-up comedy circuit. For the last three months, she has been performing in venues across the city, including Cuckoo Club in Bandra and the National Centre for Performing Arts (NCPA) in Nariman Point. As mother of two teenage boys, her stand-up set naturally draws from her life. "One of my jokes is about what a nagging mother I am. I check with my sons about things they need to do. Have they had their breakfast? Have they finished their homework? Have they masturbated?" Anju says, pointing in the direction of her younger son, Rishil, who is seated in the audience.
Hold it right there. At the cosy yoghurt bar in Bandra, where we saw Anju perform last month, the audience, which has been encouraging so far, is stunned for a second, not knowing what's hit them. Once they digest her joke, they break into laughter. For Anju, this is commonplace. As a sex educator for the last six years, she is now tapping into the power of the giggle to tell Mumbaikars, both the initiates into sex and the experienced, a thing or two about sex education. And, she is not hesitant to include her teenage sons in her set.
ADVERTISEMENT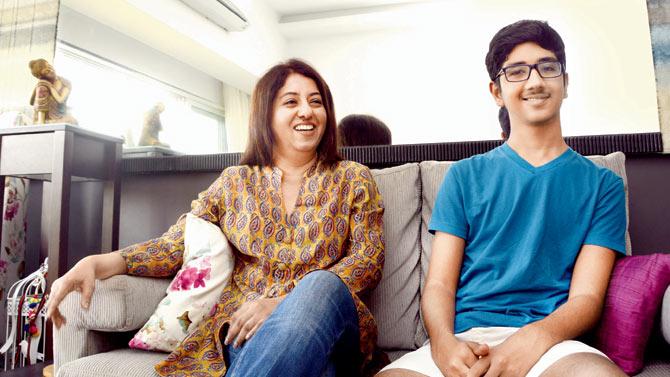 Anju Kish with her son Rishil. Pic/Sneha Kharabe
Sex ed, LOL
"When I tell people that I am a sex educator, most only hear the 'sex' bit," she laughs. Given the nature of her job, jokes, and the occasional jibe, have been part and parcel. Her friends regularly forward her dirty jokes on WhatsApp but also enroll their kids in her sex ed classes. They nudge her about the rather incredulous delivery scene in the film Three Idiots, for which her husband, Sanjiv Kishinchandani, was executive producer. "I joke with my husband that I have to answer the questions that his film has raised," she says. Lastly, there are the naive questions that children and teenagers come to her with. She recalls the young boy who believed that women wore sanitary napkins in their shoes. After all, ads for sanitary napkins showed women tying their laces, and jumping over fences. Then, there was the nine-year-old who wanted to know where the G-spot was. "These are serious topics and we can't belittle teenagers or children for their lack of knowledge or reprimand them for asking," she says.
Her role as sex-educator has also meant that her sons, Rohil, 19, and Rishil, 15, got teased and bullied from time to time. Things began to change, however, when her sons' friends attended her classes, where they could ask their questions without being judged. Assuming the roles of both confidante and jester comes easily to Anju. A former journalist from Nagpur, she set up Out of the Box, as her sex ed class was known then, in 2011. "In my early 20s, I realised I had some important questions about sex and asked my mother why she hadn't discussed those with me. I think somewhere the seed for sex ed workshops was sown then. Parents still find it embarrassing to discuss sex and sexuality with their children. I wanted children and teenagers to find comfortable ways to discuss sex," she says.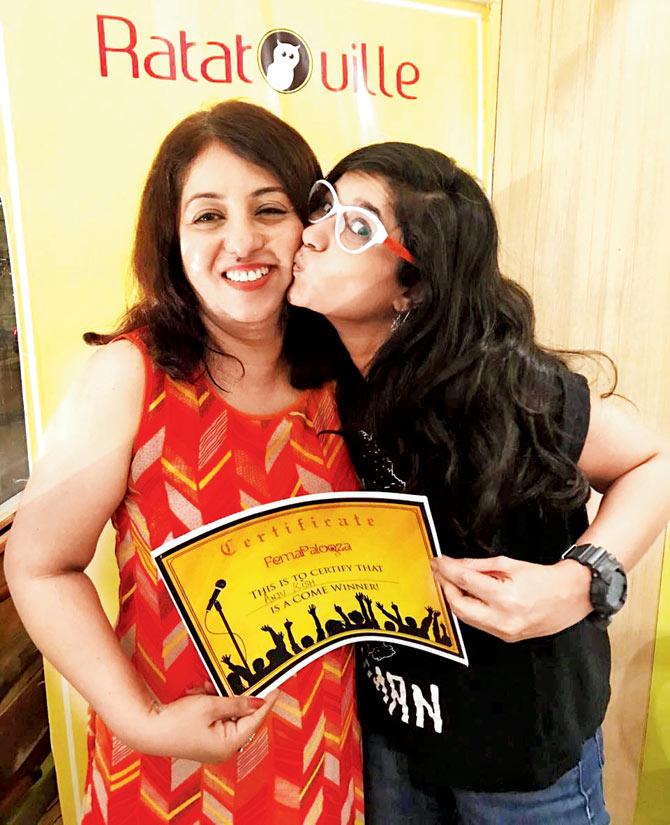 Anju with her mentor Jeeya Sethi, after winning a stand-up competition
Her company is now called Untaboo, and Anju conducts independent workshops, and those at schools. Preparing the modules for her course took nearly a year, though. "The kind of information that was available then was too medical, and not suitable for young children. I needed time to make this information accessible and unintimidating," she says. These days, Anju uses animation videos and songs in order to convey lessons on the birds and the bees. She has to take care not to make her classes too graphic, especially in a climate when governments dilly-dally whether to ban sex ed in schools or not. This doesn't mean that she dilutes her sessions, and slangs for genitalia are certainly not something she recommends. "We teach young children to refer to genitalia as nunu or pee-pee, and the embarrassment of using the real terms sticks on in adulthood," she says.
Comic relief
These are the messages that Anju shares on stage as well. She says that she was intrigued earlier this year after she attended a stand-up comedy set in which a female comedian took on gender discrimination. "These are socially relevant topics and I thought I could do the same with sex ed," she says. Soon after, she joined stand-up comedian and actor Jeeya Sethi's classes, and did five-minute slots in open-mics, winning some of them. She has also had a slot alongside pioneering stand-up comedian, Aditi Mittal.
While she has had stage experience previously, having initiated and produced a play on puberty called Growing Up, Anju confesses that talking onstage with the intention of making audiences laugh is a completely different deal. She adds that stand-up comedy is all about using cuss words, but that's one thing she is uncomfortable with. "I tried using the word 'f**k' in my set and my mentor, Jeeya, said that it seemed I wasn't at ease with it. She made me drop it," she says. However, in a comedy circuit where the stage gets frequently dominated by sexist references to the human body, Anju's jokes come as a refreshing change. Her sons have been a vital part of her journey as has husband Sanjiv. She runs her scripts past them, and also rehearses all the way as they drive to venues. Rohil, a student at the University of Toronto, and Rishil tell us that they are proud of their mother's stand-up routines. Their only request is that she doesn't call out their names, and stick to a generic 'beta'.