DJ and music producer Satya Hinduja on the alchemic power of sound, especially electronica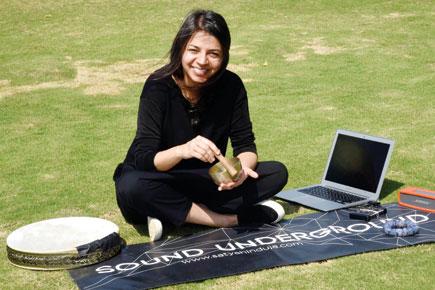 Satya Hinduja makes music with a Tibetan bowl.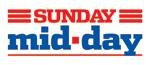 Dressed in black — "a reminder of the black hole, and that it's a temporary life leading to nothingness" — Satya Hinduja walks into the corridor clutching three musical instruments in their cases. The DJ, composer and sound engineer from New York, here to spend time with her family, suggests we sit in the garden area of their beach-facing home in Juhu, "where we can hear the waves."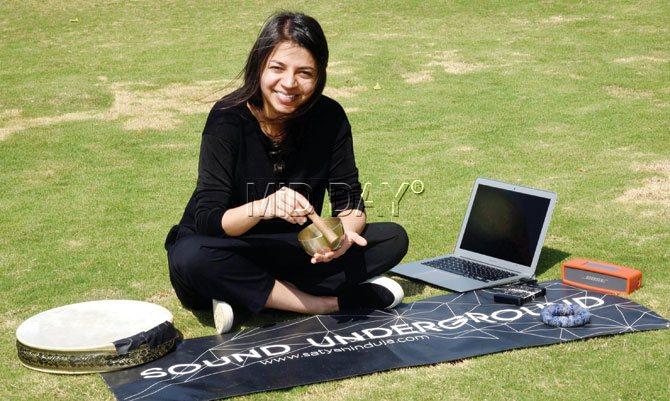 Satya Hinduja makes music with a Tibetan bowl. Pic/Nimesh Dave
We settle into the white sofas under the shade of a cabana as she opens an instrument we think is a drum. "It's an ocean drum. I bought it from Aurelio, a musician and founder of Svaram in Auroville who makes new wave instruments based on sacred geometry," says the 33-year-old daughter of business magnate Ashok Hinduja, getting up to give us a demonstration.
On instruction, we close our eyes, as she moves the drum in circles over our head. The hum of sand and waves gushes down as we are whisked away on a journey of sounds. A sea of calm sets the tone for the conversation. "Music can manipulate the brain, and I can change your mood with my music," she adds.
Satya, who always knew that she wanted to "do something with music" started her journey at Berklee College of Music. DJ Akeel helped her record her first solo composition, which she needed to submit with her application.
"Students around me were composing symphonies and I was only beginning to learn to write a note," says Satya. Initially, she planned to join Bollywood and, in fact, was assistant composer with Salim Sulaiman for six years. During the stint, I worked on 40 films and was also exposed to independent music projects with Karsh Kale and Anushka Shankar among others."
Life took another turn when in 2011, she was diagnosed with fibromyalgia — a medical condition characterised by chronic widespread pain. None of the professional doctors could heal me and that's when I got into exploring many alternative therapies including neuro-lingusitic programming and kinesiology, which is a holistic approach that involves communication, personal development, psychotherapy and human movement. It introduced me to the impact of sound and language on the subconscious mind," says Satya.
Her choice of music, electronic, she believes is reflective of this thought.
"My style is to use scientifically researched frequencies, a fusion of acoustic and electronic instruments along with meditative dance beats. Humans can hear between 20 and 20,000 Hz. The way one gets immersed in a movie, which is essentially a director's perspective, I fuse natural and electronic sounds to create immersive sound experiences. The sound shifts vibrations in your mind and body," says Satya, adding, "I have finally found a name for my genre. It's alchemic electronica."
Satya, who learnt the art of DJing at New York's Dubspot, a production and DJ school, says she owes her inspiration in electronic music to sister Ambika's husband Raman Macker. "Back then, he owned Aurus [a lounge in Juhu] and played tastemaker for the city by inviting electronic artists from all over the world."
Her artistic collective, Tabula Rasha music, is an effort to bring back a belief in our scriptures called Nada Brahma, which means the whole universe was created from the energy of sound. While attending the INK Talk in 2013 as speaker — she spoke of how sounds and frequencies work on our subconscious to alter our mood — she met Rohan Dixit, the founder of Brainbot, who had journeyed across the Himalayas to measure brainwaves of meditating monks. "We collaborated on an experiment where I composed music for 136.10 Hz, a specific frequency which is scientifically proven to regenerate the heart chakra. It took me six months to find my inner silence to finally write it."
Music, says Satya, can trick the brain. "Since then, I have also been working on immersive conscious experiences with scientific frequencies, my compositions and shamanic instruments to create sound baths to reignite the energy of the heart centre — a 20 minute meditative experience which I have been experimenting with for over a year. There are many chakra balancing pieces around, but you may not want to listen to it. This is where I weave in the arts element."
Satya created a similar immersive soundscape for photographer Rohan Shrestha's first solo show, Hanami, at the Diesel + Art initiative which was held in the city on February 6.
The musician with a cause has given her work the tagline — Sound Underground. "In New York, you'll find me in alleyways and at the underground music scenes with music researchers and scientists. That is where great music thrives. People who are hurting from society come here to heal in the power of sound. I have seen real brotherhood here, just like any other spiritual society," says Satya.