A book by veteran journalist Kota Neelima tells the stories of 16 widows of farmers from the parched heartland, whose stories are lost in suicide statistics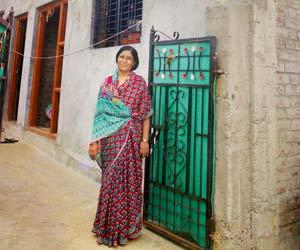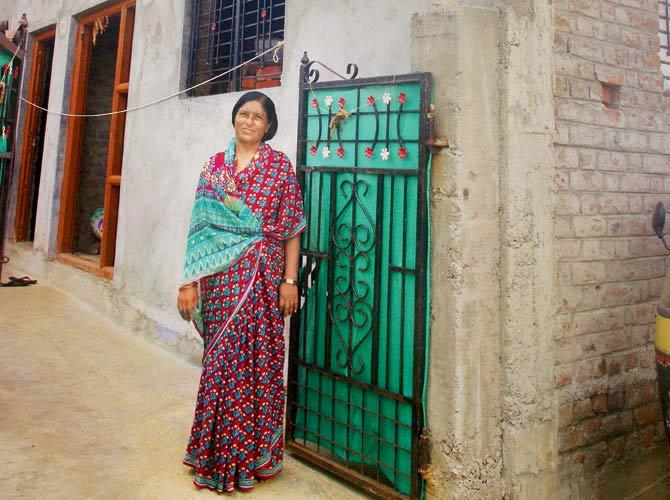 Lata Patil at her new house in August 2016. Pics courtesy/Widows of Vidarbha, Oxford University Press
In Yavatmal's Ajanti Village, 630 km from Mumbai, Vandana Rathod is yet to come to terms with why her husband, who had tattooed her name on his chest and proclaimed his love for her, decided not to let her in on his troubles. It was the morning of August 22, 2013, when Ganesh, a farmer, left home on the pretext of spraying pesticides in his field. When he returned home at 7 pm, he complained of dizziness, Rathod recalls. Before she could sense of what was happening, Ganesh was gone. Vandana would later learn that he had consumed the pesticide he had intended to use in his fields.
But, how her life, and that of her three teenage children, Sonu, Tejal and Rohit, turned turtle is a story that was lost in Vidarbha's farmer suicide statistics. A new book by veteran journalist Kota Neelima, titled Widows of Vidarbha: Making of Shadows (Oxford University Press), takes us back to the parched heartland, to tell the story of 16 widows like Rathod. "I started researching Vidarbha in 2005, at the height of the farmer-suicide crisis," says the New Delhi-based writer, who has previously written three fictional books on the issue, including Shoes Of The Dead and The Honest Season. "But, as journalists, we all know that each time we write about a subject, there is a residue of truth, which remains unknown or goes unreported."
The residue, here, are the stories of those the men left behind. It is the pursuit to share the "other half, and equally important" story that took Neelima back to Vidarbha in 2014. What she encountered were tales of grief, hurt, bravado and survival. She saw that they were melancholic, but not defeated. "I was stunned by how these women, who were suddenly left alone to fend for themselves, accepted their role. Most of them don't have an education. Yet, so smoothly, and without protest, they took charge of their lives, and struggled to support their families. And, they weren't given any time for this transition," says Neelima, adding.
A case in point is the story of Lata Patil at Borali village in Amravati. Her husband killed himself in March 2003. In the book, Neelima recalls how during her first meeting with Patil in 2015, she appeared to be the "kind of woman, who would tolerate the injustices of her life for the sake of her children and their future." But, by 2016, the writer realised that she "was made of sterner stuff". After years of toiling hard to re-pay her husband Sahebrao's loans, Patil, who was also weighed down by the troubles of living in a decrepit hut with her in-laws, reconciled to "the desperation for an escape" - she wanted to have a house of her own. The journey wasn't an easy. "She had to fight the community she was living in. Fortunately, by the end of my research, she had left the hut to move into a house across the street. It's one of the reasons I end my book with her story, because it is a tale of determination. The truth is that the widow who is left behind has a tougher deal than the man, who chose to kill himself."
Catch up on all the latest Mumbai news, crime news, current affairs, and also a complete guide on Mumbai from food to things to do and events across the city here. Also download the new mid-day Android and iOS apps to get latest updates